Jen Agosti jokes that running the 2017 Boston Marathon for Mass General is her "final phase of treatment" for breast cancer. Race day is about two weeks after the one-year anniversary of the end of her treatment.

Cancer showed the North Andover, Mass., woman the limits of her body. She underwent four surgeries, chemotherapy and proton beam radiation. But living with breast cancer helped her realize that she was strong and lucky. So she is planning to run the Boston Marathon as a member of Mass General's Pediatric Cancer Marathon Team. Jen is an avid runner, but has never run 26.2 miles.
"For me, doing the marathon is full closure. I went through all of that and I came out fine. In fact, I came out better than when I went in," Jen says. "I felt like Mass General gave me such a gift, so I really wanted to run for Mass General."
A Partner in Treatment
Jen says that, like many busy moms juggling work and home life, she pushed off having a mammogram. Then, at age 45, she found a lump in her left breast, the size of a frozen pea. It was invasive ductal carcinoma. A surgeon advised she might need to have her breast removed.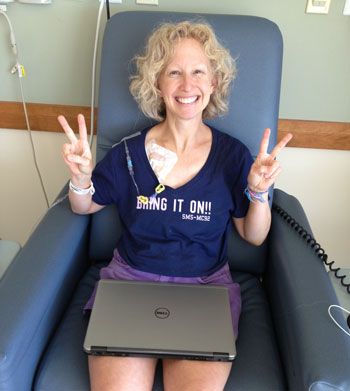 Uncomfortable with her lack of choices and care at the hospital she first went to, Jen decided to try the Mass General Cancer Center for a second opinion.
One of her first meetings was with surgeon Barbara Smith, MD, PhD, director of Mass General's Breast Program. Jen remembers Dr. Smith's welcoming manner and compassion. "I felt like a partner in my treatments and not like a cog in a wheel or the next sausage at the factory," Jen says.
Renaming Breast Cancer
She learned she might not need a mastectomy and began exploring options with her Mass General doctors.
Jen and her husband, Mike, decided it was time to tell their kids.
On the first day of summer vacation, they gathered their 10-year-old-twins, Andrew and Elena, in the family's sunroom.
The kids said the word "cancer" sounded too scary. So the family renamed Jen's cancer "Mama's Big Breast Bomb," Jen says with a laugh.
"We can't predict the future," Jen told her daughter. "We can only be strong."
Around the Agosti home, the mere mention of Jen's breast cancer brought smiles because of its silly name. Often, they called it "M Triple B." Chemo was named "MST (Mama's Stupid Treatment)."
Living With Cancer
Throughout the experience, Jen and her husband involved their children, which helped them and her deal with cancer. When Jen's blonde, curly hair fell out in clumps; the family had a backyard hair-cutting event. Andrew and Elena chopped Jen's locks super-short — to what they called her "Annie Lennox look."
Jenifer Agosti discusses what inspires her to run the 2017 Boston Marathon.
Sometimes, the twins pranked their mama. One day, when she was really sick, she woke up with a purple spot on her nose and purple designs on her bald head. Andrew and Elena happily exclaimed: "We decorated you!"
With Jen's diagnosis worsening over a three-month period — it went from stage 1 to nearly stage 4 — serious questions came up. Elena worried the cancer had been detected too late.
Jen assured her children that she would not keep secrets about her health. "We can't predict the future," she told her daughter. "We can only be strong."
Learning from Cancer
Fortunately for Jen, the treatments worked. She needed surgeries, but not a mastectomy.
Early on, Jen's oncologist explained that cancer can't be scheduled between kids' piano lessons and soccer practice. She said to take it easy.
Being a super-organized planner, Jen smiled at the remark, but was doubtful. She learned her oncologist was right.
"Cancer taught me that there were times when I really couldn't do anything but pet the dog, and that was OK," Jen says. "At the end of the day, even now, I no longer measure the worth of the day by how much I got done. I think — 'How did the day actually feel?' 'Do I feel good about what I did? ' "
Jen has let go of managing every detail. She is even more grateful for her family and friends.
Always Give Back
During her proton therapy treatment, a type of radiation therapy, Jen became friends with three women, who also had cancer.
Every so often, a child with cancer would arrive with their parents for treatment. "The four of us would hold hands and thank God that we were the ones with cancer and not our children," Jen remembers.
Jen thinks running the Boston Marathon is an opportunity for her to help children with cancer. And to live another lesson. "No matter what happens to you," she says, "it's important to always give back."
Please consider supporting Jen and other Boston Marathon runners raising money for Mass General.
John Hancock and Mass General Celebrate 20 Years of Marathon Partnership
This year marks the 20th anniversary of John Hancock's partnership with the Mass General Marathon Program. John Hancock provides Mass General runners with bib numbers for the race.
Since it was formed in 1998, Mass General's Pediatric Oncology Team has raised more than $12 million to support research and child life activities for children with cancer. In 2014, John Hancock worked with the Boston Athletic Association to award the hospital additional bib numbers to create the Emergency Response Team. That effort acknowledged the lifesaving response of hospital personnel following the Boston Marathon bombing in 2013. Since then, that team has raised more than $1 million for the hospital's emergency preparedness and disaster training.
In addition to these teams, runners who obtained their own bib numbers for the Boston Marathon will run for the Miles for Mass General program, which raises funds for hospital programs that are close to their hearts. Programs being represented by 2017 runners include Botswana Oncology Global Outreach, Caring for a Cure, Cystic Fibrosis, Down Syndrome and the Lurie Center for Autism.
To learn more about the Mass General Boston Marathon Program, please visit our website.