Tarrah Zedower never dreamed she'd run the Boston Marathon. This year, though, she's running for Mass General's pediatric cancer team, a group that she first met in summer 2014.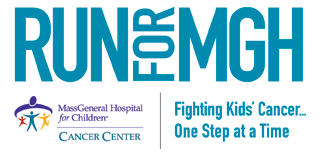 That's when her son, Caden, began experiencing unusual symptoms while Tarrah and her husband, Damian, were away on vacation. The ordinarily happy two-year-old started limping and complaining of a stomach ache. His grandmother took him to his trusted pediatrician for X-rays, which didn't reveal anything unusual. But he only grew sicker.
Tarrah was alarmed. Her older daughter, Callie, had a friend who had suffered similar symptoms—and the diagnosis was cancer. When Caden didn't improve, the worried family headed back to the pediatrician, who suggested blood tests. The diagnosis: acute lymphoblastic leukemia (ALL), a cancer of the bone marrow and blood.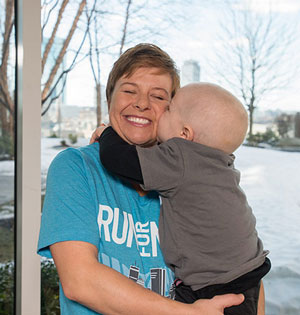 The pediatrician immediately recommended MassGeneral Hospital for Children (MGHfC). After spending endless hours online researching the illness and treatment options, Tarrah pressed him: In a city with so many great hospitals, what made MGHfC stand out?
Feeling Right at Home
The doctor's answer was swift and convincing. "He said that the care we'd receive and the level of personal attention was amazing," Tarrah recalls. "Everything was moving at the speed of light, and I needed that extra confidence. He gave it to me."
Soon thereafter, Tarrah's co-worker at the Four Seasons hotel chain called her to check in on Caden. It turns out he was a friend of Howard Weinstein, MD, chief of pediatric hematology and oncology at MGHfC. Her colleague assured her that the family would be in excellent hands, which the Zedowers took as a good sign.
Caden was an inpatient at MGHfC for 10 days and then began regular clinic visits for treatments in lieu of preschool. "He had been due to start preschool, and going to the clinic is like going to preschool for him," his mother explains. "They have art therapy. They have music. I never knew things like this existed. He talks about the child life specialists, therapists, doctors and nurses there like they're his friends."

Therapy that Rocks
Although Caden can't go to school right now, he hasn't stopped learning. In fact, he's blossomed into an enthusiastic musician thanks to Mass General's music therapy program, designed to put anxious young patients at ease during treatments.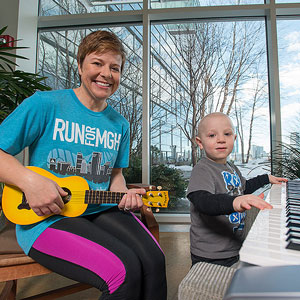 "We had no idea it would become a talent of his," Tarrah laughs. "The first day in the clinic, [music therapist] Lorrie Kubicek came in with a guitar. I thought, 'He loves music. This will be the best distraction ever.' And the music has kept him wanting to go back. Think about it: He's a three-year-old boy who knows he has to have a needle stuck into the port in his chest every single visit and he still looks forward to going. It's been amazing. They've unleashed this little musician."
At each treatment, Caden plays his pick of maracas, a ukulele, bongos and an electric drum pad, and belts out songs from the Beatles and Simon & Garfunkel. Tarrah says Caden's connection to the clinic has nothing to do with medicine, treatments or even cancer, but rather with playing music with new friends.
Running for a Cure
Tarrah was so moved by Caden's experience at MGHfC that she wanted to give back. This spring, she'll be one of more than 100 runners participating in the 2015 Boston Marathon as members of Mass General's pediatric cancer team.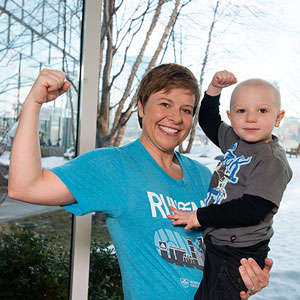 The team began in 1998 when, thanks to John Hancock, Mass General obtained charity bib numbers for 10 Boston Marathon runners. The Mass General-John Hancock partnership has continued to grow. In 2013, the pediatric cancer team reached the $10 million fundraising milestone. Its success paved the way for a second Mass General team in the Boston Marathon, supporting emergency response.
Mass General is also fortunate to have 20 Boston Marathon runners participating in the Miles for Mass General Program. These individuals are running to support cystic fibrosis, pediatric palliative care, the Lurie Center for Autism and MIND Huntington's disease research.
Boston Marathon Decision
"When I read statistics about how underfunded pediatric cancer research is, I knew I needed to run," Tarrah says of her decision to take part in the Boston Marathon on behalf of Mass General. "This place has been our safe haven—it's been intimate, family-oriented, personalized and healing."
While Caden undergoes his own therapy, rigorous Boston Marathon training has been healing for Tarrah, too, as she and Damian balance working full-time with supporting Caden, managing his health needs and spending time with Callie.
As he improves, Caden will probably only see his bandmates at the clinic once a month. Now, when he's rocking out at home, Tarrah says that he "looks and acts just like any other three-year-old. Thanks to Mass General, he's doing amazingly well."
Please support Tarrah and the other dedicated runners raising funds for Mass General's pediatric cancer team.