A simple device that saves countless lives on the battlefield—the tourniquet—is missing in action when disaster happens at home, says Massachusetts General Hospital trauma surgeon David R. King, MD.
For the U.S. Army surgeon, who has treated hundreds of wounded soldiers in Iraq and Afghanistan, the lesson he has learned is clear. Many more young lives could be saved, both at home and on the battlefield, if severe bleeding could be stopped faster—long before an injured patient reaches the operating room.
Armed with this conviction, Dr. King, who continues to serve as a reservist, is working in the community and in the laboratory to solve the problem of uncontrolled bleeding. He is reintroducing the use of the tourniquet, a device that has faded in recent years from use in civilian emergency response, by training teachers, school nurses and other civilians. Simultaneously, he is developing a new technology to halt the kind of internal bleeding that a tourniquet can't stop.
A Stunning Discovery
His conviction first took hold on April 15, 2013, after he finished running the 26.2-mile Boston Marathon. Dr. King and his family were headed home when the bombs went off. Minutes later, the surgeon was in the Mass General operating room working to save the lives of the bombing victims. For many hours, he and the trauma team treated wounds nearly identical to those caused by the improvised explosive devices used widely against American soldiers in Iraq and Afghanistan.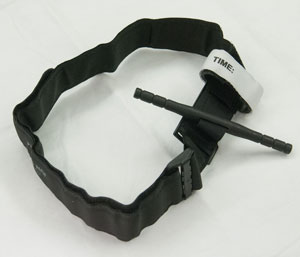 During those grueling hours, many patients arrived at the hospital wearing improvised tourniquets tied onto bleeding legs and arms. They were fashioned from belts, ties, rubber tubes and, by some accounts, ribbons from marathon medals.
Dr. King was stunned to discover that the simple, made-for-use tourniquet, a lifesaving device carried by every solder in the field, was not being used to staunch the blood flow of marathon bombing victims. There was not one real tourniquet in sight. It was not a discovery he could ignore or forget.
Running to Decompress
"I'm applying the lessons I've learned on the battlefield to the home front," Dr. King says of the work that the marathon bombings and recent school shootings have driven him to pursue.
Dr. King decided to join the Army after completing his surgical training in 2000. The following year, the World Trade Center fell, and the world changed. Through two tours in Iraq and Afghanistan, he treated "hundreds and hundreds," of wounded soldiers. He continues returning to war zones as a member of the U.S. Army Reserve. "I feel honored and humbled to be the first surgeon to lay hands on soldiers who are bleeding to death and to try to make a difference," he explains.
At home in Cambridge, Massachusetts, after spending time with family, he trains for marathons and Ironman triathlons  in order to decompress. He has run 61 marathons including seven Boston Marathons.
"The training is his peace time," says science teacher Anne King, PhD, the doctor's wife. "It's not easy being in a war zone. We, his family, know that he suffers. He has seen a lot for a guy his age."
Military Perspective on Treatment
As the sole military trauma surgeon at Mass General, Dr. King brings a unique perspective and depth of experience to Mass General's trauma team, says George Velmahos, MD, PhD, chief of Trauma Surgery,  who is also working on solutions to help stop internal traumatic bleeding.
"David is an extremely intelligent and talented clinician and a very valued partner," Dr. Velmahos says. "He doesn't just do good work, he also thinks of solutions, he thinks of research that needs to be done and he thinks about the future."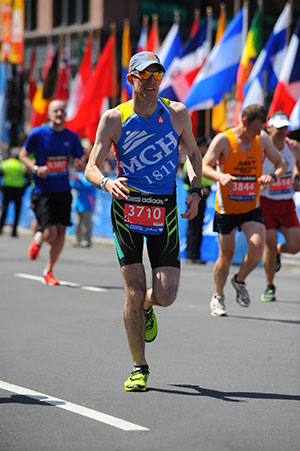 In the future, as Dr. King envisions it, no one should die from blood loss that might have been stopped if the right equipment and training had been available in the field.
"Get that tourniquet on them and bring them to me!" he says with characteristic intensity.
A Realization Sparks Action
The tourniquet is a centuries-old device that stops blood loss when secured on an arm or leg above an open, bleeding wound. It faded from civilian use in the United States in the 1970s in favor of the technique known as compression in which a person presses directly on the wound to stop the bleeding. Compression may lower the risk of limb loss from lack of blood supply. In the military, however, the tourniquet has remained in use.
That's a good thing, Dr. King argues. More than a decade of combat in Iraq and Afghanistan has produced evidence that tourniquets, if used properly, are effective in stopping massive bleeding without loss of limbs, he says.
With this realization, Dr. King is working on several fronts to spark change on the civilian front.
Training Teachers as First Responders
"We have to redefine who we think of as first responders," Dr. King explains. Trained emergency personnel such as EMTs and paramedics are not always first on the scene of a disaster. "If you look at events like the Boston Marathon bombings, truly the first responders are bystanders," he says. "If you look at school shootings like Sandy Hook (in Newtown, Connecticut) it is the teachers."
With that in mind, Dr. King has begun visiting Boston schools, where he plans to equip and train teachers to use the tourniquet. (For instructions on tourniquet use, see How to Use a Tourniquet.)
At St. John's, he held a dummy leg steady while teachers practiced tightening a commercial tourniquet with his guidance.
Lean as a greyhound, with a buzzed military haircut and a steadfast gaze, he recently met with 12 teachers at the St. John School in Boston's North End neighborhood. His two children attend the school and his wife teaches there. At St. John's, he held a dummy leg steady while teachers practiced tightening a commercial tourniquet with his guidance. He is also training the school nurses for the Boston Archdiocese schools. "I'll need some help if I'm going to do the public schools," he adds.
Emergency Response of the Future
This year, Dr. King and co-authors published a paper in the Journal of Trauma and Acute Care Surgery analyzing the use of tourniquets on Boston Marathon victims. It concluded that the lessons of the battlefield have been "Lost in Translation," a phrase they use in the title of the paper. Dr. King and his co- authors wrote that the lack of commercial tourniquets and people trained to use them poses a significant threat to the lives of people with severe bleeding injuries.
Compounding the problem, trained emergency responders are often blocked from immediate access to victims as police try to secure an area after an event such as a mass shooting. That means bystanders often find themselves having to help victims first. That's why wider training and availability of tourniquets is a part of the solution, Dr. King says.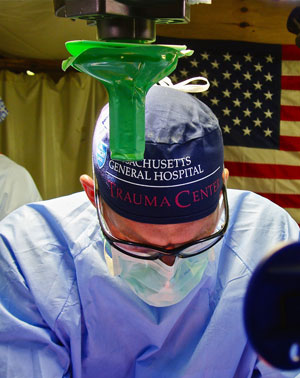 Dr. King has also been working on the issue with the Hartford Consensus, a group of medical professionals making recommendations for national policy on emergency response to mass casualty events. The group formed after the 2012 mass shooting of school children in Newtown.
Andrew Warshaw, MD, Mass General's surgeon-in-chief emeritus, and current senior consultant in international and regional clinical relations, is also working with the group, which issued its recommendations earlier this year. He points out that because bystanders are not likely to have a tourniquet at hand, the Hartford Consensus has recommended that bystanders be encouraged to use their hands to compress and stop the bleeding until trained personnel arrive with tourniquets and other equipment.
"Every bystander carries a set of tools at all times to control hemorrhage—his or her hands," says Dr. Warshaw, who applauds Dr. King's efforts to bring the tourniquet back into wider use.
New Technology for Internal Bleeding
Not every case of severe bleeding can be stopped or slowed with a tourniquet or compression. Internal bleeding, from a heavy blow or an explosion, for example, is nearly impossible to stop until someone arrives in the operating room. In such cases, the rate of death from internal bleeding is high.
Dr. King, as father, soldier and doctor, says he is determined to find a solution to uncontrolled bleeding in the field.
Dr.Velmahos and Dr. King are working separately to produce new technologies that will provide early responders with a device to compress bleeding internal organs quickly to stop blood loss. One device works by injecting gas into the abdomen, the other injects foam.
Both have been tested successfully in animals. Human trials are awaiting approval by the Food and Drug Administration.
Dr. King, as father, soldier and doctor, says he is determined to find a solution to uncontrolled bleeding in the field. Sitting in his Mass General office, surrounded by military and marathon memorabilia, he notes that vast medical resources are spent helping people live longer lives while a small, inexpensive item, called a tourniquet, is often overlooked.
To learn about how you can support trauma-surgery programs and research at Mass General, please contact us.