When it rains, children with autism spectrum disorder at the Aspire Summer Adventure Camp can dash for cover into the spacious, new Simches Family Pavilion, thanks to the inspiration and generosity of philanthropist Nancy Simches.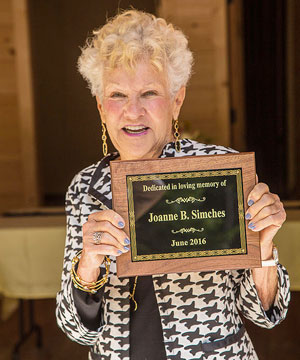 The camp, based at Hale Reservation in Westwood, Mass., is part of Aspire, a program of MassGeneral Hospital for Children's Lurie Center for Autism. It helps children and young people with high-functioning autism spectrum disorder or related disorders develop the skills and independence to successfully navigate life at school, work and elsewhere.
For these campers, the new log cabin-style shelter is a blessing. People with autism spectrum disorder can have sensory issues and are often upset by disrupted routines. Coping with clammy skin, wet clothing and a sudden shift in plans can easily derail their day.
Pavilion Helps Boost Enrollment
"It's harder for them in every aspect of their lives. Life is a struggle for these kids," says Mrs. Simches, who contributed $500,000 to build the new pavilion. Mrs. Simches, a leading MGH donor, is dedicated to helping children.
In summers past, when bad weather hit, some campers sheltered in tents, ran to a small outbuilding, or trekked through the rain to an unfamiliar building on the Hale Reservation. Others had to stay at an Aspire site in Boston.
Now, most campers can quickly reach the Simches Family Pavilion. "I still have to watch for thunderstorms but a little bit of rain doesn't affect us anymore," says Scott McLeod, PhD, Aspire's executive director. The new building is also allowing enrollment to grow from 106 to 118.


A Commitment to Children with Autism
Mrs. Simches' passion for children is deep and personal. In her earlier years, she served as a social worker, helping children in distress. Mother of three daughters, Mrs. Simches devoted her life to her family.
Her youngest daughter, Joanne, suffered from depression. Gentle, sensitive and compassionate, Joanne loved working with children. She died tragically in 1991 at the age of 25.
"Joanne cared deeply about children," Mrs. Simches says. "In her honor, one of our primary philanthropic goals is helping children."
Continuing a Family Tradition
Inspired by her late father Thomas Black, Mrs. Simches believes in giving back to the community — a core value also shared by her late husband, Richard B. Simches, founder of Safety Insurance Company. Over the years, the couple gave generously to many organizations.
And since her husband's passing in 2001, Mrs. Simches has continued that tradition.
At Aspire Summer Adventure Camp, children learn to take the perspective of others and to identify and talk about their own feelings as they participate in archery, swimming, yoga and arts and crafts.
Some of her most notable efforts include in 2004 establishing Mass General's Richard B. Simches Research Center, a premiere medical research facility, and in 2011 the Nancy and Richard B. Simches Child and Adolescent Psychiatry Division at McLean Hospital, another Partners HealthCare hospital. She also has helped Pathways Academy, a private school at McLean for children with autism spectrum and related disorders.
Most recently, Mrs. Simches began supporting the Aspire Summer Adventure Camp.
Boating, Archery and Social Skills
Since 2002, the camp has specialized in helping children with high-cognitive autism spectrum and related disorders. Before then, few camps existed for such children who often have problems with social skills and communication and difficulty with change.
"They would get kicked out or bullied at regular camps," Dr. McLeod says.
At Aspire Summer Adventure Camp, children learn to take the perspective of others and to identify and talk about their own feelings as they participate in archery, swimming, yoga and arts and crafts. Counselors receive 40 hours of training on helping campers cope with anxiety and improve their social skills as events occur—not days later in a therapist's office.
"It's very effective," Dr. McLeod says.
By design, campers stay in the same small group for the six-week session. Some make friends for the first time, parents report.
Nature as Therapy
On a recent sunny day, Mrs. Simches visited the new pavilion. "We were sitting on the porch overlooking the trees and I saw how calming and tranquil it was," she recalls.
Each summer, Aspire awards about $175,000 in financial aid to disadvantaged campers. This year, Mrs. Simches quietly helped a number of children attend the camp.
"This is a place where my daughter would have enjoyed working," she says. "A place where children can be safe and happy and learn."
For more information or to help support the Aspire program, please contact us.