When Max Matteini was diagnosed with an autism spectrum disorder as a toddler, his family experienced fear, anxiety and isolation.
"You get thrown into this world, and you don't know who to turn to," says Lizzy Matteini, Max's mother.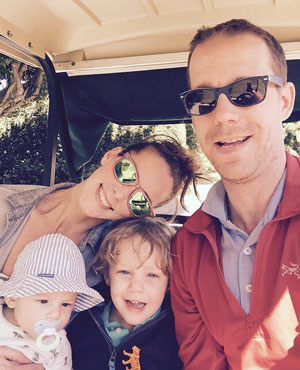 The Matteinis were frustrated and confused after encountering pushback from doctors who brushed off their concerns about Max's development, and it was sometimes hard to be around well-meaning friends who didn't understand Max's behavioral issues.
All of this changed after their first appointment at the Lurie Center for Autism at MassGeneral Hospital for Children.
"We felt relief from the very first moment here," Ms. Matteini says. "This was a place where people truly understood. We felt like we were finally on the right path, and there's something amazing about that relief."
A Multidisciplinary Autism Approach
At the Lurie Center, a psychiatrist, a neurologist and a gastroenterologist have followed Max's treatment. An educational specialist refined a preschool plan for him, while a family support specialist provides ongoing guidance for his individualized education program. It's a multidisciplinary approach that combines clinical care with ongoing personal support.
Thanks to the guidance of the Lurie Center, Max now attends an integrated public town preschool, where he has formed close friendships with his classmates. He's grown into a confident four-year-old with a twinkle in his eye, Ms. Matteini says.
"We only dreamed this kind of progress was possible in such a short time," she remembers. "Finding the right partner in this journey can truly change the outcome."
The Importance of Community
Regular contact with family support specialist Suzanne Bloomer—who advises on everything from education to routine administrative questions—has made a daunting journey manageable for the Matteinis.
The Lurie Center's Family Support Team helps to provide families a roadmap, making referrals for support services, answering questions, organizing community talks, connecting families and simply listening and providing hope during a confusing time. For families facing autism, this sense of community is essential.

"There's a lot of fear around a diagnosis of autism," notes Ann Neumeyer, MD, the Lurie Center's medical director. "There's fear that your child might not be developing properly and might not develop into an independent adult. Our support specialists and team at the Lurie Center help to guide therapies and improve outcomes."
Committed to Supporting Research
"Early intervention is key. You can make such an impact on these kids when they're very young," Ms. Matteini says.
The Matteinis have shown gratitude for their experience by supporting the Lurie Center philanthropically: Ms. Matteini's sister, Emily, will run the Boston Marathon in April to support Lurie, and the family has raised $25,000 to support her so far. They hope to raise even more at a "Love for Lurie" fundraising event at Boston's Barking Crab before the race.
Ms. Matteini and her husband, Chris, also joined Lurie's Leadership Council, where they work alongside other volunteers to advance the Center's clinical, research and education programs. She knows how important it is that other children have access to Max's level of care. She is also committed to supporting research to help improve understanding and treatment of autism.
"Early intervention is key. You can make such an impact on these kids when they're very young," Ms. Matteini says. "Through raising money for Lurie and helping to support children and families with autism, I feel I've found my calling."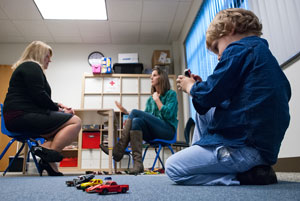 Why Philanthropy Matters
Philanthropy is crucial for the Lurie Center, which sees more than 3,000 families every year. Insurance doesn't cover the full cost of services provided by the center. Donations help to sustain a signature level of personalized care, especially for family support clinicians who act as liaisons and develop long-term relationships with families like the Matteinis.
These funds also help to foster the Lurie Center's special environment. Soothing touches, like a sensory room where children can wait in calm surroundings, distinguish it from clinical settings that can be terrifying for overwhelmed children.
"Lurie is a very friendly, supportive place," Dr. Neumeyer says.
Hope Throughout the Lifecycle
The Lurie Center sees pediatric and adult patients, which isn't always the case at autism clinics. The lifelong continuum of care makes a real difference for families.
"The Lurie Center amazes me with their family support team. Without them, Max wouldn't be where he is today."
"When a child comes here, they are welcome to receive care from us for as long as they like, even in adulthood." Dr. Neumeyer says. "We don't just do an evaluation and wave goodbye. We help patients and families through the various stages of life."
The Matteinis have formed deep bonds with their clinical team, and in particular their family support clinician, who tracks Max's progress and offers advice whenever it's needed. This unique model of support has been transformative for the family.
"Hope is really the one word that identifies what Lurie has given to us, ever since our very first visit," Ms. Matteini says. "The Lurie Center amazes me with their family support team. Without them, Max wouldn't be where he is today."
To learn how you can support the Lurie Center, please contact us.