Two years ago, Yariv "Dolio" Kafri was an active, committed 47-year-old athlete. A one-time member of the Israeli national volleyball team, he had played soccer for many years, and was a surfer, Triathlete, yogi and biker. He was in excellent physical condition and had never smoked a day in his life.
The diagnosis was stunning — Stage 4 lung cancer, the leading cause of cancer deaths in the United States.
One September morning, Dolio was surfing near his home on Long Island when he was struck on the head by his board. He didn't think it was serious, but started seeing "floaters" in his left eye. When those didn't go away, his wife insisted that he get it checked. At the hospital, doctors told Dolio they had found a tumor behind his ear. A body scan revealed more tumors, including a large one on his left lung.
The diagnosis was stunning — Stage 4 lung cancer, the leading cause of cancer deaths in the United States. With two young sons at home, Dolio and his wife couldn't believe what they were hearing. "We were a mess," he recalls. "We thought, 'you must've made a mistake.' It was a complete shock."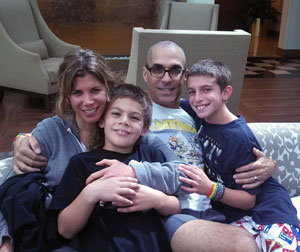 Remarkable Lung Cancer Trial Results
Dolio had non-small-cell lung cancer (NSCLC) with several mutations, one of which was ROS1. In a striking coincidence, Dolio's brother-in-law is a researcher who studies lung cancer. He advised Dolio to seek out the leading authority on his form of cancer. That's what led him to Alice Shaw, MD, PhD, of the Mass General Cancer Center.
Dolio was treated with a drug called crizotinib, which Dr. Shaw helped develop. In a phase 1 clinical trial, several patients had shown remarkable results with crizotinib. Dr. Shaw describes one patient's experience: "When he enrolled in the trial, the patient was extremely sick. Within a few days he felt better, and by the time we scanned his chest at seven weeks, the tumors had essentially disappeared from his lungs."
One important aspect of Dolio's story is that he was able to receive the majority of his treatment in the New York area, where he resides. Dr. Shaw supervises his care, and he travels to Mass General in Boston for regular check-ups. "I feel fortunate that, in four hours, I can drive to the #1 hospital in the world," Dolio says.
Running an Ultra Marathon
When speaking of Dr. Shaw, Dolio captures the essence of a Mass General physician. He calls her "a combination of Einstein and Mother Teresa." He appreciates her caring nature, her intelligence, and the straightforward way she outlines his treatment options. "Cancer is not only a disease, but a mental state," Dolio says. "Not everyone makes you feel comfortable AND in good hands. She does both."
How is Dolio doing? His treatment is ongoing, but incredibly, this past August, he ran an ultramarathon in the Rocky Mountains — 58 miles with 9,000 feet of elevation gain — to support Dr. Shaw's research. He also worked with his care team to develop Supportersize, a sports/exercise program focused on cancer patients. "Training is about perseverance and setting goals," he says. "I want to give the doctors something they can recommend to their patients, just like they've given something to me."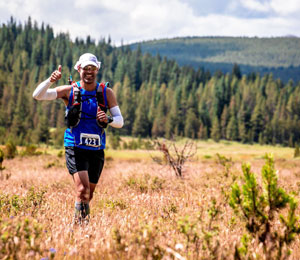 Dolio's story shows what makes Mass General special — because we are at the epicenter of research and patient care, innovative treatments are available to patients as they are developed. Dolio's story is remarkable, but it is not unique; patients receive lifesaving treatment at Mass General every day. As for Dr. Shaw's research, crizotinib is now the standard of care for patients with Dolio's particular form of lung cancer — another example of Mass General's role in the advancement of medical science.
A Key Funding Source
As an important source of funding for groundbreaking biomedical research, the MGH Fund is a crucial part of our mission at Mass General. We have set a very ambitious goal for our 2016 MGH Fund Annual Drive — we hope to raise $2 million to increase our support for biomedical research, patient care initiatives and other needs.
Please give generously to the 2016 MGH Fund Annual Drive, so we can help more people and save more lives.