Three times each week, 24-year-old Amanda Murphy leaves her apartment in Boston's Back Bay and drives north on Route 95 to her office in Danvers, Massachusetts. She's just like thousands of other busy commuters, with a couple of key differences: Amanda has Non-Verbal Learning Disorder (NVLD), and this is her first job in a corporate environment.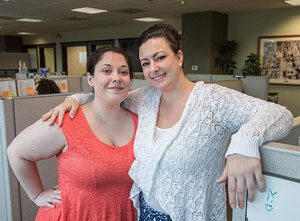 Amanda interns at Insight Services Group (ISG), a medical management and services company, thanks to MassGeneral Hospital for Children's Aspire Adult Internship Program at the Lurie Center for Autism.
"This experience has been a huge confidence booster for me," Amanda says. "I'm fulfilling my potential."
A Lifetime of Support
The internship program is part of Aspire's broader initiative to support autistic individuals and those with related profiles, such as NVLD, throughout the lifecycle. Aspire helps children, teenagers and adults with high cognitive autism spectrum disorder to develop independence and form social connections. The program focuses on the "three S's": social competency, self-awareness and stress management, from childhood into adulthood.

Aspire also coordinates support services around issues involving day-to-day life — for example, independent living, self-care and educational transitions. And programming evolves as patients grow older. Children might attend playgroups, yoga classes and summer camp, while teens can enjoy outing groups, attend money management seminars and participate in college mentorship programs.
About 60 percent of Aspire's programs are made possible by philanthropy, with the annual Aspire Spring Gala raising most of that support.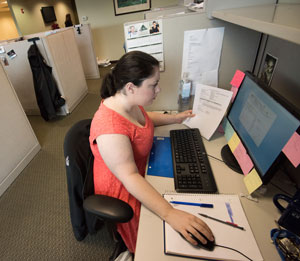 Filling a Niche
Autism spectrum disorder is a neurological and developmental disorder that often appears by the time a child turns three. Autistic people frequently lack social awareness, have trouble communicating and experience anxiety issues; they sometimes avoid eye contact and show limited attachment to other people. Many on the autism spectrum grow into high-functioning adults. Still, these interpersonal issues can hinder them when approaching typical milestones, like getting a job or living alone.
Until recently, few professional services existed for these adults. The Aspire Adult Internship Program fills a crucial niche, says Leslie O'Brien, Aspire's internship manager. While many autism programs focus on children, Aspire caters to the unique issues and ambitions specific to older patients. Many high-functioning autistic adults long for part-time or full-time work, but they're simply not sure where or how to begin.
Seven years after high school graduation, one in three young adults with autism have not attended college or technical school and are without a paid job. Only about one in five works full time and, for them, the average pay is $8.10 an hour.
Determined to Beat the Odds
Ms. O'Brien says the internship program addresses a growing urgency for capable, eager adults determined to beat such odds. After all, crafting a résumé and interviewing for jobs is daunting for most anyone. For someone with autism, it can be particularly stressful.
"There's a need for adults in our program to have these professional services, because there's some social communication difficulty and anxiety that goes along with finding a job," Ms. O'Brien says. "They might have a bit of difficulty navigating the working world and taking that next step. That's where we come in."
Championed by donors Stephanie and David Long, Aspire's internship program connects adults with high cognitive autism spectrum disorder, ages 18 to 35, with respected employers. Then it helps applicants to refine the skills essential for professional success, like responding to feedback or participating in meetings. Aspire's job coaches provide intimate, ongoing support by supervising each participant's progress. They also offer advice through weekly meetings with other interns and confer regularly with internship supervisors at each company.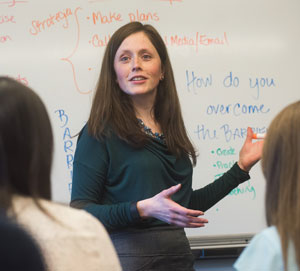 Aspire Interns Blossoming
Aspire bridges an often overlooked gap. While many autistic adults present themselves well on paper and might appear independent, it's often hard to convey professional expertise in a one-on-one setting, such as at a job interview or during a team meeting. Aspire offers constructive support on interview protocol, receiving direction from supervisors and interacting with colleagues under pressure.
"The internship program is only in its infancy, but it's been very successful so far because there are such limited resources for this population," Ms. O'Brien says. "There are more resources for kids and teens than adults, but now that's changing — and our interns are really blossoming."
Indeed, these interns enjoy long-range personal, professional and social benefits. Participants get exposure to the working world and form important professional connections.
Amanda says her life has changed greatly since starting her Aspire internship last fall. She performs data analysis and aggregated information review for ISG, perfecting technical and data pooling management skills that she never dreamt of mastering until now.
"I'd recommend this program to anyone," Amanda says. "I've felt really supported."
Newfound Independence
Regardless of where she lands a job, though, Amanda's experience with ISG has instilled confidence and a newfound sense of independence. "It gave me the extra push that I needed," she says.
Amanda recently moved from her parents' home in Norfolk, Mass., to her downtown Boston apartment, and the ISG internship was a key motivator. "It's a huge example of how independent she's become," notes Lesley White, her Aspire job coach.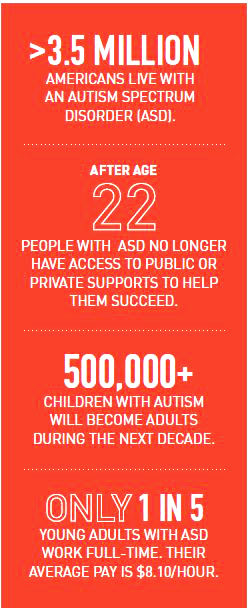 Amanda had held seasonal retail jobs in the past, but ISG offered her a first taste of office life and, subsequently, independent city living. Amanda says the high-touch, ongoing support she has received from Aspire has been instrumental in allowing her to stay committed to her job, even when she has felt overwhelmed or anxious.
Indeed, she wasn't sure she was qualified for the ISG position at first. Aspire gave her tailored coaching leading up to her first interview, and she nailed it. "It was a standard interview, but I wanted to impress them," Amanda recalls.
In fact, the company was so happy with Amanda that it kept her on during a winter term, when she wasn't directly supervised by Aspire. She is now enrolled for a spring session.
A Strong Support System
Ms. White, an Aspire job coach, speaks with Amanda and her ISG supervisor, Cassandra Manning, every week. Amanda also attends a weekly meeting at Aspire's Lexington campus with other interns, helmed by Ms. O'Brien. They discuss workplace challenges and strategies, share stories, and discuss important "soft skills" like résumé-building and work-life balance.
"I'd recommend this program to anyone," Amanda says. "I've felt really supported."
The innovative program attracts participants from across the country. Some interns have yet to attend college; others have master's degrees. Regardless, an Aspire internship is frequently their first work experience.
Potential applicants can apply online, and many hear about the program through word of mouth. Aspire's intake coordinators review applications and set up interviews. Aspire carefully reviews each applicant's skill set, career goals and background to make a proper match. The program then communicates with an appropriate employer and prepares each applicant for an interview. Internship sessions last roughly 12 weeks, with the exception of a 10-week summer program.
"Our organization's culture has changed as a direct result from the young men and women that have participated as Aspire interns at ISG," says John Wolf, chief operating officer of ISG.
Producing Excellent Results
Nearly 100 interns have completed Aspire's program with 40 employers. Participating companies include the Harvard Museum of Natural History, Liberty Mutual Insurance and WGBH.
"There have been a number of companies in the Boston area that have received interns from Aspire," says Scott McLeod, PhD, Aspire's executive director. "I believe they get as much benefit from our interns as our interns get from them."
Amanda's relationship with ISG is no exception. The company has worked with several Aspire interns with excellent results.
"I've learned more about myself by hiring Aspire interns. I've become more patient, and I see a difference in our employees, too," says Ms. Manning, Amanda's ISG supervisor.
John Wolf, chief operating officer of ISG, says the relationship with Aspire has paid dividends companywide. "Our organization's culture has changed as a direct result from the young men and women that have participated as Aspire interns at ISG," he says. "Our employees take great pride in coaching, guiding and creating a feeling of self-confidence, accomplishment and teamwork with all of our participants."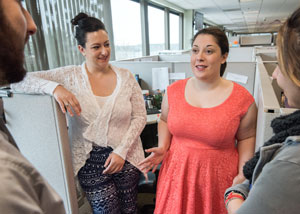 An Intern Reaches Higher
For Amanda, the social life at ISG has proved just as important as the professional networking.
"I work with a group of young people in their 20s. We have fun," she says. "In fact, I didn't realize I would enjoy my job as much as I do. I'm learning technical skills, and I'm also learning how to have a support network."
"Now I know I can thrive in a professional environment," Amanda says proudly.
Amanda attends after-work outings and says she's made solid friendships while feeling motivated to pursue future goals. The ISG position has helped her to formulate a longer-range plan. To that end, Amanda is now pursuing an associate's degree at MassBay Community College. Someday, she hopes to become a museum curator or an editor.
"Now I know I can thrive in a professional environment," Amanda says proudly. "I know I have the skills to go through the social network of a corporate setting and deal with professional issues on a day-to-day basis. And I never thought I'd have this much fun."
For more information about participating in the Aspire Adult Internship Program, please contact us.   To learn how you can make a difference by supporting the program, please contact us.