The 17th annual Aspire Spring Gala featured heartfelt "Dear Aspire" messages from those whose lives have been touched by MassGeneral Hospital for Children's highly successful, therapeutically-based program at the Lurie Center for Autism.
"You've taught me to be myself," read one.
"You've given me a voice," said another.
The gala, held on March 30, 2017, raised $2.6 million to support Aspire. The program helps children, teens and adults with high cognitive autism spectrum disorder or a related social profile develop the skills necessary to live full, independent lives.
Programs include a college mentorship group and young adult internships. Aspire also supports more than 17 area school districts and conducts educational workshops that train more than 1,000 professionals and parents each year on meeting the complex needs of individuals with an autism spectrum disorder.
Letters about Impact
Created by long-time partner Rafanelli Events, the cocktail reception at the Four Seasons Hotel Boston attracted more than 850 guests and featured dinner-by-the-bite, a donut wall and live music provided by the talented students of the Berkshire Hills Music Academy Performance Troupe.



This year's theme, "Dear Aspire," highlighted letters written by Aspire participants, parents, staff and internship hosts about the program's impact. A video offered a 360-degree view of the program: the people it helps, the difference it makes, and the future it helps to create.
The 2017 Aspire Spring Gala Committee included Stephanie and David Long, Timothy Sweeney, Terry and Tom Hamilton, Kerridan and Michael Crowe, Ann Marie and Daniel Gross, and Kim and Eric Karofsky. Together, the members of this group have worked passionately towards shining a light on how Aspire helps those who fall on the autism spectrum pursue careers and lead full lives.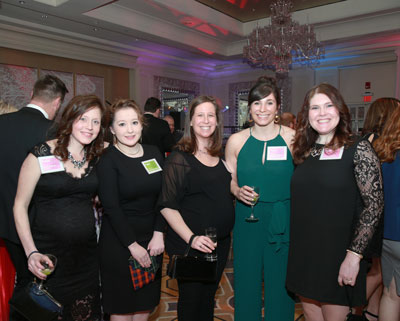 What Really Matters
Seth Rogers, a former Aspire intern, introduced event co-chair David Long, chairman and chief executive officer of Liberty Mutual Insurance and trustee of Massachusetts General Hospital. Co-chair Tim Sweeney, president of Global Consumer Markets at Liberty Mutual Insurance, launched an impromptu live auction, auctioning off an exciting package that included two Super Bowl tickets.
Peter L. Slavin, MD, president of Massachusetts General Hospital, and Scott McLeod, PhD, executive director of Aspire, also addressed guests.
"All of us at Aspire are grateful to all of you," Dr. McLeod said. "You support the program, you speak out, you show up. You make it possible for me to say that no Aspire applicant is turned away because of a family's inability to pay. That is what really matters. That is what's making it possible for children, teens and adults on the spectrum to pursue careers and lead full lives."
If you are interesting in learning more about Aspire or your company would like to host an Aspire intern, please contact Leslie O'Brien at 781-860-1907 or lobrien@mgh.harvard.edu.