It was Allie's turn to show off her canine performance skills at the Doggonit: Epilepsy is Ruff dog show. But the German Shepherd mix seemed content to just stare at a decorative hoop, rather than jump through it. With gentle guidance, 11-year-old Holden Czahor convinced Allie to finally make the big leap.

For six weeks prior, Holden and six other young people with epilepsy had participated in Doggonit, a 12-session dog training series. The program aims to improve the quality of life both for the youth participants and the rescue dogs they worked with.
The series was offered by Thrive, a wellness initiative of the Pediatric Epilepsy Program at MassGeneral Hospital for Children. Thrive provides opportunities for young people with epilepsy to engage in fun activities, where they learn, make friends, develop executive functioning – skills that help them be productive, organized and goal-oriented – and build a positive sense of self. The initiative is 100 percent supported by Mass General donors.
Along the way, the youths themselves found an activity through which epilepsy no longer defined them …
For Doggonit, participants came twice a week to the K9 Top Performance facility in Reading, Massachusetts, to work with certified dog trainers. They learned how to train rescue dogs – many of which had previously been abused or neglected – to obey commands and perform tricks.
Along the way, the youths themselves found an activity through which epilepsy no longer defined them or constrained their pursuits. No one was "different" for having epilepsy. Instead, everyone had a shared goal: get a bunch of lovable but undisciplined dogs to sit, stay and maybe jump through a hoop.
Pawsitive Outcomes
In early May, more than 50 people gathered for the culminating Doggonit dog show. There, the participants proudly demonstrated the connections they had built with their partner pooches. That bond was evident when Allie barked with enthusiasm to Holden's commands and proudly jumped through the hoop a second time.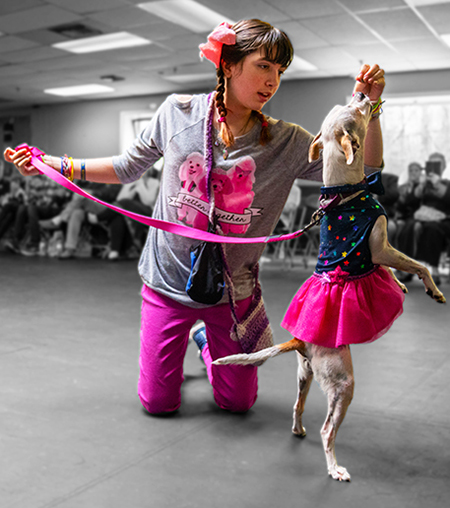 Holden smiled. With his two siblings – 8-year-old Arlo and 5-year-old Clover – by his side for support, Holden got Allie to perform under pressure. The show also highlighted his role in helping her earn Canine Good Citizen certification, an American Kennel Club recognition that's a prerequisite for therapy dog use and other programs. In fact, all the dogs of Doggonit benefit from the training they receive; completion of the course significantly boosts their chances of adoption. In this case, all were adopted by Boston-area families through the volunteer-run organization Last Hope K9 Rescue.
A Formula for Success
Several participants seemed reticent before the dog show started. Their training sessions had hardly drawn a crowd, but the show drew an audience. That suited Katie Mahoney just fine. The 13-year-old loved the excitement and could hardly contain her joy from successfully training Poochie, her canine companion. "She has so much fun coming here," Maureen Mahoney said of her daughter.
That was music to the ears of Mass General's Amanda Tourjee, PNP, a nurse practitioner in the Pediatric Epilepsy Program. Ms. Tourjee added the Doggonit training and show to the lineup of Thrive activities in 2017. "The dog is a catalyst for social development," Ms. Tourjee said. "The training helps participants improve their social skills, and they bond with other youths who also have epilepsy."
"It provides enjoyment, helps boost youths' sense of belonging, involves physical activity and reduces stress."
Elizabeth Thiele, MD, PhD, director of the Pediatric Epilepsy Program, agrees. "Doggonit aligns nicely with the priorities of the Thrive initiative," she says. "It provides enjoyment, helps boost youths' sense of belonging, involves physical activity and reduces stress. Put all of those together, and you have a formula for success when it comes to supporting the development of executive functions."
Youths with Epilepsy and Confidence
Jill Osborn saw this formula at work firsthand. Her 12-year old daughter Haley – who can have as many as 50 seizures in one day – participated in Doggonit. "When she comes here, there are differences with the other kids," Jill said, "but it's not because she has epilepsy. It's only because she's Haley. That's it." Doggonit has instilled a confidence in Haley that has carried forward to school, her mom added.
As Jill spoke, Haley practiced commands with her partner dog, Josie, a terrier-pug mix who wore a blue pullover and pink skirt for the occasion. "She licked me!" Haley said after a playful exchange with Josie.
To learn more about how you can support the MassGeneral Hospital for Children's Pediatric Epilepsy Center, please contact us.