Despite a year on the gluten-free diet for celiac disease, Jean Egan's young son Michael still wasn't back to what she calls his "magical Michael, sparkly self." Give it more time, said his doctor.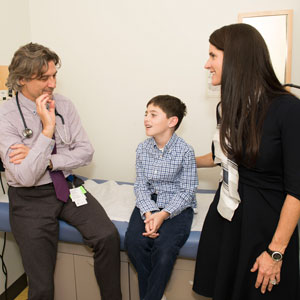 But Mrs. Egan, of Boston, knew something was wrong and took him to MassGeneral Hospital for Children to the world-renowned Alessio Fasano, MD, director of the Center for Celiac Research and Treatment and chief of the Division of Gastroenterology and Nutrition. It didn't take long for Dr. Fasano to figure out that Michael was among the 10 percent of those with celiac who don't improve despite religiously following the diet, currently the only treatment for the disease.
Dr. Fasano, who has made numerous discoveries related to celiac disease, often sees these patients who are known as "non responders." Through research published two years ago, Dr. Fasano and his colleagues discovered that most non-responders are in fact super sensitive to gluten. So he and the center's dietitian, Pamela Cureton, RD, LDN, developed an even more extreme "Fasano diet" that over three to six months essentially reboots the immune system.
"After three months on the Fasano diet, Michael came back to us."
At first, patients eliminate all processed foods. They start with such basics as chicken and rice and then gradually add other natural non-processed gluten-free foods. "After three months on the diet, Michael came back to us," Mrs. Egan says. "He began growing and glowing again."
Gluten is found in wheat, rye and barley and is a key ingredient of bread, pasta and baked goods. It is also an ingredient in many other processed foods, even soups or candy. In those who are genetically susceptible, gluten triggers an autoimmune response in which the body turns on itself and attacks the intestinal lining. About 1 in 133 people have celiac disease.
A Budding Scientist
After two years under Dr. Fasano's care, nine-year-old Michael is thriving. His whole family—including his sister and three brothers—eat gluten-free. They are all healthier because of Michael, Mrs. Egan says.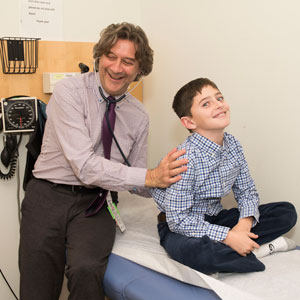 "Michael has a super positive attitude and is curious about the science of what Dr. Fasano is doing," Mrs. Egan says. Michael, who wants to be a scientist some day, asks lots of questions. Rather than squirming when his blood is taken for tests, for example, he asks where the blood is going. "He's very bright and wants to be part of the process," Dr. Fasano comments.
Michael knows that Dr. Fasano wants to find a cure and at a recent clinic visit, asked Dr. Fasano when he was going to make that happen. "We're working on it," Dr. Fasano told him.
To show him, Dr. Fasano arranged for Michael and his mom to tour his research laboratory. Michael was able to peer into a microscope and see one of their latest innovations. Dr. Fasano and his colleagues have found a way to take stem cells from a sample of someone's intestinal tissue and grow them in a special broth into an "organoid," a miniature organ in a test tube. No animals get celiac disease, which makes it harder to study the disease. The organoid is a way to investigate what happens in human tissue in reaction to gluten. It will also be used to test potential new treatments before they are tried in people.
Drug Research for Celiac
The Egans also heard about the drug Dr. Fasano and his team created called larazotide acetate, which was developed and is being clinically tested by Alba Therapeutics of Baltimore, Maryland. This drug most likely won't take the place of the gluten-free diet, but it appears to ease the abdominal pain, headaches and tiredness related to the disease. Ultimately they'd like to find a drug that will take the place of the restrictive diet. Or better yet, a way to prevent the disease.
"Michael was able to see everything Dr. Fasano is working on that could help him during his lifetime."
When pressed to say what was the coolest thing he saw in Dr. Fasano's lab, Michael's response was "everything." He is equally certain that Dr. Fasano will be the one to find a new treatment for celiac.
"Michael was able to see everything Dr. Fasano is working on that could help him during his lifetime," his mom explains. "It gives us a lot of hope and it's all being done right here in our own backyard at Mass General."
For more information on the research and treatments improving the lives of those with celiac disease and related disorders and how you can help, please contact us.