Joshua Corey is a typical teenager. When he is not pursuing his love for basketball or preparing for his Bar Mitzvah, the 13-year-old is scrambling to finish his homework and complete chores at home. What is not typical, however, is his mission to empower kids with physical differences, just like him.
Nearly seven years ago, the then 6-year-old Joshua noticed a quarter-sized bald spot on the back of his head. Within five days, he was completely bald. "I thought it was just a bad haircut, but as the hair kept on falling out, I was getting nervous," he says. "No one knew what it was – one doctor told me it was ringworm, another told me it was an infection that would eventually clear up."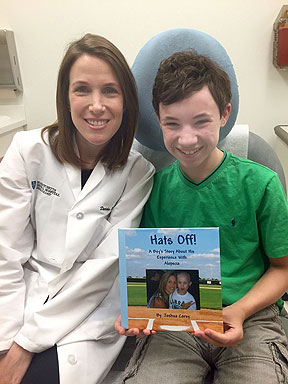 An Alopecia Diagnosis
After several doctor visits and unsuccessful over-the-counter treatments, Joshua traveled from his home in New Hampshire to meet with Daniela Kroshinsky, MD, director of Pediatric Dermatology at MassGeneral Hospital for Children (MGHfC). "When I first met Dr. K., I knew something good was going to happen. I remember her telling me that she was not going to quit on me and that made me feel very good – she was a really great coach."
Joshua was eventually diagnosed with alopecia areata, an autoimmune disease that attacks the body's hair follicles, resulting in hair loss. After a round of oral steroids and a topical chemical treatment, Joshua's hair started to grow back. By the start of the new school year, he had a full head of hair. But that was short-lived, as his hair soon started falling out again, including his eyebrows and eyelashes. "As a mom, it was very difficult not to be able to fix this problem," says Stacey Corey. "Joshua and Dr. Kroshinsky were determined to find a solution and it was important for me to empower Joshua to choose the treatment plan that he felt most comfortable with."
Inspiring Other Kids
Now, Joshua has recruited the help of his family to write a book chronicling his journey at MGHfC. He hopes his book, "Hats Off! A Boy's Story About His Experience with Alopecia," encourages and inspires other kids who may be going through a similar experience. "Everyone has something, this is my something. I want to show other kids who have alopecia – or any other condition – to have more self-confidence," Joshua says. "I know what it feels like to look different and I don't want other kids to feel like they don't have somewhere to turn."
The message of Joshua's book is to stay positive, and Stacey Corey says that is exactly how her son continues to live with his diagnosis. "Joshua has never let his condition keep him from being positive and living a normal life," she says. "But what has impressed me the most is that he has never seen it as being about what is on the outside, and I think that is a message we can all embrace."
The book is available in the MGH Dermatology Department's waiting room, and Joshua and his family also hope to publish more copies to help others.
This story was first published by MGH Hotline.