Many parents want to know what comes after a baby utters "da-da" or "ma-ma." As children begin assigning words to people, places, foods and toys, how quickly should those words flow and what is typical language development in children?
Below are recognized markers of language development in children. If you have concerns, speak with your pediatrician. Children can make significant gains when speech-language delays are identified and treated early.
Baby Sounds
At 6 months: Babies should respond to sounds, like voices and toys that make noises. They should laugh and babble using sounds like b, p and m.
At 12 months: One-year-olds should start to follow simple commands like "Come here." They should recognize their own name and common words. They should say one to two words independently and use gestures like waving.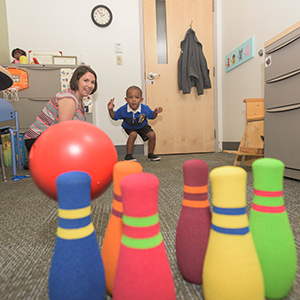 Toddler Talk
At 18 months: Children should say at least 10 words independently, though some 18-month-olds say 100 words. First words may be names of family members, favorite foods and greetings. Children should point to body parts, such as the nose or eyes, when you name them.
At 24 months: Toddlers should be starting to use two-word combinations and have at least 30 to 50 words in their vocabulary. They should follow commands such as "Put the cup on the table" without an adult pointing. A familiar adult will understand most of the child's speech, while an unfamiliar listener may only understand half.
3 to 4 years
From 3 to 4 years old: Children should use sentences of at least four to five words. Words in the sentence should be in the right order, and the child should be starting to use the past tense. By age 4, children will begin to sound like "little adults." They should make few errors in their language and follow multi-step commands without adults making gestures to prompt them.
Boost Early Language Development
Play with your child
A familiar adult will understand most of the child's speech, while an unfamiliar listener may only understand half.
Games like peek-a-boo are great for babies because they teach them that people and objects exist even when they cannot see them.
For toddlers, "low tech" toys such as stacking cups, blocks, cars, pretend food and dolls support language and play skills.
Pretend play reenacting familiar experiences is valuable for preschoolers, as it allows them to create stories, explore new ideas and problem-solve cooperatively.
Read with your child
Reading together supports development of comprehension skills and vocabulary.
Children learn how to hold a book; that stories have a beginning, middle and end; to consider the perspective of a character; and to predict what might happen next in the story.
Try books with flaps, familiar songs, or favorite characters to engage younger or less interested pre-readers.
Please make a donation to support the Department of Speech, Language and Swallowing Disorders and Reading Disabilities at MassGeneral Hospital for Children. To learn more, please contact us.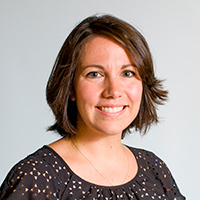 Jennifer L. Maietta, MS, CCC-SLP,
is a speech-language pathologist who works with children ages birth to 6 years old at
MassGeneral Hospital for Children
. Her clinical interests include early language and play development, autism spectrum disorders and speech sound disorders.