Two doctors from Massachusetts General Hospital are teaming up with a university in Uganda to try to help reshape public health in sub-Saharan Africa. Their goal is to dramatically decrease the mortality rate from breast cancer with accurate and early diagnoses and treatment.
Because of inadequate funding and systematic inefficiencies in Uganda's healthcare system, breast cancer is often detected in later stages, delaying treatment.
One of the doctors, Omonigho "Omo" Aisagbonhi, MD, PhD, is quite familiar with Mbarara University of Science and Technology (MUST) in Uganda. She twice taught and trained students there during her recent Mass General residency. This month, the Mass General pathologist will return to MUST on the teaching mission she has conceived with Drucilla Roberts, MD, an associate pathologist at Mass General.
"There's no reason why women with breast cancer can't receive better care," Dr. Roberts says. "The first obvious step is improved treatment, but an even better step is early detection."
The doctors aim to raise $20,000 to finance needed diagnostic supplies that will help implement the cancer detection technique known as diagnostic immunohistochemistry (IHC) during the year Dr. Aisagbonhi will spend at MUST. Donations will also supplement her modest salary. Interviewed a few weeks before her departure, Dr. Aisagbonhi was excited about a "life-changing" mission to introduce a standard of health care that's found only in developed nations.
The Need for Early Detection
In Uganda, breast cancer is the second-most common form of cancer found in women. According to Drs. Aisagbonhi and Roberts, more than 60 percent of East African women who are diagnosed with breast cancer die from their disease. In contrast, the mortality rate of U.S. women with breast cancer is about 10 percent.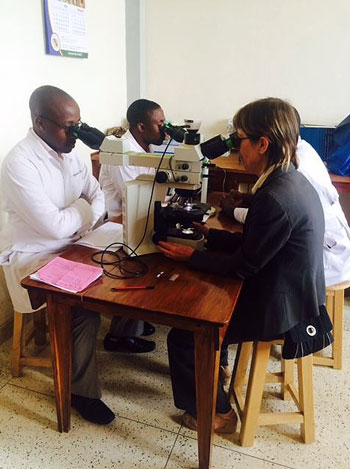 Because of inadequate funding and systematic inefficiencies in Uganda's healthcare system, breast cancer is often detected in later stages, delaying treatment. But differences in how breast cancer is initially diagnosed may contribute even more strongly to the disparity in mortality rates between the U.S. and Uganda.
Effective breast cancer treatment relies on an accurate and complete pathology report. In the U.S., breast tumors routinely receive the special IHC lab test to detect whether the tumor cells test positive for factors such as the Her2 protein, estrogen and progesterone hormone receptors. Identifying the exact type of cancer allows the breast pathologist to help establish the path of care a patient should receive. Certain cancer treatments work best on tumors that are positive for hormone receptors.
A Lack of Necessary Equipment
Clinics in Uganda can't perform IHC hormone receptor studies because of a lack of funding to buy the necessary equipment and the chemical substances that are used in laboratory tests. Medical professionals are also not trained to perform the studies.
As a result, doctors treat all breast cancer patients as if all of their tumors tested positive for anti-estrogen hormone receptors, Dr. Aisagbonhi says. Some patients will benefit, but others can receive the wrong treatment plans and are unnecessarily exposed to potential side effects. In addition, medical resources are wasted.
MUST wants to incorporate IHC into its routine clinical practices but high hurdles first need to be overcome. The university has faculty members who can eventually perform hormone receptor studies but they will need extensive training. MUST also lacks the equipment and supplies used in testing.
Education and Training
But this is where Dr. Aisagbonhi and Mass General step in. "MUST is so hungry for education and training," says Dr. Roberts. "It's a small pathology department. To have another pathologist there is huge."
"Omo will offer insight and a consistency to their training," Dr. Roberts adds. "That will be worth gold."
"Omo will offer insight and a consistency to their training," she adds. "That will be worth gold."
Dr. Roberts hopes to visit Dr. Aisagbonhi at MUST early in 2017. But while she's at Mass General, she'll videoconference with Dr. Aisagbonhi and MUST staff, and see pathology slides on the university's camera-equipped microscopes. "Omo can show us here in Boston different cases and get our help," Dr. Roberts says.
Proper Care for Future Generations
Born and raised in Nigeria, Dr. Aisagbonhi's interest in global health inspired her to train at Mass General. Not many pathology departments are as deeply involved in global health as Mass General's, she says, and she's excited to now be part of that commitment and legacy, which includes Dr. Roberts' past teaching and practice projects in sub-Saharan Africa.
Drs. Aisagbonhi and Roberts hope to raise $20,000 for the MUST training mission. Donations will be appreciated because not only will a year's worth of training be financed, Dr. Roberts says, but the money will also enable Mass General and MUST to build out the program and ensure proper diagnosis and treatment of breast cancer for future generations of Ugandan women.
To help the MUST training mission, visit our campaign webpage.