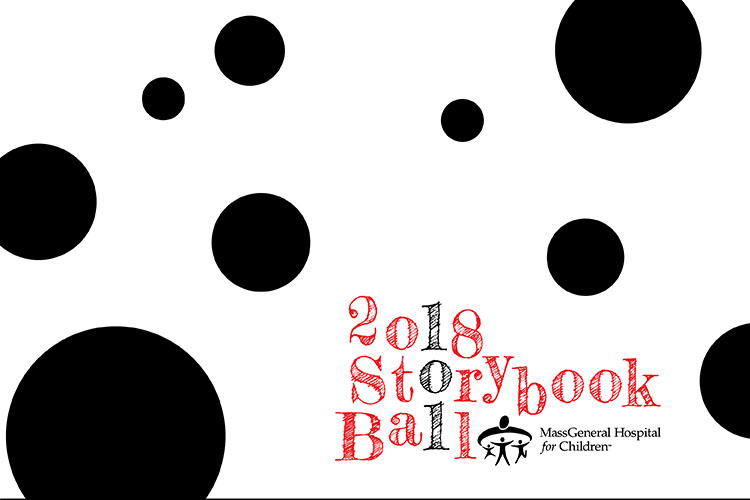 2018 Storybook Ball
On October 13, 2018 at The Castle at 130 Columbus Ave., the Storybook Ball celebrated its 19th year of supporting pediatric care at MassGeneral Hospital for Children (MGHfC).
This year's Storybook Ball showcased MGHfC's Division of Child and Adolescent Psychiatry, which is dedicated to the behavioral, cognitive and emotional health of its patients and families. The Pediatric Behavioral Health team provides comprehensive evaluation and treatment of children and adolescents with a full spectrum of behavioral or emotional difficulties in inpatient and outpatient settings.
Nearly 20 million children in the U.S. have a behavioral disorder – more than the number of children with cancer and diabetes combined. Youth afflicted with behavioral health issues are at a higher risk for academic failure, interpersonal difficulties and substance use disorders.
Led by Timothy Wilens, MD, the Pediatric Behavioral Health team conducts state-of-the-art research and training to equip current and future generations of mental health professionals with the tools to understand the causes, symptoms and genetic underpinnings of these disorders.
To learn more about Pediatric Behavioral Health, please
click here.
Highlights from the 2018 Storybook Ball
Each year, the Storybook Ball profiles a patient and family who have received care at MGHfC. The 2018 Storybook Ball showcased MGHfC's Division of Child and Adolescent Psychiatry, which is dedicated to the behavioral, cognitive and emotional health of its patients and families. Relive the 2018 Storybook Ball by watching the video below, which features 11-year-old Jett.


Storybook Ball Over the Years
Proceeds from Storybook Ball over the past 19 years have allowed MassGeneral Hospital for Children to provide extraordinary care to our youngest patients and their families; to recruit and support the best physicians, surgeons and researchers; and to speed the development of new technologies and cutting-edge research that can transform clinical approaches locally and globally.

The past generosity of Storybook Ball supporters has helped establish new programs and facilities, such as the Coordinated Care Clinic and the state-of-the-art Francis H. Burr Proton Beam Therapy Center, enhancing our ability to serve children with complex physical and emotional needs. Like most healthcare organizations across the country and within Boston, however, Massachusetts General Hospital is not immune to external challenges. In the face of economic adversity, MGHfC is preparing to pursue its mission of caring for those who need our care most by renewing our commitment to the wide range of existing pediatric programs for which this hospital is renowned.
2017: Beauty and the Beast at the Castle In 2017, the 18th annual Storybook Ball featured the transformational initiatives at the MGHfC Food Allergy Center, where cutting-edge research and evidence-based, multidisciplinary practice are utilized to provide the best possible care to patients with food allergies. Funds raised at the 2017 Storybook Ball supported pediatric research initiatives and patient care programs in the Food Allergy Center.
2016: Winnie the Pooh at the Castle In 2016, the 17th annual Storybook Ball featured Medical Genetics, a program that specializes in the evaluation and care of patients who have health problems with a genetic or metabolic basis. The skilled team within medical genetics has extensive experience treating a comprehensive range of genetic conditions including: Angelman Syndrome, Autism Spectrum disorders, Cleft lip and palate disorders, and Pitt Hopkins Syndrome to name a few. Funding from the 2016 Ball went to support genetics research, genetic counseling sessions, telehealth consultations, and resident physician training.
2015: Treasure Island at the Castle The 2015 Storybook Ball highlighted Pediatric Brain Disorders and Brain Surgery. MGHfC is recognized internationally for groundbreaking research and clinical care that has greatly advanced the understanding and treatment of conditions affecting the developing brain. These include pediatric epilepsy, traumatic brain injuries and concussions. The funds raised at the ball supported advanced research initiatives, patient care programs such as child life and music therapy, and training and education courses for pediatric nurses.
Support Storybook Ball
MassGeneral Hospital for Children, the oldest provider of pediatric services in Boston, has offered comprehensive, compassionate care to children since 1821. This is a tradition that every physician, nurse and staff member at MGHfC is committed to keeping—and expanding—into the 21st century and beyond.
Provide comprehensive, compassionate clinical care

Expand support and services for children and families with complex physical and emotional needs.

Advance innovative research

Support new and ongoing investigations while speeding and expanding the most promising current research – and hasten the translation of those innovations into clinical care.

Care in the community

Continue to deliver the strongest possible commitment to underserved children and their families locally and globally.
If you are unable to become a sponsor of Storybook Ball, but wish to support the programs and services of MGHfC, please consider making a gift to the Storybook Ball.
Storybook Ball Event Committee
Co-Chairs
Jennifer & Mark Dolins
Sonja Kelly & Steve Tordone
MGHfC Physician-In-Chief
MGHfC Surgeon-In-Chief
Committee Members
Alli & Bill Achtmeyer
Helen & David Clancy
Beth & Jay Compson
Nicole & Michael Conlon
Paige & Matthew Connell
Tina Cosentino
Shadi & Omid Farokhzad
Megan & Bill Field
Rachel & Allan Goldstein, MD
Emily & Scott Golin
Annette Goubeaux
Adriana & Tarek Hassan
Alice & Jason Indelicato
Demi & Tate Isenstadt
Martha & Ronald Kleinman, MD
Melanie & Torey Krug
Brooke & Conan Laughlin
Alyson & Jeff Lindsey
Tamara Lingos
Deborah Lunder & Alan Ezekowitz, MD
Elinor Lunder
Melissa & George Lynch
Kristin & John Maxwell
Michaela McMahon Popeo & Steve Popeo
Jennifer Nassour
Nikki & Harry Nudelman
Katherine & Ian O'Keeffe
Christine Olsen, MD & Robert Small
Aliya & Christopher Page, DMD
Melissa Reilly
Patty & Charles Ribakoff
Andrea & Justin Rosen
Annie & Alex Sacerdote
Remy Stressenger
Kerry Swords
Eleanor Van Alen
Thank you to our generous sponsors!
Visionary Sponsors
Demarest Lloyd Jr. Foundation
Innovative Sponsors
The David Ortiz Children's Fund
Anonymous
Diamond Sponsors
ArcLight Capital Partners
John Hancock
Debbie and Ted Kelly
Sonja Kelly and Steve Tordone
Kelly Family Foundation
SharkNinja
Platinum Sponsors
Anonymous
The Herb Chambers Charitable Foundation
Demi and Tate Isenstadt
Mooney-Reed Charitable Foundation
Paula J. O'Keeffe
Gold Sponsors
Alli and Bill Achtmeyer
Haleh Azar and Ali Shajii
Howard Cohen and Myra Musicant
Bjorg and Eggert Dagbjartsson
Jennifer and Mark Dolins
John and Sonia Lingos Family Foundation
Patty and Charles Ribakoff
Alissa and Jack Sebastian
Brian and Stephanie Spector
Kerry and Brendan Swords
Sterling Sponsors
Kaia Miller Goldstein and Jono Goldstein
Heather and Chris Kempczinski
Michaela McMahon Popeo and Steve Popeo
Jennifer Nassour
Nikki and Harry Nudelman
Bronze Sponsors
Blue Cross Blue Shield of Massachusetts
Courtney and Michael Forrester
Martha and Ronald Kleinman, MD
The Kraft Group
Brooke and Conan Laughlin
Shelly and Ofer Nemirovsky
Margaret Randle and Jim McDaniel
Martha and Tony Vorlicek
Stephen G. Woodsum and Anne R. Lovett
Patron Sponsors
Helen and David Clancy
Beth and Jay Compson
Alexi and Steven Conine
Shadi and Omid Farokhzad
Emily and Scott Golin
Imprivata
Debbie Lunder and Alan Ezekowitz, MD
Elinor Lunder
Kristen and John Maxwell
Katherine and Ian O'Keeffe
Aliya and Christopher Page, DMD
Physician Leaders
Rachel and Allan Goldstein, MD
In-Kind Sponsors
Akris
Alcove
American Airlines
AS Roma
AVFX
Be Our Guest
Blank Label
bloomingdale's
Boston Ballet
Boston Celtics
Boston Harbor Hotel
Boston Symphony Orchestra
Brunello Cucinelli
The Catered Affair
Four Seasons Hotel Boston
Four Seasons Hotel Orlando
Giorgio Armani
Glamsquad
Liberty Mutual
Martignetti Companies
Mathon Paris
Mereville
Mitchells
Mr. Sid
North River Outfitter
Oliver Thomas
Port Lighting Systems
PUMA
Rafanelli Events
The Ritz-Carlton, Boston
Rue La La
Shreve, Crump & Low
Sue Sartor
Tuscan Kitchen
Winston Flowers
Mass General is grateful for the support of its sponsors, but it does not endorse their products or services.