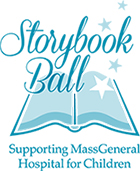 2016 Storybook Ball

Supporting Pediatric Health

On October 15, 2016, the Storybook Ball celebrated its 17th year of supporting pediatric care at MassGeneral Hospital for Children (MGHfC).

This year's Storybook Ball was held at The Castle at 130 Columbus Avenue, and showcased the incredible strides MGHfC physicians and researchers have made in the diagnosis and treatment of genetic disorders and the ability to test for genetic conditions.

The Genetics and Metabolism Program at MGHfC is at the forefront of revolutionary advances in genetics that will help us better understand the basis of many health conditions and deliver more personalized care. State-of-the-art genetics laboratories, world-wide collaborations and research trials ensure patients at MGHfC have access to the latest testing and treatment options.

To learn more about the genetics clinical programs and research initiatives at MGHfC, please click here.
---
Storybook Ball Sponsorship Packages
Below please find sponsorship package options for the 2016 Storybook Ball. Event proceeds allow MGHfC to provide extraordinary care to our patients and their families; to recruit and support the best physicians, surgeons and researchers; and to speed the development of new technologies and cutting-edge research that can transform clinical care worldwide.
Storybook Ball tickets and sponsorships are no longer available for purchase. If you have any questions, please contact us at 617.724.3637 or mghevents@partners.org.
---
Purchase Your Storybook Ball Luxury Booth Bracelet!
A Storybook Ball Luxury Booth Bracelet is your ticket to playing unlimited games with amazing prizes from Giorgio Armani Beauty, Blank Label, bloomingdale's, Broadway Restaurant Group, Daniela Corte, Gretta Luxe & Grettacole, North River Outfitter, PUMA, REMY, Rita Sorrentino Makeup, Rue La La and Trinchero Family Estates.
A limited number of Luxury Booth Bracelets will be sold, so don't miss out on this amazing opportunity! Get your bracelet today!
Purchase Bracelets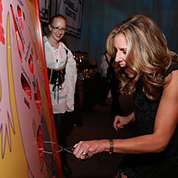 ---
Exclusive Live Auction Packages
Here's a taste of what will be on auction at the Storybook Ball. More exciting live auction items to be revealed!

Balmy Bermuda
Treat yourself to a breather basking in the sun on pink-sand beaches and cooling off in crystal-clear turquoise waters. Enjoy a private flight to a three-night Bermuda escape for four at sophisticated Rosewood Tucker's Point—including golf and a spa day.

Tempting Tailgate
Get ready for an epic Patriots tailgate party. You and 13 of your closest friends will enjoy pre-game VIP treatment, with New England Charcuterie serving an artisanal spread fit for Super Bowl champions. Then, you'll all head into Gillette Stadium to see the Pats crush the Los Angeles Rams.

Two One-of-a-Kinds
What do you get when you combine a living sports legend and an icon of modern music? The David Ortiz American Standard Stratocaster, created by Fender, of course. This custom, hand-painted guitar, autographed by Big Papi, is destined to be a collector's item for both sports and music fans. But, as singular an acquisition as this may be, the experience that goes along with it will prove just as memorable. You and a guest will sit in on an exclusive recording session with Red Hot Chili Peppers drummer Chad Smith. Your musical journey includes a private tour of the famed DW Drum Factory in Oxnard.

Spring Ski Break
After schussing down a mountain in Deer Valley, Utah this March, you may never ski east of the Rockies again--especially, if you're ensconced for a week in a luxurious condo for up to 12 people at The Residences at the Chateaux. The Residences, located mid-mountain and steps away from chairlifts, offer a breakfast buffet, pre-arrival grocery shopping, private concierge, babysitting, playrooms, fitness and business centers, private airport transfers and in-town shuttles. Next door at the Chateaux Deer Valley, you can swim in a heated pool, relax in a hot tub, enjoy gourmet dining and shop 'til you drop.

Fantasy Soirée
Powerhouse event planner Bryan Rafanelli will take his cue from your personal style to plan your dream dinner for 12, in collaboration with the Four Seasons Hotel Boston chef de cuisine. Finishing touches will be provided by Be Our Guest and Winston Flowers.

Score!
You'll be batting a thousand when you treat your crew of 20 to a Red Sox game in a Fenway Park executive suite, including all-they-can-eat food and beverages. But, it's the pre-game meet-up with Sox players that will have your young baseball buffs voting you into the Parents Hall of Fame.

It's a Big Papi Party
Join David Ortiz's nearest and dearest for his official retirement celebration at his annual celebrity golf classic in Punta Cana. With your privileged A-list status, your party of four will be playing with Big Papi's celebrity-studded crowd on and off the course.
---
Highlights from the 2016 Storybook Ball
Each year, the Storybook Ball profiles a patient and family who have received care at MGHfC. This year's Storybook Ball focused on the diagnosis and treatment of genetic disorders and the ability to test for genetic conditions. Relive the 2016 Storybook Ball by watching the video below, which features 10-year-old John Peters and his family from Haymarket, Virginia.
Read more about the 2016 Storybook Ball.
---
Storybook Ball Over the Years
Proceeds from Storybook Ball over the past decade have allowed MassGeneral Hospital for Children to provide extraordinary care to our youngest patients and their families; to recruit and support the best physicians, surgeons and researchers; and to speed the development of new technologies and cutting-edge research that can transform clinical approaches locally and globally.
The past generosity of Storybook Ball supporters has helped establish new programs and facilities, such as the Coordinated Care Clinic and the state-of-the-art Francis H. Burr Proton Beam Therapy Center, enhancing our ability to serve children with complex physical and emotional needs. Like most healthcare organizations across the country and within Boston, however, Massachusetts General Hospital is not immune to external challenges. In the face of economic adversity, MGHfC is preparing to pursue its mission of caring for those who need our care most by renewing our commitment to the wide range of existing pediatric programs for which this hospital is renowned.

2015: Treasure Island at the Castle Last year's event focused on pediatric brain disorders and brain surgery. For children, these include neurodevelopmental disorders (autism, ADHD, Down syndrome), epilepsy, concussion, traumatic brain injury, or mood and anxiety disorders. The annual fundraiser for MassGeneral Hospital for Children (MGHfC) raised $1.6 million to support research initiatives and patient care programs.

2014: Charlie and the Chocolate Factory at the Castle The 15th Anniversary Storybook Ball raised more than $1.8 million to support MassGeneral Hospital for Children's efforts to enhance family-centered care, as well as pediatric community and global health initiatives. The funds are providing critical support to advance MGHfC research efforts, too.

2013: Harold and the Purple Crayon at the Museum of Fine Arts To mark the opening of the new MGHfC Pediatric Emergency Department, this past year's event highlighted Pediatric Emergency Services and Trauma. This focus took on a new meaning in the wake of the Boston Marathon bombings. The evening commemorated the extraordinary care teams and victims of this horrific tragedy. The funds raised supported various initiatives at MGHfC, including increasing Child Life hours in the Pediatric Emergency Department.
---
Support the Storybook Ball
MassGeneral Hospital for Children, the oldest provider of pediatric services in Boston, has offered comprehensive, compassionate care to children since 1821. This is a tradition that every physician, nurse and staff member at MGHfC is committed to keeping—and expanding—into the 21st century and beyond.
If you are unable to become a Sponsor of Storybook Ball, but wish to support the programs and services of MGHfC, please consider making a gift to the Storybook Ball.
Provide comprehensive, compassionate clinical care
Expand support and services for children and families with complex physical and emotional needs.
Advance innovative research
Support new and ongoing investigations while speeding and expanding the most promising current research – and hasten the translation of those innovations into clinical care.
Care in the community
Continue to deliver the strongest possible commitment to underserved children and their families locally and globally.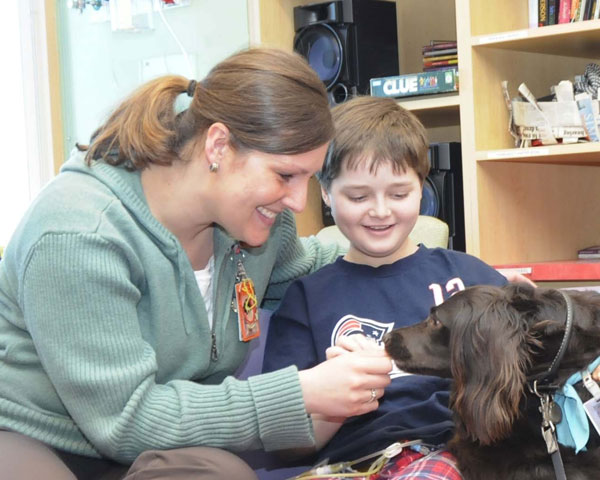 Sasha Field, Child Life Specialist
Support the Storybook Ball and make a lasting impact on pediatric health care.
---
Thank you to our 2016 Storybook Ball co-chairs and generous sponsors!
Co-Chairs
Demi and Tate Isenstadt
Tiffany and David Ortiz
Paige and Rick Sutphin
Diamond Sponsors
Howard Cohen and Myra Musicant
David Ortiz Children's Fund
Shelley Hoon and John Keith
SharkNinja
Platinum Sponsors
The Herb Chambers Charitable Foundation
John Hancock Financial
Mooney Reed Charitable Foundation
Paula J. O'Keeffe
Kerry and Brendan Swords
Anonymous
Gold Sponsors
Alli and Bill Achtmeyer
Bjorg and Eggert Dagbjartson
John and Sonia Lingos Family Foundation
Kelly Family Foundation
Janice Morris and Michael Coggin
Parthenon - EY
Patty and Charles Ribakoff
Alissa and Jack Sebastian
Anonymous
Sterling Sponsors
Michelle and Bob Atchinson
Demarest Lloyd Jr. Foundation
Susan and Bill Fitzpatrick
Jennifer Nassour
The Nudelman Family
Katherine and Ian O'Keeffe
Carroll and Bob Pierce
Bronze Sponsors
Blue Cross Blue Shield of Massachusetts
Cosentino Family Charitable Fund
Jennifer and Mark Dolins
Monica and Adam Kleinman
Demi and Tate Isenstadt
Seth A. and Beth S. Klarman
Martha and Ronald Kleinman, MD
The Kraft Group
Lovett-Woodsum Foundation
Margaret Randle and James McDaniel
Melissa Reilly and Timothy Hartshorn
Annie and Alex Sacerdote
Mason Smith and Gordon Green
Stephanie and Brian Spector
Martha and Anthony Vorlicek
Jennifer and Richard Walsh
Wioletta Zywina and Brian Knez
Patron Sponsors
Aetna
Katherine Chapman Stemberg
Helen and David Clancy
Beth and Jay Compson
Nisha and Stephen DuBois
Dianne S. Fanjoy
Jacqueline and Graig Fantuzzi
Dawn and Steve Farrell
Megan and Bill Field
Courtney and Michael Forrester
Kate and Tom Gilbane
Kaia Miller Goldstein and Jono Goldstein
Emily and Scott Golin
Gucci
Ashley and Bruce Jacobs
Tara and Reid Jordan
Heather and Chris Kempczinski
Katie and Matt Kenney
Leerink Partners
Nancy LeGendre and Walter Herlihy
Debbie Lunder and Alan Ezekowitz, MD
Elinor Lunder
Melissa and George Lynch
Kristen and John Maxwell
Annsley and Robert McAleer
Charlotte and Gil Minor
One Canal Apartment Homes
Mary Louise and Marc Seidner
Nancy and Frank Selldorff
Parterre Garden Services
Bridget and Leif Thomsen
Joanna and Nigel Travis
Physician Leaders
Rachel and Allan Goldstein, MD
Susan Treacy and Joseph Vacanti, MD
In-Kind Sponsors
Stephanie and Patrice Bergeron
47 Brand
AVFX
Be Our Guest
Blank Label
bloomingdale's
Broadway Restaurant Group
Lenny Clarke
Nicole and Michael Conlon
Daniela Corte
David Ortiz Children's Fund
Dolce and Gabbana
Four Seasons Hotel Boston
Giorgio Armani Beauty
gj nelson + co.
Gretta Luxe & Grettacole
Demi and Tate Isenstadt
The Kraft Group
Naomi and David Krejci
Melanie and Torey Krug
Liberty Mutual
Katrina and Brad Marchand
MAX Ultimate Food
Moody's Delicatessen/The Back Room Waltham
NetJets
North River Outfitter
Port Lighting Systems
PUMA
Rafanelli Events
REMY
Rita Sorrentino Makeup
Rue La La
Daniel and Jessica Schmitz
Paige and Rick Sutphin
Trinchero Family Estates
Walsh Brothers
Winston Flowers
---
Contact Us
Mailing Address
Storybook Ball
125 Nashua Street, Suite 540
Boston, MA 02114