For nearly 25 years, Celtic punk rock legends, Dropkick Murphys, have built a reputation for their raucous concerts — particularly their annual set of St. Patrick's Day shows in their home city of Boston. But this year, the band was forced to cancel the shows at the last minute due to the COVID-19 pandemic. Not to be deterred, the Murphys pivoted, quickly organizing an audience-free livestream concert on March 17.  The event — dubbed 'Streaming Up from Boston'— was seen by more than 10 million people, making it the most viewed concert event in history. It also helped raise more than $30,000 for Massachusetts General Hospital's Emergency Response Fund, which provides support and supplies to front-line caregivers and scientists in times of crisis. Recently, band frontman, Ken Casey — a native of Milton, Mass. — discussed the band's longtime commitment to charitable giving and why supporting Mass General's COVID-19 response was a "no brainer."
Growing up, we never aspired to be professional musicians. Our heroes were guys like Bobby Orr — friends who made real contributions to Boston and the surrounding communities. So when we started having some success of own, giving back just seemed like part of the job.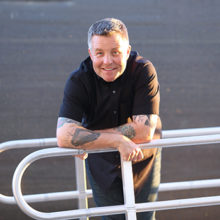 In the early days we chased our tails a bit, supporting various charities and causes, but in 2009, Bobby suggested we try to harness the enthusiasm and dedication of our fans by starting our own charitable fund. So we launched the Claddagh Fund and over the last 10 years, we've helped to raise more than $5 million dollars for a wide range of non-profit organizations and causes.
When it came to supporting Mass General, it was a no brainer. Mass General is the number one hospital in the area and it's always been great to us. We've had members of the band, employees, family members treated there. The staff always goes above and beyond with the care they provide. But right now, with everything going on with COVID-19, the entire team deserves our deepest gratitude for simply showing up.
I had a neighbor who was treated for COVID-19 at Mass General earlier this year. He spent weeks on a ventilator. His wife kept telling us how hard everyone at the hospital was working to save his life. It was inspiring to hear those stories. Knowing we were playing to help the people on the frontlines of this outbreak, the people who were keeping our friend alive, that gave our live-streaming events a greater meaning.
Dropkick Murphys are proud to support the Mass General community at this critical moment. As I keep telling my mother, the one thing we've got right now is that we're all in this together.
To learn how you can support Mass General's response to the COVID-19 pandemic, click here.