Susanna Quinn is a cancer survivor, thanks to Whitfield Growdon, MD's groundbreaking treatment and research. Ever grateful, the Quinns support Massachusetts General Hospital and actively work to raise additional funds and inspire others to join them in giving.
It takes ten seconds to say, "You have cancer. It's very serious. You will be an outlier if you live to see your children graduate from their schools."
I was living a productive, full and joyful life. But in a sliver of a minute, I was plunged into despair. In March 2019, I was diagnosed with ovarian cancer. Doctors at two leading institutions told me that that surgery was not possible. There seemed to be very little hope, and I was terrified. About 65% of women diagnosed with ovarian cancer die of it every year.
I simply could not bear the thought of dying and leaving my family. My mind seemed to slip into a dark chaos as I imagined not being there for my children, Jocelyn and Storm. Missing their lives, not knowing their thoughts, not being able to comfort and counsel them through their fears and disappointments. And not being able to bask in the glow of their successes and happy life events.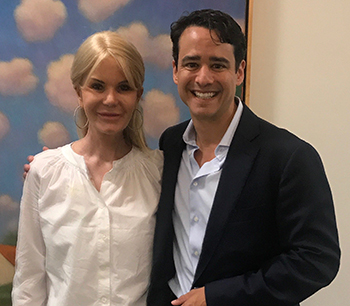 I was despondent.
Thank God, my friends and family encouraged me to go to a comprehensive cancer center and get a third opinion.
A plane flight and a miracle led me to Whitfield Growdon, MD, at Massachusetts General Hospital, one of the leading cancer centers in the world. Dr. Growdon is an expert in identifying new treatments for cervical, endometrial and ovarian cancer.
Dr. Growdon saves lives. He fought for my life as he does for all of his patients. "No hope" is not in his vocabulary. He had the determination and the skill to perform an aggressive surgery that removed the many tumors that had spread rapidly throughout my system. He did not stop until all of my cancer was gone.
I have since had six rounds of chemotherapy and eight more surgeries, and I am now cancer free!
My gratitude that I do not make up part of the staggering 65% statistic is infinite. Instead, I am living a full, happy and healthy life that has been gifted to me by the work of Dr. Growdon. I can ride my bike with my children, cook dinners, cuddle with my family and spend time with my generous, loving, amazing friends — old and new — who have helped me along this journey.
I have so much for which to be grateful, starting with Dr. Growdon. He has treated me like family — and this is how he is with all his patients. His courage, skill and encouragement saved my life.
In just a moment, a woman's life can descend from bright and hopeful into absolute darkness having been struck by the cruel fate of cancer. Please join me in investing in Dr. Growdon's research so that we may increase the options, the hope and the chances for other women like me.
—Susanna Quinn
Susanna Quinn with her husband Jack and children, Storm and Jocelyn.
January 26, 2021