Phil's moose stew. Nanny's Bubble Pancakes. Adult SpaghettiOs, Lahm Bi Ajeen. Recipes for these and other treats can be found in the one-of-a-kind Martinos Center Cookbook. In the early days of the pandemic, staff at the Athinoula A. Martinos Center for Biomedical Imaging at Massachusetts General Hospital connected through food, sharing more than 70 recipes from around the world, labeling every meal with a scientific bent — from appetizers (theory) to main dishes (results) and desserts (conclusions).
"During these challenging times…sharing homemade recipes felt like a wonderful way to feel more connected."
Chefs Share Stories
The idea for the cookbook came from Marco Loggia, PhD, a scientist who studies inflammation in the brain and its connection to chronic pain conditions, like back pain, fibromyalgia, and most recently, Gulf War Illness.
Says Dr. Loggia: "During these challenging times, filled with uncertainty, anxieties and social isolation, sharing homemade recipes felt like a wonderful way to feel more connected; a little like inviting each other to our own homes. Talking about each other's recipes became the start of many conversations and was an excuse to catch up, making up for all those water cooler chats that are currently not possible."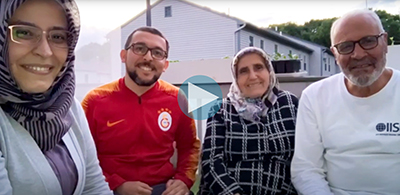 Watch Dr. Loggia in "Marco Makes Ragu" along with several other Martinos Center "chefs" who share stories about their recipes.
The Martinos Center Family
In his introduction (the abstract) to the cookbook, Bruce Rosen, MD, Martinos Center director, writes:
…During this stressful and unpredictable time, it is important for us to remember that the Athinoula A. Martinos Center for Biomedical Imaging is not just brick and mortar. It is more than a collection of desks, offices, and scanners. It is more than a single geographical location in the Charlestown Navy Yard that hundreds of people (used to) commute to daily to pursue their research passions. We are a family — connected through our common passion for understanding how to see living things at work, and how that knowledge can help our larger community get and stay healthy. And especially during these times, family members take care of each other. 
With this cookbook, we hope to provide some small amount of support to the mental and physical wellbeing of our family — through food. Indeed, we are a Center that represents dozens of countries from around the world and it might be some time before we can travel to all of them. Instead, the recipes contained herein show peoples' passion, creativity, and pride in the nourishment of our bodies and minds. While a few of these recipes appear new, many have been passed down for generations … We may be more isolated from one another, which will likely be the norm for the foreseeable future, yet the Martinos Center family remains connected through email and Zoom — and now food.
The Martinos Center Cookbook also served as a fundraiser. The team made the cookbook available as a PDF as a gift and asked for donations of any amount to the MGH COVID-19 Response Effort.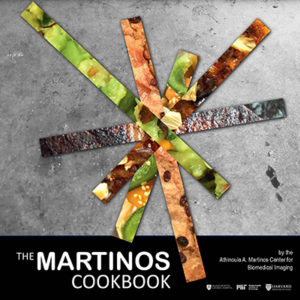 The Martinos Center Responds
In addition to fundraising and creating community by sharing recipes, many Martinos Center employees pivoted soon after the outbreak was declared a pandemic. Some stayed home to "flatten the curve" and learned how to work remotely. Others were redeployed. In his new role, Matthew Larrabee, a research technician with the Laboratory for Computational Neuroimaging, listened for alerts from portable ventilators to support clinicians caring for COVID-19 patients.
When imaging studies at the Martinos Center were put on hold, nurse practitioner Amy Kendall volunteered to be redeployed at the Ragon Institute at MGH, MIT and Harvard to help with a biospecimen repository study with COVID-19 patients. A staff electrical engineer with the Martinos Center's human imaging core, Don Straney responded by making face shield visors and designing circuit boards for COVID-19 projects.
Although it was hard to find a direct link between her research and COVID-19, Jingyuan Chen, a research fellow in radiology, found a way to respond — through cartoons. She created illustrations of COVID-related symptoms and stories of brave frontline clinicians.
To learn about how you can support the Martinos Center, please contact us.
The Athinoula A. Martinos Center for Biomedical Imaging at Massachusetts General Hospital is one of the world's premier research centers devoted to development and application of advanced biomedical imaging technologies. The center is part of the department of Radiology at Mass General and is affiliated with Harvard Medical School and MIT. In November 2020, the Martinos Center celebrated its 20th anniversary of creating tools to solve complex challenges in neuroscience, oncology, cardiology and more.