Like a lot of kids his age, Calum Eaton loves to talk about his passions. But give this nine-year-old from Westford, Massachusetts, an audience and you're as likely to hear the stats of his favorite Pokémon character as you are to hear him recite the periodic table or rattle off the atomic weight of francium.
"He craves interaction and connection — even if it is one-sided a lot of the time," says his father, David Eaton. For Calum, who is on the autism spectrum, school provided a critical outlet — a place he could be a leader and a teacher and share his passions with other children. But when his second grade class made the sudden switch from in-person to virtual in the spring of 2020, Calum, who had little prior experience with computers, was lost. Faced with constant interruptions, glitches, background noise, the normally high-energy Calum faded into the background.
"If anyone was going to help Calum through a computer screen, it was going to be the Aspire team."
"It was horrible to see him struggling," says his mother, Suzanne.
As the school year neared its end, the family learned that Calum's summer camp program would also be switching to virtual. Since kindergarten, Calum had attended the Aspire Summer Adventure Camp in Westwood, Massachusetts. The camp, part of MassGeneral Hospital for Children's Aspire program, helps children and young adults with high-functioning autism spectrum disorder or related disorders develop the skills and independence to successfully navigate life at school and elsewhere.
The news about camp left Suzanne and David feeling somewhat apprehensive. Would a virtual program really be able to keep him engaged? In the end, they put their trust in Aspire. "If anyone was going to help Calum through a computer screen, it was going to be the Aspire team," says Suzanne.
Cyber Summer Days
The couple's faith was rewarded. From the beginning, the difference between virtual school and Aspire's Cyber Summer program was "night and day," according to Suzanne. "Everything just clicked. They knew how to be super engaging and respectful of the kids and the kids were active participants."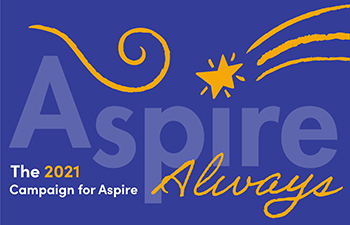 Calum and his fellow "campers" played online games, made art projects and went on virtual field trips to zoos and museums. A regular highlight for Calum was free draw time, when students scribbled together on a shared virtual whiteboard. "It was a chance for the kids to be silly, crazy, creative at the same time," Suzanne says. "It gave them control over the meeting for a few minutes, and that was always a huge hit."
In addition to the activities, each day included small-group lessons designed to build social competency, stress management and self-awareness — something Aspire refers to as the "3S" curriculum. For David and Suzanne, the virtual learning component had an added benefit. In the four years that Calum had attended Aspire programs, his parents had only limited opportunity to see the program in action. But with the Cyber Summer Program, they now had front-row seats.
"We were all there together in our living room so we were able to see firsthand how the staff interacted; how they introduced new concepts; and helped the kids make progress," David says. "And we were able to bring some of those elements and terminology into our home life." One term that's been embraced by the Eaton family is 'blurt alert.' It helps Calum recognize when he's interrupting.
Virtual Learning, Real Progress
One year later, Calum has newfound confidence.
"We were able to see firsthand how the staff interacted, how they introduced new concepts and helped the kids make progress."
"He's exploring his interests largely on his own now, where before he really relied on us for guidance," Suzanne says. "He's also better at identifying things that are issues for him, and the language he uses to describe those issues came right out of Aspire." Calum has also developed a knack for Zoom, becoming the household's video conferencing troubleshooter and even taking charge of the family's virtual Passover Seder. He's also been spending time online with friends, playing Minecraft and programming in Scratch.
While Calum and others flourished in the Cyber Summer program, the benefits of in-person interaction outweigh virtual activities for the majority of Aspire participants. With that in mind — and as summer 2021 approaches — the Aspire team is working toward a return to in-person camp. And the Eatons are looking forward to another summer with the Aspire team.
"We are so thankful for Aspire and all the people involved," Suzanne says. "We have such trust in them. They've been here for us, and for Calum, every step of the way."
For more information or to help support the Aspire program, please visit www.aspiregala.org.