A vaccine under development in Massachusetts General Hospital's Vaccine and Immunotherapy Center (VIC) is raising hope in the urgent search for protection against the new coronavirus.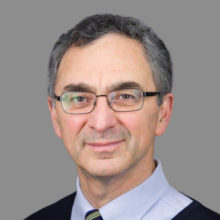 The vaccine, to be called HaloVax, is currently being tested for safety and effectiveness in animal models and could be ready for human trials by fall. It was created using a technology platform called VaxCelerate developed by the VIC for the rapid development of vaccines, says Mark Poznansky, MD, PhD, Steve and Deborah Gorlin MGH Research Scholar 2015-2020, director of VIC and co-inventor of the vaccine platform with Jeffrey Gelfand, MD.
This promising new candidate is part of a hospital-wide mobilization to develop creative solutions to the ongoing pandemic. Dr. Poznansky expects the vaccine will be effective for even the most vulnerable people. "Our goal is to rapidly develop and test a vaccine that could help the population at large, especially individuals who are at increased risk for the most serious complications of COVID-19 infection."
"Our goal is to rapidly develop and test a vaccine that could help the population at large."
In the hope of fast-tracking production, the VIC is partnering with Voltron Therapeutics and Hoth Therapeutics to raise funding and help move HaloVax through development and testing. Although there are other vaccines in various stages of testing at Mass General and around the world, HaloVax has some significant advantages, Dr. Poznansky says. The vaccine was designed on a flexible and stable platform based on data about the human immune system. And unlike some other preclinical COVID-19 vaccines, HaloVax does not need to enter human cells to do its job. Once injected into the body, it works directly on the immune system to activate a response that targets the virus.
Donations from the Analog Devices Foundation, New England Biolabs and the UniFirst Corporation played a key role in VIC's success. Additional philanthropic support will play an important role in the development of other therapeutics and diagnostic technologies to address the pandemic.
To learn more about how you can support Mass General's response to the COVID-19 pandemic, click here.