February 5, 2020
On a Saturday evening in December 2019, 200 people donned the ugliest Christmas sweaters known to fashion at a bar crawl in downtown Boston. They were there to honor Thomas Curran – a beloved family man and friend who died in 2018, after experiencing cardiac issues in 2018. In tribute to him, they also raised funds for the Corrigan Minehan Heart Center at Massachusetts General Hospital.
I already knew it was a good place, but it was remarkable for us the way they cared for my dad.
For seven years, the ugly Christmas sweater-themed bar crawl has been an annual tradition for the Curran clan. This was the second time they turned their event into a fundraiser for the Corrigan Minehan Heart Center. To date, they have raised more than $26,000 to support the world-class specialist physicians and nurses, who work on leading treatments and preventative care for common and complex cardiac conditions.
Making a Mark with Family and Friends
Thomas Curran, known by everyone as "Tim," was diagnosed with Type 1 diabetes as a child. But that didn't hold him back from enjoying life, his wife, Liz Curran, recalls. He and Liz were married for 32 years and had three children, Kristen, Thomas and Andrew. Tim, who lived in Medfield, Massachusetts, owned a consulting business that advised companies on database architecture. He loved to go fishing and boating in his free time.
Tim relished the annual bar crawl and the time he spent with immediate and extended family. He would hoist a few bottles of his favorite beer, as they shared stories. "He didn't come into Boston often," Kristen Curran says of her dad. "But when he did, it was for this bar crawl."
A Compassionate Corrigan Minehan Heart Center
In August 2018, after experiencing chest pains, Tim was admitted to the Corrigan Minehan Heart Center. Doctors and nurses there "had every expectation" they could help him recover, Liz says of her husband. The staff demonstrated compassion and carefully explained Tim's medical condition, she says.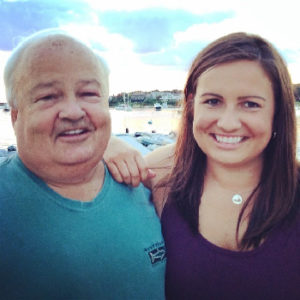 Equally impressed was Kristen, an information systems coordinator for Partners HealthCare, the health care system that includes Mass General. "I already knew it was a good place, but it was remarkable for us the way they cared for my dad," she says. "We had a lot of questions, and they answered them and comforted us."
She remembers George Tolis, MD, surgical director of the hospital's coronary artery bypass program, checking in on her father and family almost every day. Tim's sister, Laura Russell, RN, a cardiology nurse at the Corrigan Minehan Heart Center, was also a huge help. "Her knowledge and compassion as a nurse, in addition to being an aunt who I love, got me through the tough time," Kristen recalls.
In October 2018, nearly two months after being admitted and a triple bypass surgery, Tim passed away from medical complications at the age of 60.
An Ugly but Wondrous Time
Losing her dad was devastating. But as Christmas neared that year, it became apparent the annual ugly sweater bar crawl had to find new purpose. After previously raising funds for other causes, Kristen and her family decided to pay back Mass General and the Corrigan Minehan Health Center for the care they provided to Tim.
And so, relatives and friends began the 2019 bar crawl at Kings restaurant and bowling alley in Boston. Their tacky sweaters featured reindeer, Santa Claus, elves and Dr. Seuss' Grinch. Kristen and her friends sold raffle tickets for gift certificates to eateries, exercise studios, concerts and autographed sports memorabilia. Every penny supported the Corrigan Minehan Heart Center.
To learn more about the Ugly Christmas Sweater Bar Crawl, or to make a donation, please visit the campaign website.
For additional information about how you can hold a fundraiser for Mass General, please visit our BeCause website.