February 18, 2021
When Jason Gibson was about seven years old, he caught his first striped bass with Chris Smith, under a blue North Carolina sky. Growing up, Chris was like a "second father" to Jason, who is close friends with Chris's son, Blake.
Jason, now 17, remembers Chris as active and vibrant — he loved fishing, mountain-biking, laughing and helping others.
There is no cure for ALS, but at Mass General there is a lot of hope.
In 2019, Chris was diagnosed with ALS, also known as amyotrophic lateral sclerosis, a rare progressive, neurodegenerative disease that affects nerve cells in the brain and spinal cord. The disease can move swiftly, causing a loss of muscle control and affecting a person's ability to walk, talk, eat and breathe.
There is no cure, but there is a lot of hope at the Sean M. Healey & AMG Center for ALS at Massachusetts General Hospital, the only place in the United States with an Early Access Protocol Program that offers patients experimental therapies. Chris is a patient of the center, under the care of Merit Cudkowicz, MD, MSc, chief of Neurology at Mass General and director of the Healey Center.
A Special Bond with Chris
Jason and his parents, Tracy Wilson Gibson and Andrew Gibson, visited Chris at his North Carolina home and saw how his active life had declined.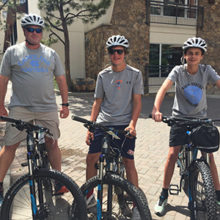 Afterward, Jason wished he could go back to middle school when Chris, Blake, Jason and his dad, Andrew, took weekend fishing trips to places like Morehead City, North Carolina, for deep sea fishing and the Roanoke River for striped bass. Jason also remembered sleepovers with other friends at Chris's farm, when Chris was the only one willing to fish with him at 5 a.m.
Chris often looked after people, Jason recalls. On a trip to Colorado, it was Chris who helped Jason while they were mountain-biking.
"Instead of going on with the others and having a good time on the mountain, going fast and doing jumps, I remember Chris stayed right behind me, just to make sure I wouldn't fall or get hurt, and to push me on, which was really kind," Jason says.
Fishing to Help People Living with ALS
After their visit in August 2020, Jason and his mother, Tracy, wanted to find a way to help Chris. Since a love for fishing was something that Jason and Chris shared, Jason decided to use his qualification in a national fishing tournament as a fundraiser to rally the Chapel Hill community to help Chris and other people living with ALS.
Jason and Tracy quickly got to work. They contacted officials at the Big Bass Zone Junior Championship, who agreed to help publicize their fundraiser and they connected with Mass General's Development Office to set up a BeCause fundraising webpage. Tracy came up with the idea of people pledging a per-pound donation based on the size of the fish Jason caught.
Community Supports ALS Fundraiser
They announced the fundraiser through emails and social media posts including Instagram fishing posts to Jason's followers and on Tracy's Facebook page where she publishes inspirational stories. People said they appreciated the fundraiser because it gave them a way to help the Smith family, Tracy says. She contacted local media and the story ran in local newspapers, and Jason spoke about the fundraiser during a video interview at the bass tournament in October.
"Fundraising was a lovely way for an entire community to put our arms around a family going through a really hard time."
Jason had dreamed of winning the tournament's grand prize of a bass fishing boat, but the sparkling clear, lake waters in Idaho proved challenging for Jason who was more at ease in Carolina's murky lakes. Still, he caught a two-pounder and raised $15,000 for the Healey Center. Jason says he has more to learn about fishing but is glad his efforts will help Chris and others.
Tracy is proud of how Jason tried fundraising. At first, she felt daunted trying to help him, but soon learned fundraising is easy and rewarding, when you believe in the mission.
"When something like this happens, it's hard to know what you can do to help someone," Tracy says. "Fundraising was a lovely way for an entire community to put our arms around a family going through a really hard time."
You can help scientists discover new treatments for people living with ALS, with a donation to the Sean M. Healey & AMG Center for ALS. For more information, please contact us.