As the COVID-19 pandemic escalates, three significant gifts are helping to ensure the team at Massachusetts General Hospital has what it needs in the fight. This week, Arthur, Sandra and Sarah Irving, financier Donald Sussman and singer-songwriter James Taylor and his wife Kim made separate $1 million donations to support the Mass General Emergency Response Fund — which is designed to bolster the hospital's ability to rapidly respond to devastating events.
"The caregivers, scientists and staff at Mass General are working night and day to respond to this unprecedented epidemic," says Mass General President Peter L. Slavin, MD. "This is an all-hands-on-deck moment, and it's extremely heartwarming to see our donors support us so generously at this moment in time. This kind of support during these challenging times is very meaningful to me and the entire Mass General staff.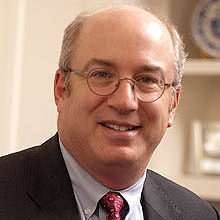 An Expression of Gratitude
Arthur, Sandra and Sarah Irving have supported Mass General for nearly 30 years. They have made significant donations to advance the fields of cardiology and cancer research, specifically immunology, to improve the lives of these patients. They have established the David P. Ryan, MD Endowed Chair in Cancer Research, the Hutter Family Professor of Medicine in the Field of Cardiology, and the Arthur, Sandra, and Sarah Irving Research Fund for Gastrointestinal Immuno-Oncology. Arthur, Sandra and Sarah Irving are strong proponents of research, education, healthcare, the arts and community service.
"This gift is an expression of our gratitude and encouragement to Dr. Peter Slavin and his leadership team, and all the other doctors, nurses, researchers, and the entire team of the Massachusetts General Hospital for working selflessly and tirelessly around the clock to find answers and to help sick people get well," says Mr. Irving, Chairman of family-owned Irving Oil.
Supporting the Areas of Greatest Need
Financier S. Donald Sussman is the founder and chief investment officer of Paloma Partners, a Connecticut-based hedge fund. As a philanthropist, Mr. Sussman is well-known for supporting educational, political and humanitarian causes. Following the 2010 Haiti earthquake, Mr. Sussman donated his private plane to deliver medical supplies to people in need. That same year, he donated $12 million to Skidmore College to help provide student housing. He is also a benefactor of the Weizman Institute of Science in Rehovat, Israel.
"From doctors and nurses on the frontlines to scientists working to develop test and therapies, there is an unprecedented need for philanthropy at this moment," Mr. Sussman says. "By giving to the Mass General Emergency Response Fund, I am ensuring that my donation will support the areas of greatest need."
"By giving to the Mass General Emergency Response Fund, I am ensuring that my donation will support the areas of greatest need."
Inspired by the Courage and Sacrifice
James and Kim Taylor have deep ties to Mass General. The Grammy-winning musician's father, Isaac, earned his medical degree at Harvard, then completed his residency in internal medicine, served as chief resident and conducted research at the Mass General – where Mr. Taylor was born. Kim Taylor has served on the board of the MassGeneral Hospital for Children for the past five years. In 2016, the Taylors performed at a benefit event for the Mass General Cancer Center, helping to raise $2.6 million.
"There is no question that it's a point of pride for New Englanders to claim Mass General as their hospital – our hospital – and this is especially true today with the threat coming from a new and insidious virus," said Mr. Taylor. "Kim and I want to be part of this fight. We have been so inspired by the courage and sacrifice of the health care heroes in the trenches who are working so hard to protect us all."
Donations to the Emergency Response Fund provide flexible funding to support Mass General's comprehensive response effort and provide our caregivers and scientists on the frontline with the resources they need to fight COVID-19. The fund was established in the wake of the Boston Marathon bombings.
As one of only ten Regional Ebola and other Special Pathogens Centers designated by the US Department of Health and Human Services, Mass General has specialized teams of clinical staff trained to provide safe care to patients in exactly this kind of outbreak. In parallel, our researchers and physicians are part of the newly-formed Greater Boston Consortium for Pathogen Readiness, which is pursuing research to quickly and effectively respond to COVID-19.
To learn more about how you can support Mass General's response to the COVID-19 epidemic, click here.