June 1, 2020
On April 20, the original date of the 2020 Boston Marathon, runner Sara Cully, a physical therapist at Massachusetts General Hospital, was at the starting line of an entirely different challenge.
Sara decided to use her love of running to raise money for Mass General's response to the pandemic.
Redeployed from her regular role, Sara had volunteered to join a "proning" team that included physical therapists and operating room nurses. Proning teams help COVID-19 intensive care patients by flipping and positioning them onto their stomach, which has shown to improve breathing and survival, Sara explains.
Running for COVID-19 Patients
Sara qualified for the marathon on her own. But after seeing firsthand the struggles of patients with COVID-19 and the tremendous efforts of health care workers, Sara decided to use her love of running to raise money for Mass General's response to the pandemic.
She set up a BeCause fundraising page for her personal event where she ran 52 miles in 48 hours — a trial that had her running alone for four miles every four hours on May 4–5. Even at midnight and 4 a.m., Sara was running on the bike trail near her Somerville, Mass. home.
Caring for COVID-19 Patients
Before the COVID-19 pandemic, Sara's typical work day involved helping patients with orthopedic injuries like back and neck pain. And through her work with Home Base, a Red Sox Foundation and Massachusetts General Hospital Program that supports veterans and service members, she treats men and women suffering from the invisible wounds of war, specializing in mild traumatic brain injury. Some of her patients are former Navy SEALs, dealing with post-traumatic stress disorder. Pre-pandemic, Sara's patients walked into the outpatient clinics, and she got to know them and share in their joy when they recovered from their injuries.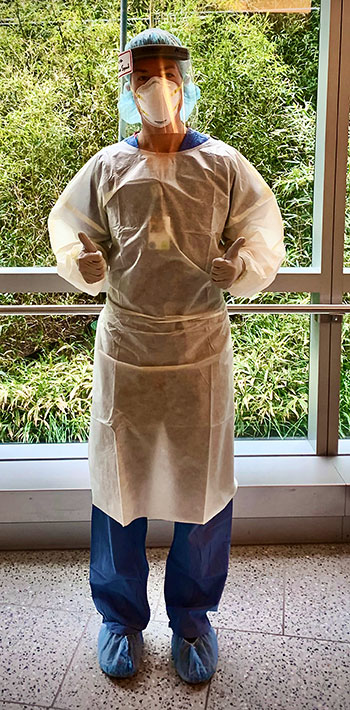 Redeployment to an intensive care unit (ICU) was jarring. "The first couple of days were terrifying," Sara remembers. These days, to enter hospital rooms with patients battling COVID-19, Sara and the team must don personal protective equipment like N95 respirator masks, gowns, gloves, eyeglasses and face shields.
Sara's COVID-19 patients are paralyzed and in a medically-induced coma. They are so sick they cannot talk and because COVID-19 is extremely contagious, family visits are kept to a minimum.
Still, Sara has seen signs of love. ICU staff have posted photos of patients' families near their beds and birthday messages on marker boards, even though patients may not have realized it was their special day. The health care workers at Mass General, under the most straining of circumstances, remember that even small gestures can bring hope.
Choosing a Race
To raise funds for Mass General, Sara chose to run a Navy SEAL-style challenge, spreading the distance of 52 miles over two days. It was something she had never done before and she also liked the connection to the military, because it honored her Home Base patients.
Sara announced the challenge on her Facebook and Instagram accounts on Marathon Monday and gave herself two weeks to fundraise. She believes that her frequent social media updates encouraged more donations. During one video update, she quipped to her followers, "Twelve miles down, just 40 to go!"
Meeting the Challenge
Even though Sara was a longtime runner training hard for her third marathon, the challenge was not easy. "My legs, by the end were shaky, and I definitely was not coordinated in my running, but the mental aspect was the hardest part," she says. "I could never sleep. Could never eat a meal. I felt nauseous, and the challenge just wore me down."
"I learned how grateful I am to work at Mass General where health care workers are given the tools we need."
Sara finished her fundraising race. And because the number of COVID-19 patients continues to decrease at Mass General, she learned her role on the proning team will end on June 8. On June 10, she will begin seeing outpatients with orthopedic injuries, in-person and through virtual office visits.
To date, Sara has raised $14,562, making her one of Mass General's top BeCause fundraisers during the pandemic.
"I learned how grateful I am to work at Mass General where health care workers are given the tools we need," she says. "I feel safe and am able to help patients."
To make a donation, please visit this page for Mass General's Emergency Response Fund.