June 26, 2020
When the COVID-19 pandemic changed everyday life, Jon Rossi felt his community shrinking. As a resident of Boston's Back Bay neighborhood, he missed his friends, co-workers and the children he spent time with as a volunteer at MassGeneral Hospital for Children.
Like many, Jon, a data scientist, had begun working from home in March when COVID-19 cases started increasing in Boston.
He had just returned from a trip to Australia with his girlfriend, Kate Boswell. They decided to shelter in place at her Beacon Hill apartment.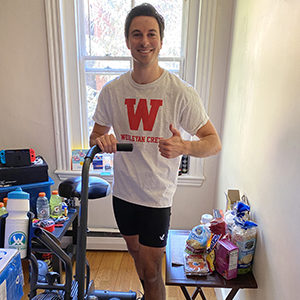 Around that same time, he learned he could no longer volunteer on Friday evenings on Ellison 18, one of MassGeneral Hospital for Children's floors. The hospital had limited volunteer shifts to protect both volunteers and patients and slow the spread of COVID-19.
"Volunteering on Ellison 18 was something I really looked forward to each week and valued because I enjoy being able to care for people," Jon says. "And seeing the way that doctors and nurses interact with young children and their families is inspiring. I was missing that piece of my life. And I had this feeling that I wanted to help my community."
Joining the Fight Against COVID-19
Jon wanted to raise money to help battle the pandemic but wasn't sure how. He knew he wanted to be more active — he had been limiting outdoor exercise because he found it hard to practice physical distancing in the Beacon Hill area. He also yearned for a social event.
By chance, Jon had brought his air bike with him to Kate's apartment. He thought it might be useful because his gym had closed in the early spring. He began riding it frequently. Pedaling exercised his legs and pushing and pulling the handlebars strengthened his upper body. The air bike uses a large fan on the front wheel to create wind resistance, so the harder he worked, the more resistance he felt.
Jon had never used the bike for more than two hours. Still, he felt, as a former college rower, who kept himself in good shape, he had the stamina needed to try a fitness challenge.
He created a fundraising page through Mass General's BeCause community and announced to his friends, family and co-workers that he would ride his bike for 24 hours to raise money for COVID-19 relief efforts.
Gearing Up for Laughs and Miles
Starting at 12:49 p.m. on May 2, Jon rode his air bike for 24 hours straight, stopping only to stretch his legs, fix the bike and use the restroom. He rode at a slower pace, to avoid burning out early in the challenge.
"I feel good about the fundraiser, and I have the confidence that I could do something like this again."
Throughout his event, he updated his followers on Twitter with humorous posts. Jon wanted people to smile, to give them a break from focusing on the sad and difficult aspects of the pandemic. He joked about his ride being a one-man eating contest. He also told his followers what he was doing to keep his mind occupied. He mentioned practicing Chinese and watching an online acting class.
As a throwback to casual office Fridays, Jon donned a Hawaiian shirt for part of his ride. He also wore his old rower's unitard from Wesleyan University, his alma mater, because the bike shorts he ordered online did not arrive in time.
During the ride, he talked with friends, played guessing games with his girlfriend, Kate, and biked silently through the night. At times, he could use either his arms or legs to work the bike, which helped him rest.
By riding 256.19 miles, Jon raised nearly $900 for the Emergency Response Fund. "I feel good about the fundraiser, and I have the confidence that I could do something like this again," he says.
You can join Jon by donating to his fundraising campaign, which benefits the Mass General Emergency Fund.
During the COVID-19 surge, Mass General had limited volunteer shifts. The hospital is beginning to increase the number of volunteers on-site in lobbies to help escort and discharge patients. For more information, please contact the Mass General Volunteer Office at 617-726-8540.