For more than 60 years of practice, Murray L. Janower, MD, followed his passions — learning, teaching and helping others. Now, the retired radiologist and his family are passing along his values with a $100,000 donation to the radiology residency program at Massachusetts General Hospital.
"It was my honor to be part of the training team for future generations of radiology residents at Mass General."
The gift makes perfect sense to them. Dr. Janower began his radiology career as a Mass General radiology resident in 1959. In the ensuing decades, Dr. Janower trained Mass General residents, instilling the superior training that he received as a resident and that informed his practice. "It was my honor to be part of the training team for future generations of radiology residents at Mass General," says Dr. Janower, now 86.
His wife, Linda, and adult children, Andrew (AJ) and Cindy Janower, Amy and Sam Weinstein and Julie Klein also view their gift as a way to celebrate his life. "Professionally, he has cared about doing things the right way, not the easy way," explains AJ, managing director at Charlesbank Capital Partners LLC, a private equity firm based in Boston. "On a personal level, he has been dedicated to his family, his synagogue and his community."
Lifelong Learner, Teacher and Giver
Growing up in Detroit, Dr. Janower absorbed his parents' mantra: study hard, learn as much as you can, and use that knowledge to help others. Becoming a physician checked all of those boxes. "I was a very curious medical school student, interested in all aspects of helping patients," he recalls. Radiology, which engages with every medical specialty, proved an ideal residency choice for him. When Dr. Janower learned he had been accepted at Mass General, he was thrilled.
"I always impressed upon my residents to remember that these are people. Be humble and help them."
Post-residency, Dr. Janower joined the Mass General staff and Harvard Medical School. In 1971, he accepted a new position as Chair of the Department of Radiology at St. Vincent Hospital in Worcester, Massachusetts. Immediately, he set to work, improving record-keeping and speeding up the time it took for patients to undergo exams and obtain their results.
The hospital board was intrigued by his passion to double the department size from a single floor to two floors as well as bring a teaching program to the community setting. Within his first year, Dr. Janower and his team transformed the one-time community hospital into a teaching institution and they welcomed their first residents. Under Dr. Janower's leadership, the residency program was accredited and recognized as an exemplary residency program in a community hospital setting, with the "highest academic standards." 
Dr. Janower instigated other changes too, for example though traditionally radiologists remained behind the scenes, Dr. Janower encouraged his team to meet patients and discuss results directly with them.
A Legend in the Making
Through it all, Dr. Janower thrived. When he began in medicine, X-ray technology was the modus operandi, and computers were few and far between. As radiology progressed, he sought out its advances. "I learned about MRIs, CT scans, ultra-sounds, nuclear medicine — whatever new technological advances that were critical for my department and residents to embrace." And he continued to teach at the University of Massachusetts and Harvard Medical School, reaching hundreds of residents and thousands of medical students.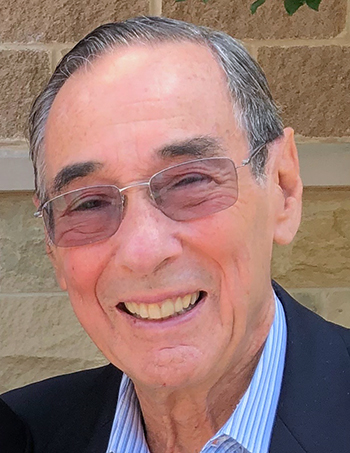 He also fostered professional standards. He authored a book — Administration of a Radiology Department — and shared his knowledge in hundreds of articles, lectures, and other texts. He helped found an international medical society for thoracic radiology, and the Society of Gastrointestinal Radiology. He served as president of the American College of Radiology, the Association of Program Directors in Radiology, the New England Roentgen Ray Society and the Massachusetts Radiological Society.
Focus First on Patients
For Dr. Janower, patients remained foremost — not their scan, X-ray, or other test image. "It wasn't just a picture on the screen. It was a human being," AJ observes. That principle formed the core of Dr. Janower's teaching. "I always impressed upon my residents to remember that these are people. Be humble and help them."
Today, Dr. Janower sees radiology residents facing new challenges — weathering a tsunami of information while learning new, complex classifications of diagnoses and procedures as well as the latest advances. His family's gift is fitting. "Residents need support and education to help them process the most pertinent information and to make their readings most relevant," he says.
Some things haven't changed. "Quality, safety and ethics are the same," he says. "Choosing the right exam, effectively conducting and interpreting the exam and communicating directly with patients—these  are all still the most critical aspects of being a Radiologist today."
"Dr. Janower is the rare combination of consummate caregiver, teacher and mentor."
Dr. Janower's former colleagues at Mass General are touched by his gift as well as his many years of service and mentoring. "Dr. Janower is the rare combination of consummate caregiver, teacher and mentor," says James Brink, MD, who chairs Mass General's Radiology department. "The Janowers' donation will help educate another generation of radiologists in the same high standards that guided Dr. Janower throughout his career."
Mass General Radiology Residency Program
In 1915, Mass General established the first American radiology resident training program. Today, its highly competitive program offers residencies in diagnostic radiology and interventional radiology; interventional radiology uses minimally invasive, image-guided techniques to diagnose and treat diseases. Residents rotate through multiple subspecialty areas as they learn all modalities of radiology. A staff of about 120 radiologists also educates them about radiology's latest advances.
To learn more about radiology at Mass General, or to make a donation, please contact us.