On Dec. 31, 2019, authorities in the Chinese city of Wuhan reported 27 cases of a mysterious viral pneumonia to the World Health Organization (WHO). Over the next 10 weeks, the world watched in trepidation as the virus, now known as SARS-CoV-2, rapidly spread to more than 118,000 people in 110 countries. On March 11, the WHO declared COVID-19, the disease caused by SARS-CoV-2, a global pandemic.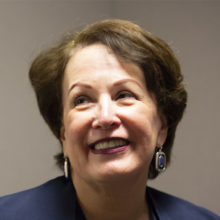 In Boston, the surge was still weeks away — but Massachusetts General Hospital was already preparing. Since January, hospital leaders had been engaged in a vast planning effort aimed at confronting the enormous challenge of COVID-19.
"That time was absolutely critical," says Ann L. Prestipino, MPH, senior vice president for strategy and clinical operations at Mass General. "We were able to observe and learn and make the necessary adjustments so we were ready when patients started arriving."
With deep expertise in infectious disease management and a demonstrated history of leadership in disaster medicine, Mass General is a global authority in emergency preparedness. In 2015, the US Department of Health and Human Services designated the hospital as one of 10 regional health centers equipped to accept and treat patients with highly infectious diseases like Ebola. But COVID-19 was a unique challenge — mysterious in its origins, highly infectious and difficult to contain — and it would take the combined efforts of the entire Mass General community to avert a disaster.
Alarm Bells
As Chief of Emergency Preparedness and Director of the MGH Center for Disaster Medicine, Paul Biddinger, MD, has tracked seemingly every emerging biothreat of the last 18 years. But it wasn't until he attended an international conference on disaster preparedness in Israel in early January that COVID-19 really caught his attention.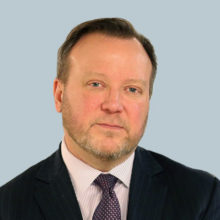 "Even though it was only a trickle of data, it was all anyone at the conference wanted to talk about," Dr. Biddinger says. The outbreak, he says, reminded many of the emergence of SARS (short for Severe Acute Respiratory Syndrome)— the respiratory virus that caused a global panic in 2003.
After returning to Boston, Dr. Biddinger and his colleagues watched as the outbreak intensified. "Once we saw the rate of increase, the number of deaths and the drastic public health interventions that were required in China, we knew it was only a matter of time," he says.
On Jan. 24, a quarantine was announced in Wuhan and the first cases of COVID-19 were detected in Europe. Two days later, Mass General leadership made the decision to activate the Hospital Incident Command System (HICS). Established in the months after the terror attacks of Sept. 11, 2001, HICS is an organizational structure designed to streamline decision-making, operations and communications whenever an event or situation threatens to disrupt the hospital's normal operations.
Ms. Prestipino, who served as incident commander for both the Boston Marathon bombing and the Rhode Island Station nightclub fire, was selected to head the response team.
"There was a feeling that we were due for a pandemic, and the rate at which this virus was moving was ringing alarm bells," Ms. Prestipino says.
Putting the Pandemic Plan in Motion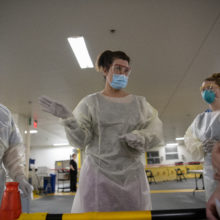 In order to mount a coordinated response to the virus, hospital officials first updated their infectious disease response plans to incorporate emerging knowledge about COVID-19. Within a week they had compiled a handbook to manage patients with the disease that was soon distributed and adapted by hospitals across the world. Included in the handbook were sample signage for patient areas, guidelines for the selection and use of personal protective equipment (PPE) and a set of screening tools to identify and isolate patients suspected of having the virus.
"Initially, when most cases could still be traced back to China, a patient's travel history often determined whether or not they needed to be isolated," says Dr. Biddinger. But by mid-February, evidence started to emerge that unlike SARS, COVID-19 was being passed along by people who showed no signs of illness. "As soon as we realized asymptomatic transmission was a possibility, it drastically changed our perspective."
The accelerating spread of the disease, coupled with the possibility of undetected transmission, made access to PPE a critical concern. In the initial weeks of the outbreak, overwhelming demand for PPE created a nationwide shortage. As the Materials Management team scrambled to bolster supply levels, the HICS team turned to an untapped resource to ensure hospital staff had the protection they needed. Since the H5N1 "bird" flu outbreak of 2004, Mass General had maintained a "rainy day" cache of gowns, gloves and N95 respirators in a local warehouse.
"We'd never needed it before," Dr. Biddinger says. "But the fact that we made an ongoing investment in supplies meant we had what we needed to protect our staff when other hospital systems were struggling."
Averting Catastrophe
By early March, Italy's Lombardy region had emerged as the epicenter of the European outbreak. News from health care providers in Milan and other cities in the region painted a bleak picture of what lay in store for Boston. For Mass General Physician-in-Chief Katrina Armstrong, MD, those updates brought the potential scope of COVID-19 into sharp focus.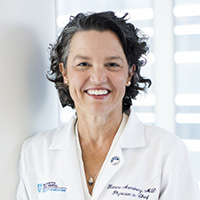 "The hospitals had failed and people were dying by the thousands," Dr. Armstrong says. "In a sense, it was the magic hour. We needed to take action or we'd soon be in the same place."
Using information from Italy and other hotspots, Mass General data scientists under the leadership of Peter Dunn, MD, created operational models to predict how the outbreak would impact the hospital. The models offered several possible scenarios. In the worst case scenario, the projected volume of COVID-19 patients would severely limit the hospital's ability to care for patients with other illnesses.
Averting such a catastrophe required quick thinking. The hospital's surge plan for large scale disasters was reviewed and enhanced. Patient Care Services and the Capacity Management team reconfigured space to more than double Mass General's intensive care unit (ICU) capacity from 150 to 300 beds, allowing doctors to isolate all patients admitted with COVID symptoms. To reduce spread between patients, the Primary Care team established specialized Respiratory Infection Clinics to separate symptomatic individuals from the general population. Non-urgent elective surgeries were canceled and appointments were transitioned to telehealth. Even the hospital's traditional teaching rounds were adapted to limit the risk of transmission.
"Our virtual health and telemedicine colleagues redesigned our digital conferencing tools to allow 'remote' rounding for the entire clinical team," says Jim Gordon, MD, MPH, Mass General's chief learning officer.
"The efforts and lessons of those first six weeks leave us better prepared to handle whatever comes next."
The herculean effort paid off. By late April, new cases of COVID-19 started leveling off. Mass General it seemed, had avoided the worst case scenario outcome, despite having cared for more COVID-19 patients than any other hospital in the region.
"Across our entire enterprise, the response to this pandemic has been extraordinary," Ms. Prestipino says. "We were able to quickly adapt and shift our operations so that when the surge came, we could keep accepting patients and keep our workforce safe."
"The efforts and lessons of those first six weeks leave us better prepared to handle whatever comes next, whether it's COVID or something else," Dr. Biddinger says.
"This is just a reminder that we're up to any challenge," Dr. Armstrong says. "We've weathered the storm for two centuries, and we'll continue to be there when people need us."
To learn more about how you can support Mass General's response to the COVID-19 pandemic, click here.