Breast cancer specialist Dejan Juric, MD, a pioneer in targeted cancer therapies, is director of the Henri and Belinda Termeer Center for Targeted Therapies at the Massachusetts General Hospital Cancer Center. Just approved by the Food and Drug Administration, a drug he helped develop is the first gene-targeted treatment for women with the most common type of breast cancer, hormone receptor positive (HR+). Those with a gene mutation called PIK3CA — which is present in 40 percent of women with HR+ breast cancer — had their progression-free survival nearly doubled by taking this cancer driver-blocking drug called alpelisib in addition to standard hormone therapy.
In a recent interview, Dr. Juric discussed his work and his vision for the Termeer Center.
What do you believe distinguishes the Termeer Center from other cancer research programs?
I think our drug development program is one of the most exciting oncology programs in the country. We are a group of highly talented investigators who are also active in the Mass General Cancer Center's 29 treatment programs. There is a constant flow of ideas and interactions so we can bring the best drugs to the patients most likely to benefit from them.
We seek investments in our plans to map the position, interactions and interdependencies of every single cancer cell.
We are lucky to be in the center of the largest research universe in life sciences, close to Harvard, MIT, other hospitals, biotechnology startups and global pharmaceutical companies. By sharing our expertise and expanding research alliances within this rich ecosystem, we plan to shorten the time it takes to discover and get innovative treatments to patients.
What are your priorities for building on this success for which philanthropy can help?
We plan to both go more deeply into understanding the biology of advanced cancers and to reach out more broadly to bring innovative treatments to more patients.
We've made major strides in understanding cancers, but by going down to the single cell level, we hope to gain even deeper understanding of this deadly disease. We seek investments in our plans to map the position, interactions and interdependencies of every single cancer cell. It's similar to understanding what happens in a football or soccer game by tracking the movement of every player rather than by just looking at the final score.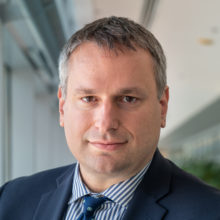 At the Termeer, we run a large number of clinical trials and have all the cutting-edge treatments: targeted therapies, immunotherapies, antibody drug conjugates and cellular therapies like CAR T-cells. We've made a huge effort to bring them to cancer patients at Mass General and our hospital network. We now want to bring these innovative treatments to all patients, wherever they are, including those in underserved, economically disadvantaged communities. This will require an investment to expand support staff services, including social workers, access nurses, program nurses, nurse navigators and palliative care.
What is most significant about your research and the drug you helped develop?
If mutation profiling of the tumor shows that a woman with HR+ breast cancer has the PIK3CA mutation, we now have a drug treatment precisely for her. Our study is proof that precision oncology can work for breast cancer like it does for lung cancer or melanoma. We're also investigating if PIK3CA is a valid target to treat other cancers, such as head and neck cancers, and possibly cervical and anal cancers.
Patients are the ultimate North Star for all our efforts.
We also recently reported that "liquid biopsies," testing blood samples for presence of cancer-driving mutations, may be an even better window into the biology of breast cancers. Blood samples are easier to obtain and may in fact better capture all the genetic drivers of the disease. Blood is like a mirror image of what's happening in the tissue because cancer cells shed bits of DNA into the bloodstream. We can potentially tailor even more precise treatments by testing blood as opposed to tissue.
You're doing research, overseeing the Termeer Center and still seeing patients. Why is it important to do it all?
Like life and the world around us, drug development is becoming increasingly more complex. It's essential to have multiple competencies. Helping patients motivates me every day. Patients are the ultimate North Star for all our efforts. They are our partners in the development of new drugs. They are the true trailblazers, making a leap of faith in joining the clinical trials and changing the practice of medicine along the way.
Ultimately, we will be judged by how successful our discoveries and drugs are in prolonging patients' lives and reducing suffering.
For more information on how to support the Termeer Center, please contact us.