Imaging tools developed at Massachusetts General Hospital offer, "unprecedented insights into diseases and disorders, from chronic pain to cardiovascular disease and neurodegenerative disorders like Alzheimer's," said Bruce Rosen, MD, PhD, director of the Athinoula A. Martinos Center for Biomedical Imaging. Speaking at the 14th annual Phillips Society luncheon, Dr. Rosen said collaboration across research and clinical spaces is driving this revolution.
Mass General boasts the largest hospital-based research program in the country. At the Martinos Center, leading physicists, biomedical engineers and chemists come specifically to work, "with the best doctors in the world," on new imaging technology, Dr. Rosen said. The tools they design reveal images, "that nobody has seen before," and directly impact patient care.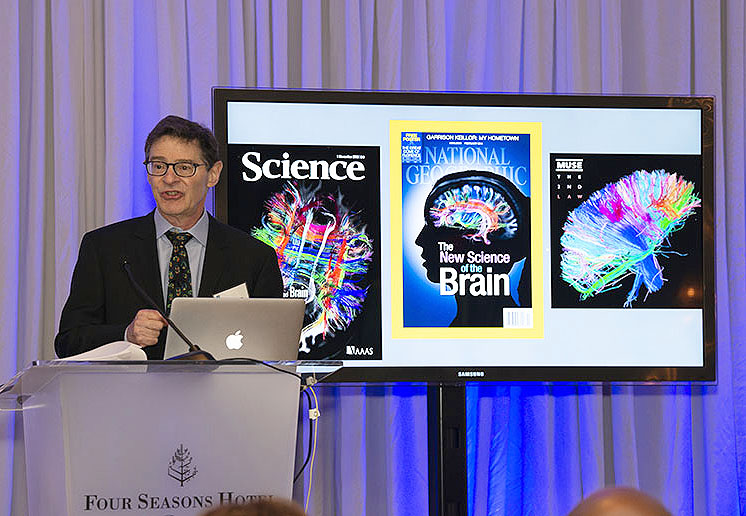 The Living Brain in Action
Conceived and built at the hospital, functional magnetic resonance imaging (fMRI) first provided pictures of the living brain in action, without requiring surgery. As the technology evolves, "these exquisite pictures spawn new ideas about how our brains are put together, how they grow and even how they can become 'plastic' for recovery from stokes," Dr. Rosen said.
The Sept. 6, 2019, event, held at the Four Seasons Hotel in Boston, celebrated the incredible impact of philanthropy from Phillips Society members. The Phillips Society represents those who include Mass General in their estate plan – through a will or other planned gift – and those who establish an endowed fund.
Phillips Society Members Thanked
Ann Prestipino, MPH, senior vice president, and O'Neil Britton, MD, chief medical officer and senior vice president, also addressed the 223 guests and thanked Phillips Society members for their support.
More than 200 years ago, Mass General was built on the commitments of philanthropic support from the community it would serve, Dr. Britton said. Today, charitable giving from patients, families and employees differentiates the nation's top hospitals, he added.
Mass General intends to revolutionize how medical professionals are educated and to extend its global impact, Dr. Britton said. But it'll take philanthropic support, "if we want to preserve the legacy of the Mass General and the magic that happens here."
For more information about joining the Phillips Society, please contact us.