When Nicte Mejia, MD, MPH, FAAN, began her neurology training in 2005, women in neurology were a rarity — including Latinas like her. Today, not a lot has changed. Only about 30 percent of neurology faculty at teaching hospitals across the United States are women, while about 3 percent are Latino, about 2 percent are Black and less than 1 percent are Indigenous.
The internship aims to inspire, equip and empower students to pursue neurology careers.
As director of Mass General Neurology Community Health, Diversity and Inclusion, Dr. Mejia aims to make the field of neurology more diverse and inclusive. In 2020, thanks to the support of the Biogen Foundation, she launched the Mass General Youth Neurology Education and Research Program to inspire, equip and empower students to pursue neurology careers.
Stroke, Alzheimer's, Parkinson's, epilepsy and other diseases of the brain and nervous system are major causes of disability and premature death worldwide. These life-altering conditions disproportionally affect women, Black, Latino, Native American and low-income communities, Dr. Mejia says. "It is also these populations that are underrepresented in the field of neurology," she says.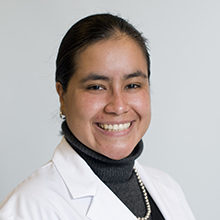 "This project is really about equity," Dr. Mejia says. "It means the world partnering with the Biogen Foundation to invest in the future of neurology by providing paid opportunities for educational and professional growth for youth from underrepresented backgrounds across Massachusetts," she adds.
A New Internship for Neurology
Because of the COVID-19 pandemic, the summer 2020 internship program shifted from a hands-on, in-person experience, to a virtual format.
A vision to support as many students as possible, combined with the reduction of in-person expenses, made it possible to expand enrollment from 10 to 31 high school and college students across 11 neurology labs at Mass General and Biogen. Most participants lived in Chelsea, Revere and Boston and were connected to the Mass General Youth Scholars Program.
The neurology internship's three goals — to inspire, equip and empower — involve mentorship and training. Interns were paired with neurology mentors with expertise in a variety of research. Then, working remotely, students collected, analyzed and interpreted scientific data and participated in online conferences related to career advancement, innovation and leadership skills.
About 350 students from 16 countries joined the 31 student interns for an online weekly series on neurology careers.
About 350 students across 16 countries joined the 31 student interns for a weekly Inspire Speaker Series that highlighted the careers of neurology experts. At the summer's end, students presented their research. Since then, the program continues to help students achieve their academic and career goals.
Support from the Biogen Foundation
"The Biogen Foundation is proud to collaborate with Mass General in developing the first-of-its kind Youth Neurology Education and Research Program to inspire the next generation of neurologists and make science education and science careers accessible to diverse populations," says Kate Dawson, MD, senior vice president of Biogen's Therapeutics Development Unit, chair of the Biogen Foundation, and a prior resident and alumna of the Mass General Department of Neurology.
"As leaders, we must continue to build the intentional, talent pipeline while providing students with the encouragement and resources they need to succeed," adds Dr. Dawson. "Our scientists were so impressed with the students' passion and commitment to the program."
Inspiring Students: Adrianna
Revere High School student intern Adrianna Fusco, 17, enjoyed learning from her mentor, neuropsychologist Yakeel Quiroz-Gaviria, PhD, MGH Research Scholar 2020-2025, and her research team. "They made it a very comfortable environment for students to say things, or make mistakes, which is really important in science," Adrianna says.
During the pandemic, Adrianna has worried about her mother, a grocery store account manager, and her father, a postal worker, both of whom are working on the frontlines. For her research topics, she looked at the relationships between lifestyle factors, like physical activity and social connections, and the risk for cognitive decline in racially and ethnically diverse older individuals.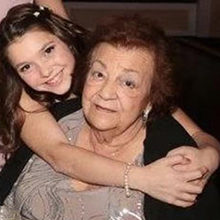 She also brought one of her own ideas to the internship, which spurred the start of the MAPP Youth Ambassadors Program in which Adrianna and other young people are educating our community about Alzheimer's disease. As part of this work, Adrianna wants to inspire students through art and writing contests to learn more about neurologic diseases — so they can share that information with their families and recognize signs of Alzheimer's.
Finding Answers
For Adrianna, the field of neurology may answer questions about an experience that deeply affected her. Her great-grandmother Phyllis Gaglione developed Alzheimer's disease, and, in a short time, changed from a person she could confide in, to someone who was withdrawn and forgot Adrianna's name. After Phyllis' death three years ago, Adrianna has wondered what happened inside her great-grandmother's brain. What caused the change, how it can be prevented for other patients and what can she do to help other people with Alzheimer's?
While Adrianna knows that neurology is not a field that has attracted many women, she is not deterred. She plans to attend Union College in New York on a full scholarship in the fall of 2021. "I find that inspiring and I like that I get to prove myself," Adrianna says. "I feel really grateful that I had this internship. It was eye-opening and it will help me decide what I will study in college."
To support the Mass General Youth Neurology Education and Research Program, please contact us.