Sarah Yamani and her husband, Malik Dahlan's third son is named Hamza. As a toddler, he "made eye contact, spoke in sentences, and would ask me to sing for him," his mother recalls. But shortly after the boy turned 2 in 2014, "it was like a switch had been turned," she says. Hamza stopped speaking and no longer seemed to understand language. He stopped responding to even his name.
"There is a great disparity in autism awareness and services around the world."
After referrals in the United Kingdom (U.K.) didn't result in a diagnosis, the family reached out to Christopher J. McDougle, MD, director of the Lurie Center for Autism at Massachusetts General Hospital. Following an intensive week of appointments with Lurie Center specialists, the family was presented with a long awaited diagnosis and treatment plan.
"There was a lot of hand holding that week — and shock at hearing the diagnosis," Ms. Yamani recalls.
Families from 17 Nations
An increasing number of families from outside the United States have been coming to the Lurie Center, seeking lifelong care not available in their home countries. Families from 42 states and 17 nations — including the United Kingdom, Chile, China and Saudi Arabia — have sought care for their children at the Lurie Center.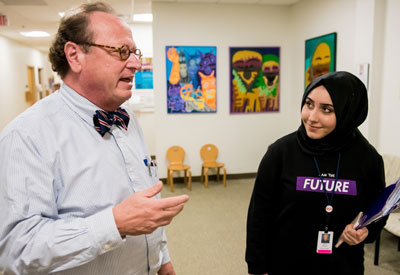 An estimated 1 in every 59 children in the U.S. is diagnosed with autism spectrum disorder (ASD), which is similarly prevalent in other countries, and can affect language, social skills, behavior and IQ.
"There is a great disparity in autism awareness and services around the world," says Dr. McDougle.
Children in the U.K. and many other countries often remain undiagnosed until they are 5 or 6 years of age, he says. By then they have missed out on critical early intervention therapy, which has been shown to improve social and communication skills.
"We are incredibly busy taking care of children and adults in New England and the U.S.," Dr. McDougle adds. "But one of our goals has been to have an international reach. The need is overwhelming."
Lurie Center for Autism Extends Its Global Reach
The couple had to build their own team when they returned to London as nothing like the Lurie Center's approach existed there. Determined to change that, they initiated the Autism Center of Excellence in the U.K., a transatlantic partnership with the Lurie Center and Mass General. Ms. Yamani's goal is to bring the Lurie model of care to the U.K. and increase awareness about the importance of early diagnosis and intervention.
Generous support from Ms. Yamani and Mr. Dahlan, has enabled the Lurie Center to ramp up its teleconferencing capacity. The goal is to provide continuing education on ASD to healthcare providers in the U.K. while also allowing them to consult with Lurie Center experts on individual cases. In 2020 the Lurie Center hosted international virtual trainings for 97 clinicians from the U.S. and U.K. focused on increasing providers' confidence in identifying and treating autism symptoms and expanding their knowledge around available behavioral treatments.
Pooled Perspectives
The Lurie Center, founded on the generosity of Nancy Lurie Marks and the Nancy Lurie Marks Family Foundation, depends on philanthropy to continue providing the wraparound care for which it is known. At least half of the center's costs are not covered by American health insurance.
"Having access to an experienced multidisciplinary team at the Lurie Center gives me peace of mind, knowing I'm not on my own."
The Lurie Center's evaluation and treatment plans pool the perspectives of physicians, psychologists and nurses, along with those of educational consultants, behavioral consultants, speech-language pathologists and physical and occupational therapists. Lurie Center providers present their findings at conferences around the world. Medical students from overseas come to the Lurie Center for one-month clerkship experiences, sponsored by Harvard Medical School.
Peace of Mind
The London and Lurie teams connect regularly about Hamza, now 9, and the family returns to Boston for his annual evaluations.
There have been hard moments and hurrah moments, Ms. Yamani says, but Hamza is thriving. He is enrolled in a mainstream school, is speaking and can read and write. She attributes much of her son's progress to the Lurie Center. An early diagnosis and intervention programs have allowed him to be the happy, social child he is today.
"Having access to an experienced multidisciplinary team at the Lurie Center gives me peace of mind, knowing I'm not on my own," says Ms. Yamani. "We want other families to have that peace of mind."
For more information on how to support the Lurie Center for Autism, please contact us.