Jerrold F. Rosenbaum, MD, is psychiatrist-in-chief emeritus and served as chief of the Massachusetts General Hospital Department of Psychiatry from 2002 to 2019. He is the Stanley Cobb Professor of Psychiatry at Harvard Medical School and the founder and director of the Center for the Neuroscience of Psychedelics.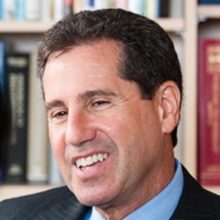 What prompted your interest in the neuroscience of psychedelics?
I began to investigate the potential of psychedelic-assisted therapies several years ago to help patients with depression struggling with the burden of "rumination." People with this "stuck thinking" experience an often brutal and unrelenting form of dwelling on painful thoughts, events, and regrets, and it can take the form of inescapable and unsuccessful attempts at problem solving. When intense, rumination wears a person down. It typically resists our current array of treatments.
Current research indicates that people who ruminate have decreased activity in the default mode network of the brain. Since psychedelics, specifically psilocybin, a compound derived from a psychoactive mushroom, changes the connectivity of the default mode, might it create a window of opportunity to change the brain? Psychedelics appear to make the brain receptive to change and thus have enormous potential, I believe, to promote improvements in mental health conditions, specifically those not responsive to current treatments.
What we do here we believe will one day change many, many lives for the better.
What is the reason for the recent focus on psychedelic medicine?
Clinical studies now support the long-held conviction that these agents can be adapted for their unique therapeutic potential and inspire researchers to make up for the decades of lost opportunity for researching this therapeutic potential. In response to the use of LSD and other psychedelics during the 1960s by groups that the government wished to suppress, psychedelics were placed into the most restrictive category of drugs, which pretty much prohibited significant research for the next 30 years.
Why Mass General?
We have the infrastructure and the research expertise to investigate how these drugs change the brain. Our researchers have pioneered advances in brain imaging, molecular neuroscience and innovative clinical study design.
For example, the Martinos Center is the best in class brain imaging facility, where we can conduct unique neuroimaging studies. The Haggarty Lab has the technology to study brains in a dish (organoids) while probing how these drugs interact with neural systems and neurochemistry.
What we do here we believe will one day change many, many lives for the better.
To learn more about how you can support the research and treatment of depression, please contact us.