Elana Sargent was only 9 years old when her father, Jack, was diagnosed with a glioblastoma – an aggressive type of brain tumor that only has a 5% chance of survival after five years.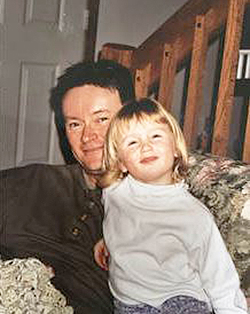 While Elana didn't know much about brain tumors, she was determined to find a way to help. She started Beading for Brain Cancer – a non-profit bracelet company whose goal was to raise money to support related research.
Bracelets for a Cure
Elana began working with her mother, Lisa, to craft bracelets with beads and ribbons of gray – the official color for brain cancer awareness.
She gifted her first few bracelets to family and close friends at Thanksgiving. With her family's encouragement, Elana sold the bracelets for $10 each at local stores. Her jewelry quickly gained popularity, and the business took off. There was a surge of orders from members of Elana's community. Soon, nearly every caregiver at Massachusetts General Hospital's Pappas Center for Neuro-Oncology, where her father received care, was wearing one.
In 2009, Elana and her family donated $1,000 raised from bracelet sales to glioblastoma research at the Mass General Cancer Center. Elana presented the check to Tracy Batchelor, MD, MPH, executive director of the Pappas Center for Neuro-Oncology and her father's neuro-oncologist.
Continuing the Mission
Elana decided to continue the Beading for Brain Cancer project in her father's memory after he passed away from his disease, in 2011.  That same year, Mass General honored Elana and her brother, Jack, at the one hundred for their efforts. Elana and Jack made over 800 bracelets for fellow guests at the event, and helped unite the entire room in the fight against brain tumors for the night.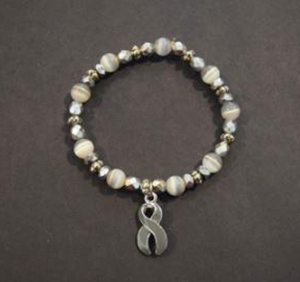 Over the past 10 years, Elana has made hundreds of bracelets. She sells them throughout New England and has shipped them as far away as Brazil.
Since starting Beading for Brain Cancer, Elana has raised close to $10,000 for glioblastoma research at several Massachusetts hospitals. This winter, Elana joined Dr. Batchelor in his office once again to present a check for $1,500 for glioblastoma research.
Elana's Essential Role
"Our mission at the Center for Neuro-Oncology is outstanding clinical care, cutting-edge research, and the education of the next generation of scientists and clinicians," Dr. Batchelor says. "Elana's philanthropy has played an essential role in advancing our efforts, and will continue to be critically important in the years ahead."
Elana is now a freshman at Drexel University in Pennsylvania majoring in biology and pre-med. She remains committed to Beading for Brain Cancer. She plans to continue selling her bracelets online in the hope of raising awareness and, one day, finding a cure.
To learn more about how you can support care and research at the Mass General Cancer Center, please contact us.