May 1, 2020
For Kate Santoro, Boston's Marathon Monday is a special day. The Boston Marathon brings the city she loves together and celebrates overcoming obstacles through running.
As a longtime elite runner and Boston resident who qualifies for the marathon each year, Kate has not been a formal member of Massachusetts General Hospital's Marathon Team. But Mass General means a great deal to her and her family; it was where her children were cared for when they were at their sickest.
"This was my way of filling up a void people had that day."
When the COVID-19 pandemic hit, Kate and her family were on vacation in South Carolina. Yet she still wanted to support Mass General and the friends she had made there.
She created Run for Good, a virtual running 5K/10K and fundraising event for Monday, April 20 — the original date of the 2020 Boston Marathon. The event, she hoped, would also lift the spirits of runners and non-runners who were stuck at home.
This year's Boston Marathon would have been Kate's 22nd marathon. In 2013, during the bombing, she was at the finish line and her daughter Grace was in the crowd. One year, she overcame a torn ACL/MCL knee injury to run the race. And last year, she achieved her dream when she won the women's masters division.
"I wasn't sad for myself that the event was postponed. I was sad for the city," says Kate. "This was my way of filling up a void people had that day."
A Different Race
Kate set up a Run for Good fundraising site and things took off. In lieu of a race entrance fee, she asked participants to donate to the Mass General Emergency Response Fund, established after the Boston Marathon bombings to support training and provide vital resources to advance emergency preparedness.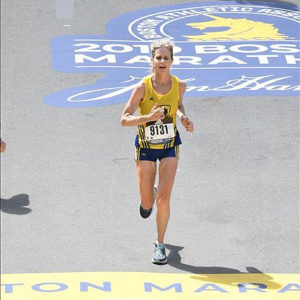 News of Kate's event spread across social media channels, and people responded. About 140 runners joined the event. The youngest was 8 — the oldest, 77.
Kate has a passion for running, so she put her race-day energy into advising runners, individually, on how to increase their mileage and select safe routes. She encouraged people to do what they could, whether it be one mile or a 10K. She sent emails to cheer runners on.
A Good Day
When Marathon Monday arrived, Kate, her husband, Paul, and their five children were still in South Carolina. She ran a quick, 20-minute 5K alone and spent much of the day checking email. But as the day went on, her excitement grew as runners sent her selfies, their running times and donations. In total, the Run for Good raised more than $12,000 for Mass General's Emergency Response Fund, which is now helping with the COVID-19 response.
"It wound up being an amazing day," Kate says. "I was so thankful to see what people do in a time of crisis: People rise up." As a token of her thanks, Kate mailed small prizes to top finishers in age catergories and certificates to all runners.
Overcoming Adversity
Kate says Mass General feels like home to her and has seen her through adversity.
Their oldest son, Ryan, was diagnosed by Mass General's cardiology department with heart disease and had surgery to receive a pacemaker at 10 years old. Her youngest son, Will, spent nine weeks in the neonatal intensive care unit because he had lung complications.
"Your heart never runs out of what it needs to give to others."
Kate and Paul also experienced tragedy. They lost twins sons, at birth, while living in London.
"Knowing what tragedy feels like, I got an ache in my stomach thinking of what medical professionals were going through with COVID-19," she says.
The Run for Good was Kate's response. As a final thank you she created a digital poster of her "digital team," which included photos of her runners, people from 10 states and three countries, running together in their hearts to send love to Mass General. She sent the poster to the hospital.
"Your heart never runs out of what it needs to give to others," Kate says.
Click here to donate and support the Mass General Emergency Response Fund.