"In the past few months with the COVID-19 pandemic, we've seen firsthand that our community has no boundaries," says Britain W. Nicholson, MD, senior vice president of Development at Massachusetts General Hospital. "With the rapid spread of the coronavirus, the world has never seemed smaller and more interconnected."
At the same time, the Mass General family has never seemed larger. Donors from 37 states and 26 countries have given to our Emergency Response Fund, which supports our comprehensive COVID-19 response. More than 40 percent of these donations come from first-time donors. "We are honored that they have trust and confidence in our efforts to respond to the pandemic," Dr. Nicholson adds.
Coming Together as a Community
"With the rapid spread of the coronavirus, the world has never seemed smaller and more connected."
In addition, gifts of all kinds have come from area residents, restaurants, companies and community groups that want to support our frontline workers. "I am proud that during this difficult time our nurses have humbly risen to the occasion," says Debra Burke, RN, DNP, MBA, NEA-BC, senior vice president for Patient Care and chief nurse at Mass General. "We are grateful to the many organizations, from restaurants and coffee brewers to footwear companies, for recognizing nursing's critical role in this pandemic and rallying around us. We are especially thankful for the opportunity to share these donations, particularly as we celebrate Nurses Week."
Stepping Up and Answering the Call
In honor of Nurses Week, Dunkin' and Red Sox legend, David Ortiz, donated 500 gift cards to Mass General. In addition, Dunkin' and the Dunkin' Joy in Childhood Foundation brought many smiles to our staff when one of their coffee trucks visited the hospital in late March.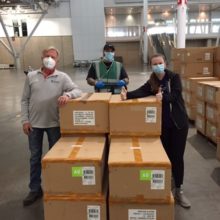 Reebok delivered 410 masks to residents in low-income housing; 1,200 slip-on shoes for patients at Boston Hope Medical Center and Boston HealthCare for the Homeless; and 1,000 pairs of sneakers for health care workers at Mass General. In addition, they are selling limited edition t-shirts, full proceeds of which will benefit Mass General.
When SharkNinja's Mark Barrocas and Mark Rosenzweig learned that masks were in short supply, they worked with their supplier to deliver 20,000 masks to Mass General. SharkNinja is a longtime Mass General donor and supports programs across the hospital including cancer, food allergies, burns and pediatrics.
Nike converted two sneaker manufacturing facilities in Oregon and Missouri into factories that produced face shields and PAPR shields to donate to hospitals. They started with donations to hospitals in Oregon, then building on Converse's headquarters in Boston, they also wanted to give back to Boston-area hospitals. Donations of the shields went to Mass General, Boston Medical Center and Carney Hospital in Dorchester. Nike and Converse donated 100,000 surgical masks and 5,500 Nike Air face shields to Mass General.
Intel Corporation donated 28 high-tech computers to advance research of remote ventilation, which will help ensure that the system operates safely and effectively when deployed. Bloomingdales' donation of about 35 elegant Easter baskets delighted pediatric and emergency department staff.
It Takes a Village
Read more about how kids, teens and others are finding creative ways to support our health care workers.
To make a donation, please visit this page.