Eric Liao, MD, PhD, a plastic surgeon and researcher at Massachusetts General Hospital, treats children born with cleft lip and cleft palate. A Laurie and Mason Tenaglia MGH Research Scholar in the Center for Regenerative Medicine, he is investigating whether cleft lip and palate malformations can be prevented.
What can Mass General do for a child born with a cleft lip and palate?
Cleft lip and palate are among the most common human congenital malformations. They occur when facial tissues do not form properly during a baby's development in the womb. A separation occurs in the skin and bone affecting the lip and it can extend into the soft tissue at the roof of the mouth called the palate. The malformation can also flatten the baby's nose.
The MGH Research Scholar award is one example of how Mass General fosters big ideas and collaborations.
If left untreated, children born with cleft lip and palate malformations will have trouble eating and speaking clearly. Children with a cleft look different, so there is a social stigma, too. In the United States, surgeries to repair the facial tissues are typically performed beginning when children are five-to-eight months old. In other parts of the world, where families have difficulty accessing plastic surgeons, babies with cleft lip and palate may not receive treatment soon enough, leading to lifelong disabilities and disfigurement.
At Mass General, cleft lip and palate are often diagnosed at a first trimester ultrasound — when mothers and fathers 'meet' their baby and see a three-dimensional image of their baby's face. Families feel devastated when given the diagnosis.
Right away, Mass General provides parents with support through a dedicated Fetal Care Team. To ease concerns, a nurse connects with the family and schedules a meeting before the child is born for the parents to meet specialists such as the plastic surgeon, feeding team and nutrition clinician who will care for their child.
Children with cleft lip and palate usually need two operations. But as they develop, they may have other medical concerns such as their speech, cognitive issues and problems with their teeth and nose. At each check-up, the child's team of specialists is present to advise the family. It's a relationship and bond we develop with families that lasts for a couple of decades.
How will your research help?
My goal is to better diagnose cleft lip and cleft palate and offer families earlier interventions.
Michael Talkowski, PhD, a Desmond and Ann Heathwood MGH Research Scholar in the Center for Genomic Medicine, and I are working on a project annotating the human genome, which can be applied to prenatal DNA testing. There is a blood test given during pregnancy to check a baby's DNA for extra chromosomes known to cause certain disorders, like Down syndrome. We want to also use it to diagnose and predict the risk of developing cleft lip and palate.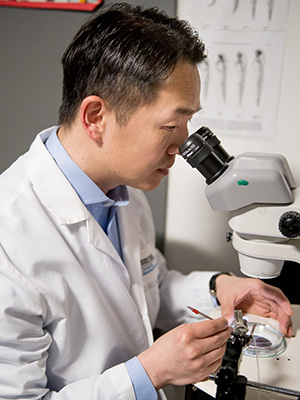 At the same time, we are identifying genes important to facial development. In our labs, we are generating cell-based and animal models to discover new drugs and screen for small molecules that may cure certain types of craniofacial anomalies.
It's an amazing feeling to know that the children I have helped through surgery may help others because their cases are part of our research.
Is there anything you can do about the genes involved?
These days, we don't have much to offer, other than surgery and medical care. For me, the Holy Grail would be to discover a drug that could prevent a cleft from forming or lessen its severity.
It might sound 'out there.' But it happens already with folic acid. Women of reproductive age are encouraged to take a folic acid supplement, as part of prenatal care. This has greatly reduced the occurrence of conditions like spina bifida. If we could discover a drug as benign as folic acid, it could be recommended for all women of reproductive age. But, even if we found a drug with side effects, it could still be helpful for parents at high-risk of having a baby with a cleft, whom we would identify through prenatal testing.
How does the MGH Research Scholar award help?
The MGH Research Scholar award is one example of how Mass General fosters big ideas and collaborations. One of the hospital's biggest assets is the people who work here. So many physicians and scientists are drawn to Mass General because they want to collaborate with world experts.
The MGH Research Scholar award funding gave us the resources to begin a collaborative project with the Broad Institute to build a direct-to-patient pipeline to study rare craniofacial conditions. The approach of empowering patients to directly enroll in cutting-edge research is novel, and also enables researchers to leverage the internet and social media to identify patients with rare diseases.
We launched the project https://raregenomes.org/craniofacial, in large part, with support of the MGH Research Scholar award. Preliminary data generated will help us compete for future funding to solve the genetic basis of rare craniofacial conditions.
The MGH Research scholar award is an unbelievable gift that truly catalyzes our research programs.
And the MGH Research Scholar award support has also already led to success in winning funding. In 2019, our research program was awarded more than $4.3 million in National Institutes of Health and other research funding, as a result of the additional support from the MGH Research Scholar award that enabled me to recruit research personnel to push projects forward.
For investigators, the boost of support from the MGH Research Scholar award, enables us to not only ask bolder questions, but also supercharge efforts on projects that we are already engaged in. This is an unbelievable gift that truly catalyzes our research programs.
After a cleft surgery, I ask families, "Remember when we first met?" And moms and dads often shed "happy tears," recalling their fear of the initial diagnosis. They say they realized what I promised them has come true— their child is thriving and smiling without a cleft.
My dream is that someday medical research will make these children's lives easier from the start.
To learn more about how you can support the MGH Research Scholars program, please contact us.