Meaghan Ekstrom, RN, couldn't imagine handling the many complexities of oncology if she hadn't participated in a nurse residency program at Massachusetts General Hospital.
"The oncology nurse residency serves as a pipeline from college to the professional world."
The six-month program gives nursing graduates a level of specialized training that's usually not offered in college. Ms. Ekstrom, now a nurse at Mass General Cancer Center, credits the residency with helping her understand cancer care and instilling a confidence that lets her provide appropriate emotional support to patients.
"They tell you things about their lives and it's heart wrenching," she says of her patients. "The residency gave me a way to talk to them on a deeper level to meet their psychosocial needs that often come along with a cancer diagnosis."
Oncology Nurse Residency Closes Gap
Mass General has long led the charge in educating medical trailblazers to help advance science and strengthen patient care. The residency program started in 2017 to solve a problem that had become even more pressing as Mass General Cancer Center expanded its inpatient oncology services: having enough experienced nurses.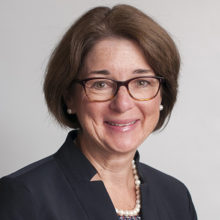 College nursing programs do not teach the nuances of oncology nursing, according to Barbara Cashavelly, RN, DNP, NE-BC, an associate chief nurse for Oncology, Women and Children and Psychiatry at Mass General. Fortunately, there is no shortage of skilled nursing graduates. What was needed, she recalls, was for them to learn in a professional development program that focused on oncology.
"Oncology is a real specialty," Dr. Cashavelly says. "Nurse residency programs create a supportive learning and professional environment to support the transition of the new graduate nurse from student to professional nurse. Our oncology nurse residency program provides the support and structure to increase their clinical knowledge, develop their clinical skills and increase their confidence to care for our oncology patients."
"What you see and experience on the floor, you're learning all of that rapidly. It can be pretty intense at times."
Offered twice a year, the oncology nurse residency serves as a pipeline from college to the professional world, preparing highly-trained clinicians for the intricacies of cancer care. The residency alternates between a classroom curriculum and hands-on training in Mass General Cancer Center, with nurses studying the many forms of cancer and the many different kinds of treatment. "We review chemotherapy administrations and the immunotherapy drugs that are given and how the patient will tolerate them," Dr. Cashavelly says. In addition, the program examines how nurses, in coordination with the care team, can meet the social and psychological needs of patients receiving palliative care.
Equally important, Dr. Cashavelly adds, the residency program provides support to the new graduate nurses to reflect and share their experiences with caring for oncology patients.
Balancing Treatment and Compassion
Boston College graduate Sarah Woods, RN, is a Mass General Cancer Center nurse who treats patients with lymphoma and myeloma. Among Ms. Woods' patients are those trying CAR-T cell therapy, a treatment in which their immune system cells are drawn, fused with a genetic protein and then infused back into the bloodstream. The hope is that they will kill cancerous cells.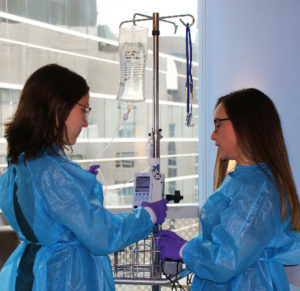 "They have these neurological symptoms you can't always predict," she says of the patients. "Some of the patients' reactions, like dramatic personality changes, can be jarring to their family members."
The program showed Ms. Woods, 24, how to address the needs of those patients and, minutes later, have the ability to treat someone undergoing a routine chemotherapy treatment or comfort a patient in the last days of life. "As a nurse you're dealing with patients in every stage of cancer," Ms. Woods says. "Nursing school only prepares you for so much of the real world. What you see and experience on the floor, you're learning all of that rapidly. It can be pretty intense at times."
Ms. Woods completed the program in 2018. This fall, it was her turn to train a new nurse in the program. She acknowledges that the residency helped her deliver an enriching experience to her trainee.
Learning More About Cancer Care
Like Ms. Woods, 27-year-old Meaghan Ekstrom was hired, in 2017, by Mass General after completing the residency program. She treats leukemia and bone marrow transplant patients. Ms. Ekstrom took an interest in oncology after watching both grandmothers battle cancer. She earned a bachelor's degree in biology and English and another in nursing, however, it was the residency that helped Ms. Ekstrom see the human side of nursing care.
"The residency program helped me be the nurse I am today."
"You have patients who have been here for a month," she says. "You end up asking, 'What does all this do to their minds and their lives?'"
Ms. Ekstrom credits the oncology residency with spurring her to learn more about new cancer treatments and practices. She is now enrolled in a nurse practitioner program at Simmons College, and is also training a nurse in the residency program. She says, "The residency program helped me be the nurse I am today."
The Mass General Cancer Center oncology nurse residency was first made possible by William and Jill Leisman, whose initial financial gift established the Leisman Nurse Residency Program Fund. The residency program has a $3 million endowment fund target. If you would like to support the training of oncology nurses, please click here.
To learn more about the oncology nurse residency program, please contact us.