Mass General's Constance ("Connie") Lehman, MD, PhD, is chief of Breast Imaging, Professor of Radiology at Harvard Medical School, and co-director of the Avon Comprehensive Breast Evaluation Center. Below, she describes her collaboration with colleagues from MIT's Computer Science and Artificial Intelligence Laboratory and their pioneering work developing an image-based model that predicts breast cancer up to five years in advance.
Why is it important to have better breast cancer risk assessment tools?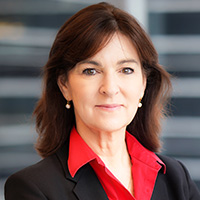 Most women diagnosed with breast cancer have no "known" risk factors other than being female.  Without accurate risk assessment tools, we over screen many women and under screen others. We knew if we could develop better methods to assess a woman's personal risk of breast cancer, we could redesign our screening programs, tailored to each individual woman's risk.
Using techniques in artificial intelligence (AI), we created a model utilizing data from mammograms and cancer outcomes of more than 80,000 Mass General patients. Our AI model learned subtle patterns in breast tissue that are precursors to breast cancer. These are patterns the human eye cannot recognize, so this approach goes far beyond simply analyzing a woman's breast density on a mammogram.
Each woman's mammogram is then assessed to determine her individual risk at the time of the mammogram, and her risk of developing cancer five years into the future. Ultimately, women will make more informed decisions about their options for screening and risk reduction, and we can provide more effective, less costly care.
What outcomes have you seen so far?
Our models consistently and significantly out-perform available traditional risk models for all our patients. This performance improvement is most dramatic for women of color. Specifically, our research revealed a dramatic racial bias inherent to existing commercial risk models. Those models were almost exclusively developed on European Caucasian populations.
At Mass General, we found the commercial models were worse than chance in identifying women of color who are at increased risk for breast cancer. This is particularly problematic given that Black women are over 40 percent more likely to die from breast cancer, due to differences in risk profiles, age at diagnosis, tumor biology, stage at diagnosis and access to health care.
Until now, we have not had the tools to offer effective screening strategies personalized to the individual woman, regardless of race. We were excited to see our AI models didn't have racial bias, and performed better than the commercial models, and equally well across the full diversity of patients we serve.
We were excited to see our AI models didn't have racial bias, and performed better than the commercial models, and equally well across the full diversity of patients we serve.
How has your work been influenced by COVID-19?
COVID-19 reduced the number of women who were screened for breast cancer during the beginning of the pandemic. Now, we are working hard to ensure our patients at risk for and with breast cancer don't fall through the cracks. Now is not the time to "wait this out" or "go back to normal." In fact, COVID-19 has allowed us to see many challenges in our system with fresh eyes.
We asked ourselves, how can we use this opportunity to rebuild our screening programs to be better and smarter than they were pre-COVID? How can we tackle the challenges of screening the right patient at the right time, leveraging our most advanced knowledge and technology?
When the governor asked that we screen those at increased risk for breast cancer first in our early phases of reopening, a lightbulb went off. We knew if we used traditional methods we would only continue to support racially biased and ineffective methods of identifying women at risk. Why not use our AI discoveries to help us find these patients? Our AI models could identify women most in need of screening now. This process included bringing back our patients with a history of breast cancer, those already known to be at high risk, and those identified by our AI models as being at increased risk.
What are your next steps?
We are fortunate to have experts from diverse disciplines in our Mass General Brigham community to support careful implementation of our research into patient care. We have done a lot of work to advance the critical issues related to widespread clinical implementation. However, we cannot stop there. The pathway forward is clear and we are eager to advance our work by continuing to combine the powers of AI and medical imaging to further our goal of accessible, equitable health care for all patients at Mass General and beyond.
To learn more about pioneering cancer care at Mass General, please contact us.