MassGeneral Hospital for Children (MGHfC) kicked off National Autism Awareness Month by hosting the 19th annual Aspire Spring Gala on April 4, 2019. Held at the Four Seasons Hotel Boston, the event hosted nearly 900 guests and raised more than $2.6 million to support Aspire. The program helps children, teens and adults with high cognitive autism spectrum disorder and related profiles develop the skills necessary to be successful in their communities and workplaces.

Money raised at the gala supports nearly half the costs of running the program. It also helps to fund financial aid for families; the development of specialized programs for adults on the autism spectrum; and neurodiversity training in the workplace.
"Our gala supporters help Aspire make a bigger and more profound impact on those with autism," said Scott McLeod, PhD, executive director of Aspire. "As the program expands, we are assisting more people in more places."
Celebrating Those Who Matter
This year's event celebrated the people who matter to young people on the autism spectrum. In a film shown at the event, Aspire participants were interviewed alongside the person that matters most in their life. The pairs included siblings, friends and Aspire staff members. Event partner Rafanelli Events brought the theme to life with illuminated portraits of each pair and a larger-than-life photo booth.
The event was hosted by Stephanie and David Long, Tim Sweeney, and Terry and Tom Hamilton, who served as event co-chairs, as well as Ann Marie and Daniel Gross, and Kim and Eric Karofsky. This group has worked passionately to help those on the autism spectrum pursue careers and lead full lives.
The night's speaking program included Peter L. Slavin, MD, president of Massachusetts General Hospital; David Long, chairman and chief executive officer of Liberty Mutual Insurance and hospital trustee; and Tim Sweeney, president of Global Retail Markets at Liberty Mutual Insurance.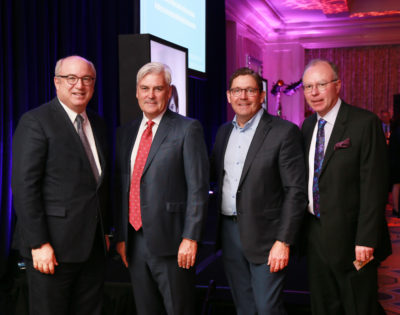 Real-Life Work Experience
The evening's remarks emphasized the importance of participating in the Aspire Works program, which offers young people on the autism spectrum real-life work experience. Aspire also recently launched a program where Aspire staff members train companies on the best ways to work with people on the autism spectrum, from hiring to managing.
Hale Pulfsifer of Fidelity Investments spoke to guests about how Fidelity's partnership with Aspire has changed the culture of the company. "At first it looks like something charitable, or the right thing to do," he said. "But before long it evolves into a strategic imperative – with an undeniable utility that has far reaching business and cultural benefits."
If your company is interested in participating in the Aspire Works program, please contact Leslie O'Brien at 781-860-1907 or lobrien@mgh.harvard.edu.