For many people, summer fun means outdoor activities like days at the beach, trips to the local pool and other adventures to take advantage of the warm weather.
Along with happy memories, increased time in the sun can bring increased health risks. But it's possible to have summer fun in the sun while protecting yourself, and we've collected expert advice from the Massachusetts General Hospital team to help you do just that.
Protect Your Family's Skin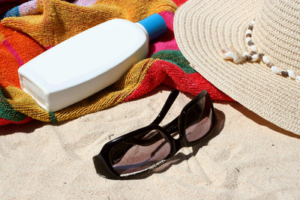 These tips from Mark A. Goldstein, MD, chief of the Division of Adolescent and Young Adult Medicine at MassGeneral Hospital for Children, adapted from his book, The 50 Healthiest Habits and Lifestyle Changes, can help you stay safe in the sun:
Wear sunscreen every day, even when it's not sunny out. The sun still shines through the clouds, which means it can still damage your skin.
Use sunscreen with an SPF 30 or higher. SPF means sun protection factor. The higher the SPF, the higher the protection.
Reapply sunscreen every 2-3 hours. This is important all year long. Carry a small tube of sunscreen with you wherever you go. Make it a habit to put sunscreen on every day.
Stay out of the sun as much as you can between 10 a.m. and 4 p.m. This is when the sun is the strongest.
Wear sunglasses with UV protection. Sunglasses with UV protection protect you from sun damage and photokeratitis (a sunburn on the surface of the eye). The darkness or size of your sunglasses has nothing to do with how well they protect your eyes.
Stay away from tanning salons. Tanning beds and tanning booths can be just as damaging as the sun. They can also increase the risk for skin cancer.
Wear long sleeves, pants and loose clothing with a tight weave. Long sleeves and pants have the best protection. Clothing with a tight weave blocks the sun better than clothing with a loose weave. To tell if clothing has a tight weave, hold it up to a light. The less light you can see through it, the tighter the weave.
Sun Tips for Kids
Children generally tend to have more sensitive skin than adults, so we asked Ari Cohen, MD, chief of Pediatric Emergency Medicine at MassGeneral Hospital for Children, to give some specific advice for parents to play it safe:
Apply kid-friendly sunscreen. Depending on skin type, a child's skin can burn in just a few minutes. Parents should apply kid-friendly sunscreen, labeled as SPF 30 or higher, that blocks ultraviolet A (UVA) and ultraviolet B (UVB) rays, before getting to the beach or pool when exposure is already underway.
Babies younger than 6 months old should avoid direct sunlight. Protective clothing is key because sunscreen can't yet be applied to their fragile skin. Many parents use beach tents as an extra safeguard.
If your child does get burned, aloe and after-burn lotions can also help with discomfort.
Too much exposure to the sun and heat can cause "sunstroke," or heat exhaustion. Feeling tired and light-headed; heavy sweating; cold, clammy skin; a fast, weak pulse; nausea and vomiting are all common symptoms. Move your child to a cool, shaded environment and apply a damp cloth to their skin. This will help quickly lower the child's internal temperature. Offer water or sports drinks to ensure adequate hydration. If the child is lethargic or irritable after being removed from the hot environment and receiving fluids, call your doctor for further advice.
Make the Most of Food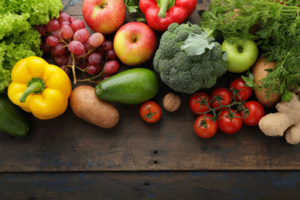 Sunglasses and sunscreen offer us much-needed protection for summer fun. But fresh fruits and vegetables can act as summertime safeguards too. So don't forget your health when deciding how to fill your picnic basket this season.
Here's what Emily Gelsomin, MLA, RD, LDN, senior clinical nutrition specialist at Mass General recommends:
Basil is an excellent source of vitamin K. A quarter cup of leaves provides a hefty dose of the nutrient — over 25% of the recommended daily intake. To increase your intake of basil, try making pesto — a summertime favorite that features the herb as its primary ingredient along with a healthy dose of nuts, garlic, olive oil, plus some Parmesan cheese.
Research shows that seasonal fruits like berries, specifically blueberries and strawberries, may help protect brain function as we age. Eating berries at least twice per week is associated with lower rates of mental decline.
Red fruits like tomatoes and watermelon contain lycopene, a pigment responsible for the plants' lipstick-colored hues, which is associated with a lower risk for certain types of cancer. The protective plant compound has also been shown to help reduce skin damage from the sun, though this does come with some caveats.
So, what is the best way to maximize your diet this summer? Since roughly 80% of us do not get enough fruits and vegetables, simply increasing your intake of them is a good place to start.
Safe Grilling Is Healthy Grilling
Summer is also the season for grilling and a reemergence of charcoal often carries questions about the health risks of grilled foods.
When meat is heated to high temperatures, compounds are created that may cause cell mutations and increase cancer risk. Barbecuing has been shown to generate some of the highest levels of these potential carcinogens, as does a preference for eating very well-done meats.
Protective chemicals in rosemary and garlic have been found to inhibit the formation of carcinogenic compounds when added to meat prior to cooking. Including garlic in your marinades may also help reduce these compounds. Research suggests the more garlic you add, the greater the benefit. The bottom line is adding seasonings like rosemary and garlic will taste good — and may offer some protection too.
Reach out to your doctor if you ever have any questions.
Your support of the MGH Fund helps make information like this available to our community. Please consider making a gift today to support Mass General's lifesaving work all year long.