Typically people don't see a neurologist like Jonathan Rosand, MD, MSc, until they've already had a stroke or a disease afflicting the brain. "But unfortunately once a brain is sick, it's hard to make it well and recover its lost function," says Dr. Rosand, who is chief of the Division of Neurocritical Care and Emergency Neurology and an investigator within the Center for Human Genetic Research at Massachusetts General Hospital.
Also medical director of the Neurosciences Intensive Care Unit, Dr. Rosand is determined to get involved earlier. As a researcher, his goal is to use genetics to identify and treat those at high risk before a stroke happens.
"Genetics is one of many windows into disease biology and a very powerful one," Dr. Rosand explains.
Tracking Stroke Clues
He and his collaborators have already identified more than 20 genetic variations that help raise the risk of stroke or affect how a patient recovers. He expects to eventually find hundreds of these genetic variants.
He's aided in the hunt by hundreds of investigators around the world who are part of the International Stroke Genetics Consortium, which he founded 10 years ago with the support of a visionary philanthropic gift. They pool their data to compare the gene patterns of patients who've had a stroke to those who have not.
"We are working feverishly to figure out the steps involved from being born with a particular gene variant to the alterations in biology that can lead to a stroke," Dr. Rosand says. Each gene variant, too, is a clue to a potential new target for treatment.
Partnership with Patients
"My life changed in an instant after my stroke. I could not care for those I loved most."
Linda V. Beardsley was 65 and taking care of her toddler grandson at their lake house in rural New Hampshire when she had her stroke in 2011. She knows what's at stake in Dr. Rosand's research. "My life changed in an instant," she recalls. "I could not care for those I loved most."
After the stroke, she couldn't walk and the right side of her body was useless. She couldn't read, speak or write and had no idea what a number was. After her initial care from Dr. Rosand, she recalls, "I spent the next five weeks in a reawakening process, challenging rehabilitation, trying to figure out who I could be in my post-stroke life."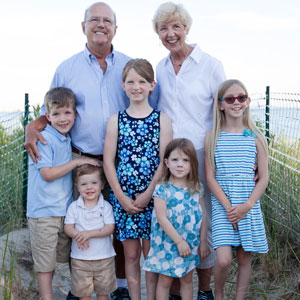 Recovery, she points out, is never complete. She still can't drive because her right foot doesn't always cooperate, but she has determinedly made progress. She's back to teaching education courses at Tufts University, and relishing time spent enjoying her growing grandchildren.
A Powerful Reminder
Every six months, she and other former Mass General stroke patients complete a follow-up questionnaire as part of research Dr. Rosand is conducting. Information gathered over their lifetimes about changes in their thinking, activities, mood and gait add to the genetic and imaging information that helps researchers better understand stroke.
She's happy to do this to help others avoid the devastation of a stroke and "it's a powerful reminder that people at Mass General still care about how I am recovering," she says.
She and her husband, Ken, a Mass General volunteer, have two sons and five grandchildren. "If Dr. Rosand's work on genetics one day enables them and others to know they're at risk and do something about it, that would be my absolute best legacy," she says.
Research on Reducing Risk
Getting adequate sleep and exercise, not smoking cigarettes and lowering blood pressure are among the known ways to reduce risk of stroke. Dr. Rosand cites two promising areas of research in his lab that use genetic information to identify people who would most benefit from risk reduction.
Many strokes occur because of untreated atrial fibrillation, an irregular heartbeat also known as "afib."
Dr. Rosand foresees a day when he will be able to genetically screen people for stroke risk in his office with a simple blood test.
"Often people don't know they have afib until they have a stroke," Dr. Rosand says. "If they did, they could take a blood thinner and substantially reduce their risk. Imagine if, with a genetic blood test, we could identify those individuals most likely to develop afib before their heartbeat irregularity can be picked up?"
His lab is collaborating with colleagues at the Mass General Corrigan Minehan Heart Center to find genes related to atrial fibrillation. They have already found over 40.
He is also trying to determine if genetic patterns can pinpoint those who need aggressive lowering of blood pressure to prevent a stroke. Because blood pressure-lowering medications have side effects, Dr. Rosand explains, "this would be a way to select only those who would truly benefit and spare others from taking them."
Dr. Rosand foresees a day when he will be able to genetically screen people for stroke risk in his office with a simple blood test. "Then neurologists can also be someone you see when your brain is still healthy," he says, "and we can help you keep it healthy."
For more information on how you can support Dr. Rosand's research, please contact us.