A petition started with ordinary loose-leaf paper, numbered from 1-200. A patient was on a mission to fill those spaces with enough signatures for Elizabeth Duquette to run the 2017 Boston Marathon. A strictly recreational runner, Ms. Duquette was unsure if she was up to the challenge.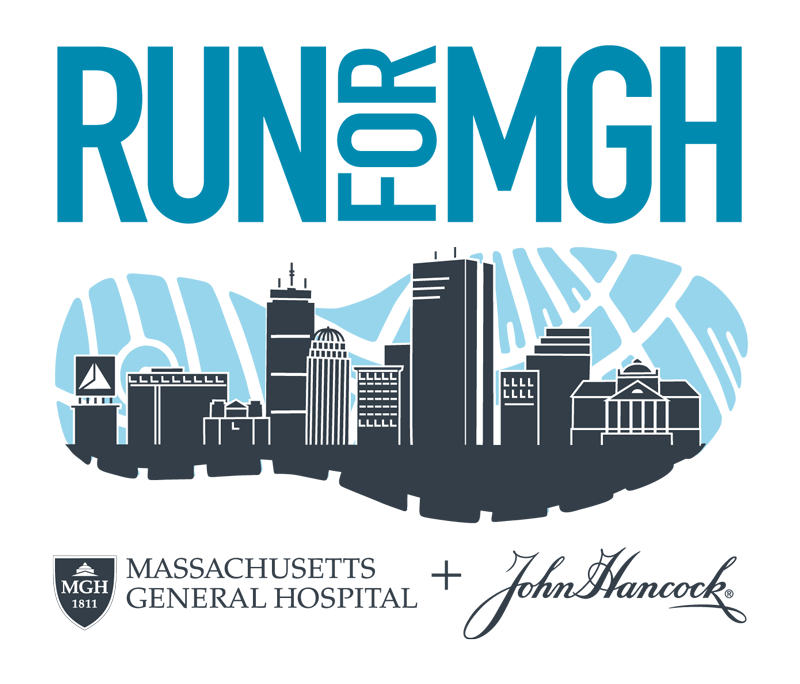 A few days later, Ms. Duquette, a personal care attendant (PCA) in Ellison 18, at MassGeneral Hospital for Children (MGHfC), learned that her patient had passed away before he could collect signatures.
To honor her patient and other children living with cancer, Ms. Duquette is running as part of the Pediatric Cancer Team at MGHfC in this year's Boston Marathon. The team was founded in 1998 by Howard Weinstein, MD, chief of Pediatric Hematology and Oncology at MGHfC, to raise essential funds for pediatric cancer treatment and research.
Building Boston Marathon Endurance
"When he asked me about running the marathon, I said, 'A marathon? I don't think I can do that.' Twenty-six-point-two miles was never in the plans," said Ms. Duquette, a native of Chicago, Ill., and fourth-year student studying behavioral neuroscience at Northeastern University.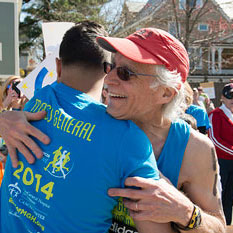 "The first time I went back to Ellison 18 after he passed away, I was walking through the halls and I had this realization that I really did want to run the marathon," she said. "I signed up that same day and got accepted to the Mass General Pediatric Cancer Team shortly after."
Ms. Duquette started training last spring when she became a PCA through Northeastern's co-op program. "I'm up to 14 miles now, so I'm focusing on building up my endurance," she said. "What I'll be thinking about on race day is crossing that finish line, knowing that my efforts help support pediatric cancer care at the hospital. I did it myself and completed a marathon, which is such an accomplishment."
Every Mile Incredible
When her patient started to collect signatures, Ms. Duquette remembers his motivation and joy in encouraging everyone, from nurses and doctors to fellow patients, to fill in his petition. "What I'll always remember about him is how infectious he was in every sense," said Ms. Duquette. "His personality, his smile, his laugh. He was such a bubbly, bright human being."

That infectious energy is something that Ms. Duquette has taken to heart – and will take to the marathon route. "What I've learned from my patient and from training is, if you're able to do something, you should," she said. "Life is too precious and every mile is incredible."
Please consider supporting Elizabeth Duquette and other Boston Marathon runners raising money for Mass General.
This story originally appeared on the MassGeneral Hospital for Children website.
John Hancock and Mass General Celebrate 20 Years of Marathon Partnership
This year marks the 20th anniversary of John Hancock's partnership with the Mass General Marathon Program. John Hancock provides Mass General runners with bib numbers for the race.
Since it was formed in 1998, Mass General's Pediatric Cancer Team has raised more than $12 million to support research and child life activities for children with cancer. In 2014, John Hancock worked with the Boston Athletic Association to award the hospital additional bib numbers to create the Emergency Response Team. That effort acknowledged the lifesaving response of hospital personnel following the Boston Marathon bombing in 2013. Since then, that team has raised more than $1 million for the hospital's emergency preparedness and disaster training.
In addition to these teams, runners who obtained their own bib numbers for the Boston Marathon will run for the Miles for Mass General program, which raises funds for hospital programs that are close to their hearts. Programs being represented by 2017 runners include Botswana Oncology Global Outreach, Caring for a Cure, Cystic Fibrosis, Down Syndrome and the Lurie Center for Autism.
To learn more about the Mass General Boston Marathon Program, please visit our website.