As a five-year survivor of pancreatic cancer, Carole Whittemore has defied the odds. The first person ever treated for pancreatic cancer with a new combination therapy, Ms. Whittemore, a mother of two, is now cancer free and supporting research to help future patients at Massachusetts General Hospital Cancer Center.
Recovering fully from this aggressive form of cancer is unusual — the disease has just a 20 percent survival rate — and Ms. Whittemore credits her good health to the innovative combination therapy she received in a clinical research trial at Mass General.
Unexplained Symptoms Point to Cancer
In 2011, Ms. Whittemore had a routine test for unexplained symptoms, including nausea, discomfort and signs of jaundice. The tests revealed a cancerous tumor.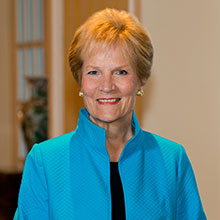 "It caused the whole world to go silent," she says. "If I didn't have my husband and children, I wouldn't have been able to move forward."
She was referred to a team at Mass General, including Carlos Fernández-del Castillo, MD, director of the Pancreas and Biliary Surgery Program, David Ryan, MD, chief of Hematology/Oncology, and Theodore Hong, MD, director of Gastrointestinal Service, Department of Radiation Oncology.
The news was good: She was one of a very few people diagnosed at an early enough stage to qualify for immediate surgery — the only treatment that has the possibility of a cure.
Plus, the team presented Ms. Whittemore and her husband, John Whittemore, with the chance for her to receive a new combination of proton beam therapy and a drug often used to treat malaria to shrink the tumor before surgery. The combination therapy would be available only through a clinical trial led by Dr. Hong.
The goal, Dr. Hong says, was "to inhibit a metabolic process, called autophagy, that pancreatic cancers use to protect themselves from radiation and chemotherapy."
The Decision to Participate
Mr. Whittemore asked many questions, but he remembers one in particular. "I asked Dr. Hong, 'If this was your wife, would you want her to do this research study?' and without hesitation, he said, 'yes.'"
The surgery was a resounding success, and soon afterward, Dr. Hong delivered the good news that the pathology report put Ms. Whittemore "squarely in the box of people we can cure."
Ms. Whittemore was encouraged by the team's confidence. "They told me, 'Give us a year and we will give you the rest of your life.' We had such trust in the doctors," she says. "They made it easier to take that leap of faith."
So, with the backing of their two children, Ms. Whittemore decided to enroll in the clinical trial and become its first patient. "It takes some selflessness to want to make things better for other people who have this disease," Dr. Fernández-del Castillo says. "Because of the low survival rate, we feel one of our missions is advancing the field, and it's why we make clinical trials a top priority."
After Ms. Whittemore went through the proton beam radiation regimen that shrank the tumor, Dr. Fernández-del Castillo removed her tumor, through a complex operation called the Whipple procedure. The surgery was a resounding success. Soon afterward, Dr. Hong delivered the good news that the pathology report put Ms. Whittemore "squarely in the box of people we can cure."
Ms. Whittemore spent the next eight months healing and dealing with some infection-based setbacks that required more surgery. "Eventually, I could feel the tide changing as the good days started to outnumber the bad, and I started to feel like me again," she says.
Pancreatic Cancer Research Advances
Throughout her treatment and recovery, Ms. Whittemore and her family made donations to support research. To mark her fifth year of remission — as she officially steps out of the role of a cancer patient and into the realm of being cured — the family has decided to do something more. They made a gift to create a fund for the research team to examine the results of clinical trials to see why some patients have responded better than others.
"Patients like Carole demonstrate tremendous courage when they decide to participate in a clinical trial; it's often not an easy or certain road," says Dr. Ryan. "And through their generous support, the Whittemore family is helping us understand why some patients do well while others don't and these insights will help us make better, more personalized treatment decisions for our patients."
Ms. Whittemore recalls being touched by Dr. Hong's words, when he said he found her happy ending inspiring because he doesn't see this kind of success often enough. "He told me that this is why he is a doctor," she says. "So, if our family can play a role in continuing that process, I'm honored."
For more information or to make a donation to pancreatic cancer research, please contact us.