While going through treatment for a rare kind of blood cancer, Joe Milano, owner of Boston's famed Union Oyster House, made a friend. The inspiring friendship he developed with his doctor, Noopur Raje, MD, at Massachusetts General Hospital Cancer Center propelled him to rally support for her blood cancer research at his storied restaurant.
Mr. Milano, who divides his time between running his historic restaurant, civic work, traveling and spending time with his wife Jill and family, has always been happiest when his calendar is booked to the bursting point. So when he was diagnosed with the blood cancer, Waldenstrom macroglobulinemia, five years ago, it was a moment of reckoning."I was tired, my energy was low, and it was hard to juggle all of the balls that I needed to," he says. Still, he didn't entertain the question of slowing down.
At first, seeing his exhaustion, Dr. Raje encouraged him to take it easy. "Then I got to know him and realized he was not going to take my advice!" she laughs. "He was pretty sick at times, but he still went 100 miles an hour."
Dr. Raje is director of the Center for Multiple Myeloma at the Mass General Cancer Center. Multiple myeloma is a cancer of the blood plasma cells and shares similar characteristics with Waldenstrom macroglobulinemia, a rare kind of non-Hodgkin lymphoma that affects white blood cells. Dr. Raje's research and clinical work improve the lives of patients like Mr. Milano. Her lab works to identify new multiple myeloma drugs and translate them into clinical trials. Often, these treatments become breakthroughs for related conditions, like his.
Doctor-Patient Friendship
Dr. Raje first took a "watchful waiting" approach with Mr. Milano. For two years, his disease didn't progress. Then, routine blood work showed that he needed to start active treatment: six cycles of chemotherapy. He found out upon returning from a two-week expedition to Antarctica, followed by a humanitarian trip to Cuba.
During treatment, he grew to appreciate Dr. Raje's dedication to advancing her field. For her part, she was drawn to his unwavering positivity and tireless energy.
"I remember telling Dr. Raje that I couldn't start chemo, I was too busy," he says. "But she told me, no, I needed to start now."
By this point, the two had become friends, having bonded over a shared passion for travel. They had a similarly driven, enthusiastic attitude toward work and life, and Mr. Milano listened to the doctor's advice. During treatment, he grew to appreciate Dr. Raje's dedication to advancing her field. For her part, she was drawn to his unwavering positivity and tireless energy. "Joe is such a joy—I've not met anyone nicer," she says. "It's been an honor taking care of him."
Over the years, Dr. Raje has traveled and attended some events with Mr. Milano. They have included the opening of a temple in Thailand, where he serves as Boston's honorary consul general. She invited him to walk the runway with her for a fundraiser fashion show for the Mass General Cancer Center.
Funding Blood Cancer Research
At the Union Oyster House, reputed to be the oldest continually operating restaurant in the country, Mr. Milano has hosted U.S. presidents and countless celebrities. He has attended his fair share of galas as well in his roles as consul general and as brigadier general with the Honorable Artillery Company of Massachusetts, says Mr. Milano, who served in the U.S. Army.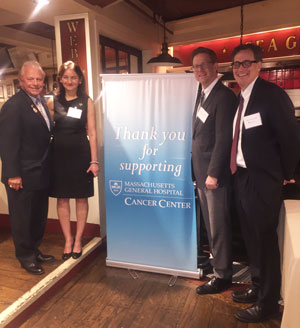 But when he offered to host a fundraiser for Dr. Raje's lab and blood cancer research — without cost — it was especially meaningful. He suggested that it be a boutique-style affair, with a guest list of oncology patients at Mass. General. "I wanted to reach out to other patients and raise money to support blood cancer research from the people whose lives these doctors saved," he says.
Dr. Raje loved the idea. "It was so special—it was more about sharing what we're doing with patients," she says. The event attracted 70 people and raised nearly $130,000 for blood cancer research including $50,000 Mr. Milano donated personally. That money will directly support Dr. Raje's research.
Going Places
Mr. Milano has now completed his chemotherapy, and returns for maintenance therapy every three months. "It took several years to feel normal," he says, "but I feel very healthy now, and my energy is flying!"
Feeling at the top of his game means that Mr. Milano can keep crossing things off his bucket list — something he'd taken great pleasure in doing even before getting sick. He estimates he's been to 120 countries — but not Dr. Raje's homeland, India. So when he recently learned that Dr. Raje was organizing a conference there in the spring, the two decided that it would be an ideal time to plan a trip together.
For more information or to make a donation, please contact us.