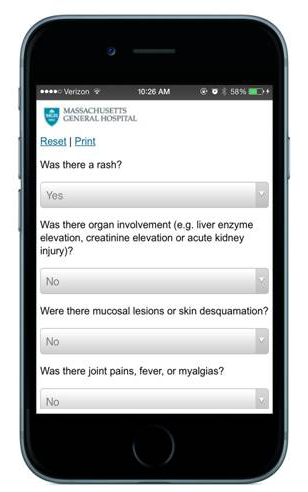 One out of every 10 people report they have a penicillin allergy.
But the truth is, they probably don't.
The mistake is based on outdated or inaccurate information.
To correct the problem, Kim Blumenthal, MD, an allergist in the Division of Rheumatology, Allergy and Immunology at Massachusetts General Hospital, created the Allergy Pathway App.
"A clinician can use a smartphone or iPad to ask their patients a few 'yes' or 'no' questions and then follow the protocol based on the answers to address a patient's reported allergy to penicillin," Dr. Blumenthal says. "It doesn't take much time and can make a big difference to patients."
Gathering thorough and accurate allergy history from patients can be time consuming, Dr. Blumenthal says. "Most clinicians were not taught to do more than simply check the patient record and if a drug allergy is listed, play it safe and prescribe an alternate drug."
Downside to Penicillin Alternatives
The problem is the alternatives to penicillin can be more toxic, more expensive and less effective in certain circumstances. And so Dr. Blumenthal, in collaboration with Mass General's Erica Shenoy, MD, PhD, assistant chief of Infection Control Unit and Aleena Banerji, MD, a national leader in the field of drug allergy, aimed to provide more effective treatment while saving time and money.
Dr. Blumenthal worked with a team that included members from the MGH Pharmacy and the Division of Infectious Diseases to create a new guideline that synthesized complex recommendations for penicillin allergies.
Then she turned it into an app.
"Most clinicians at Mass General are aware of the guideline and the overwhelming statistics about penicillin allergy, but we weren't linking that knowledge with recommendations," Dr. Blumenthal says. "I wanted to find a way to make taking the next step easy and helpful."
An Easy App
Seed funding from the Partners HealthCare and programming by Brett MacAulay, web manager, helped create the new tool.
Clinicians across Mass General and other Partners hospitals will soon use their smart phones to get to the guidelines Dr. Blumenthal and her colleagues developed, which were adopted by Mass General in 2013. Based on the answers to the simple list of questions, the clinician may choose give the patient a "challenge dose" to test his or her reaction, or give a skin test.
"Not only do we believe the knowledge this app provides can improve treatment for 1,000-2,000 patients throughout the hospital with penicillin allergy, but the cost savings could be in the hundreds of thousands of dollars," says Dr. Blumenthal, who was recently named quality and safety officer for allergy at Mass General's Edward P. Lawrence Center for Quality and Safety.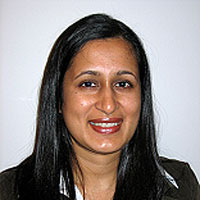 The next step is to expand this app beyond penicillin to other drug allergies, including cephalosporins, ibuprofen and sulfa drugs.
Accurate Data Improves Outcomes
Twenty percent of all patients have at least one medication allergy in their records, Dr. Blumenthal says. The majority of the reaction details are "unknown" or "rash," neither of which are particularly informative for a provider prescribing in the future.
"An investment in this app will allow us to expand the program and ensure every individual gets the most effective treatments based on accurate allergy information," she adds.
To learn more about how you can support projects like the Allergy Pathway App, please contact us.