Using ultra high-resolution magnetic resonance imaging (MRI) at Massachusetts General Hospital, a physician-scientist in the MGH Multiple Sclerosis Clinic is pioneering revolutionary new ways to see the disease in the brains of human patients. Ultimately, this improved imaging may permit physicians to more accurately track the disease in patients with multiple sclerosis (MS) and find ways to provide faster, better treatment and earlier diagnosis.
"MRI has really revolutionized the way we assess MS," says Eric C. Klawiter, MD, assistant neurologist in Mass General's Department of Neurology, who is leading efforts to use new MRI technologies to help MS patients.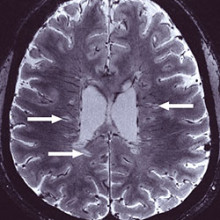 An estimated 250,000 to 350,000 Americans have MS, an unpredictable central nervous system disease that typically appears between ages 20 and 40. It prompts the immune system to attack the protective coating encasing the nerves (myelin) and the portion of a nerve that transmits commands (the axon), thus disrupting neural networks connecting different areas of the brain and connections to the body.
Tracking Multiple Sclerosis
Often, multiple sclerosis symptoms flare, and then recede. Some people have mild symptoms. Others experience a wide range of problems, including visual disturbances, numbness, impaired balance and coordination and muscle weaknesses that compromise walking and daily activities. Some people have trouble remembering information, maintaining attention or multitasking. Depression is common, too. In some forms of MS, the disease is progressive, worsening gradually and causing disability.
"We have no simple blood test for MS," Dr. Klawiter notes. Usually diagnosis rests on deciphering symptoms and on standard MRI findings.
Kelly Packowski, a mother in Middleton, Massachusetts, is one of Dr. Klawiter's patients who values the care she is receiving now and supports the importance of the research he is doing for future multiple sclerosis  patients. Kelly was diagnosed with MS 14 years ago. Her symptoms were severe. Overnight, tingling numbness, surprising fatigue and worrisome coordination problems were followed by near paralysis of her left side. An MRI found characteristic MS lesions.
One Mother's Relapse
A competitive soul, Kelly had regularly enjoyed a fierce game of tennis. Suddenly she had trouble lifting a cup to her lips without spilling. "It took three to four months of pretty intense physical therapy before I could get back to being independent," Kelly says.
Kelly got back to tennis, too, at least for a while. She happily recalls playing game after hard-fought game with her son Peter one day. "If the time comes when I can't do this, I want you to look back on today fondly," she told him. "I want you to remember I gave it my all."
Kelly recently had a serious flare up of MS affecting her vision, even after receiving an all-clear from standard MRI. Such relapses are just one example of how Dr. Klawiter's research on ultra-high resolution MRI might ultimately benefit patients. In one study, for example, Dr. Klawiter and colleagues are using use an MRI with a magnet two to four times as strong as conventional MRI to produce high-resolution images that could potentially identify changes before disability occurs and help pinpoint where the disease is developing.
Sharper Imaging and Markers
Dr. Klawiter also is working with a super-fast MRI scanner unique to Mass General to study connections in the living brain. Developed as part of the National Institutes of Health Human Connectome Project, it's a remarkable tool for MS research. Currently, a pilot study comparing brain connectivity data from healthy subjects and people with MS is underway, Dr. Klawiter says. It could yield clues for treating cognitive problems, which affect roughly half of people with MS.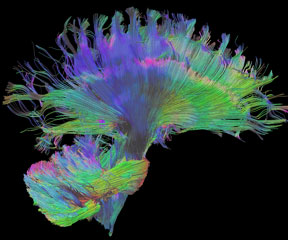 Additionally, Dr. Klawiter hopes to use the scanner to develop reliable markers for MS, such as one that helps identify when myelin is being stripped away. A similar marker for axon damage, which may correlate with disability, might be even more useful. Finding these markers can greatly accelerate drug development. In addition, these imaging breakthroughs could lead to earlier diagnosis, which could allow doctors to take preventive steps that will help patients before the disease begins to take its toll.
Although Kelly tires more easily now and sometimes struggles with walking, memory and multitasking, she still walks the family dog, practices meditation, and loves doing yoga with her daughter Kathryn. Knowing that her doctor is dedicated to the long road helps.
"Dr. Klawiter hopes to make a difference for me right now," Kelly says. "But he also wants to make a difference for all MS patients 10 and 20 years from now."
To learn more about multiple sclerosis and imaging research, contact us.