Imagine having to think about every breath you take. "Having diabetes is like that, but you have to think about your blood sugar all the time and try to control it," says endocrinologist Steven Russell, MD, PhD, of the Massachusetts General Hospital Diabetes Center. "The smallest error can have dire consequences."
With this in mind, Dr. Russell and his collaborator, Ed Damiano, PhD, an associate professor of biomedical engineering at Boston University, are trying to change the lives of millions of people with diabetes by designing and testing a "bionic pancreas."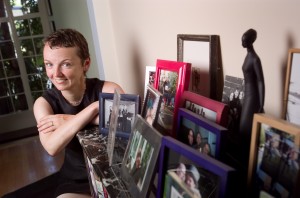 The bionic pancreas is a prototype device worn on the outside of the body. Dr. Russell and Dr. Damiano are testing it in patients with type 1 diabetes at Mass General. The goal is to allow patients to go about their daily lives without the constant need to test and adjust their own blood sugar levels. Eventually, some of the millions of people with type 2 diabetes should also benefit, Dr. Russell says.
Diabetes is an autoimmune disease that gradually destroys the pancreas' ability to produce the hormone insulin. Insulin helps convert carbohydrates (in the form of glucose in the blood) into energy used in the cells. Too little insulin causes blood glucose levels to rise, resulting in immediate and long-term health consequences for the estimated 25.8 million people afflicted with type 1 diabetes or type 2 diabetes in the United States and up to 366 million globally.
Technology that Adapts to Human Life
So far, Dr. Russell and Dr. Damiano, whose teenage son has type 1 diabetes, have tested the bionic pancreas in clinical trials with both adolescents and adults in real-world situations, with the help of private and government funding. "The idea is build a device that can adapt and change with your insulin requirements as you go through life," says Dr. Damiano who, with the IT group at Boston University, was able to build an algorithm for an iPhone app that serves as the brains of the bionic pancreas.
So far, type 1 diabetes patients wearing the device as part of the clinical trials say it's a relief not to have to think about their blood sugar all the time.
"We like the term 'bionic' because it means an electro-mechanical device that replaces a bodily function," says Dr. Russell. "This device substitutes for the pancreas' endocrine function," he says. The bionic pancreas has three parts: a continuous glucose monitor that signals an iPhone app to determine the appropriate dose of hormone, and a pump to deliver the hormones to the bloodstream. The final version will incorporate all three parts into one device.
So far, type 1 diabetes patients wearing the device as part of the clinical trials say it's a relief not to have to think about their blood sugar all the time. Kelly Close, a 45-year-old mother of three, has coped with the ups and downs of type 1 diabetes since she was diagnosed at age 18 as a college freshman.
"Diabetes is so unpredictable and very hard to manage," says Kelly, who, despite careful management, has found herself in the emergency room 25 times over nearly three decades, although not for the past 10 years. Constant vigilance is her modus operandi. Every time the type 1 diabetes patient drives her car, she checks her blood sugar level, and every hour, she pulls over to check again. Low blood sugar can trigger an episode of confusion, or even unconsciousness at the wheel. Especially when her children are in the car, she knows she has more than her own life in her hands and is always careful not to endanger other drivers.
Beacon Hill Study of Type 1 Diabetes Patients

That's why Kelly was thrilled to be chosen as one of 20 people to participate in the adult trial of the bionic pancreas at MGH in 2013. Dr. Russell designed the study to emulate real-world living. Participants stayed at a nearby hotel and wore the device around the clock. For five days, so long as they remained within a three-square-mile area around Beacon Hill in Boston, they could work, eat in restaurants, go to the gym, or walk or jog along the Charles River on the Esplanade.
"Every measure we looked at favored the bionic pancreas over usual care," says Steven Russell, MD, PhD.
For Kelly, the experience was an eye opener. "For the first time in 25 years I got to feel normal," she says. She continued to work online at her small health information company, Close Concerns, which publishes the online newsletter diaTribe for people with diabetes. "For five whole days I got to not worry about my blood sugar," she says. "I felt like a different person, not stressed and not worried. I thought, 'This is who I really am.' I wanted my husband and kids to see what I was like."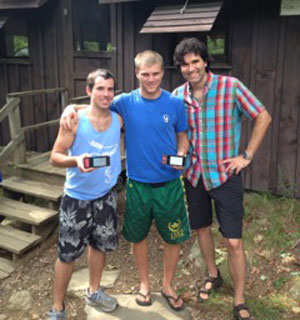 Adolescence is probably the most difficult age for managing diabetes because adole
scents use tremendous amounts of insulin, Dr. Damiano says. With this in mind, he and Dr. Russell conducted a study that included 32 teenagers with type 1 diabetes at two diabetes summer camps. The teens wore the device while participating in sports and other activities and sleeping in cabins with their peers. A remote monitoring site at the camp and on-site nurses ensured the participants' safety.
With kids participating in camp programs, problems were bound to happen. Glucose sensors and pumps fell off. IPhone wireless signals used for remote monitoring dropped out because of the camp's remote location. But when mishaps occurred, the nurses stepped in to reattach the devices and reestablish wireless connections. The final version of the bionic pancreas won't have these problems, Dr. Russell explains, because the three parts will be combined into one and the remote monitoring that relies on wireless cell phone signals will be optional.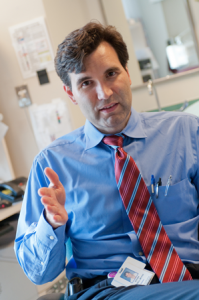 While the study's results are still being analyzed, preliminary figures show that, "Every measure we looked at favored the bionic pancreas over usual care," Dr. Russell reports. "And at camp, usual care is way better than they have at home because the nurses at camp make sure they don't miss blood sugar checks and insulin doses."
For both trials, private donations provided seed funding and paid for critical, unforeseen costs such as building the wearable device and testing new features of the iPhone algorithm. Going forward, another camp study, in children as young as 6 years of age, is planned for next summer and in 2014, there will be a trial involving 42 MGH hospital staffers who have type 1 diabetes. Dr. Russell and Dr. Damiano are looking for funding to make these studies possible.