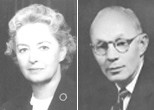 Sifting through family papers after an uncle's death in 2005, North Carolina nurse Lori Campbell, RN, came across a letter from Massachusetts General Hospital, dated Jan. 8, 1960. Stuck to a few decades-old newspaper clippings, the letter paid tribute to Terry Shuman, a grandfather who died when Mrs. Campbell was an infant. To her surprise, both the letter and the clippings mentioned the Terry Shuman Memorial Fund for Medical Research at <abbr="Massachusetts General Hospital">Mass General.
After some digging and a few phone calls, Mrs. Campbell discovered an endowment fund established by her paternal grandmother, Grace Shuman, in memory of her beloved husband. Dedicated to the MGH Department of Neurology, the fund supports research on cerebral hemorrhage, the type of stroke that led to Mr. Shuman's sudden death in 1957.
"Unrestricted funds make it possible to support the most exciting projects of the moment," says Anne B. Young, MD, PhD, former chief of the MGH Neurology.
"I think my grandmother was deeply traumatized by this loss and felt that establishing this fund in her husband's honor was a constructive way to handle her feelings," says  Mrs. Campbell.
Inspired by her grandfather's memory and her grandmother's generosity, Mrs. Campbell and her husband, Dave, decided to continue in Grace Shuman's footsteps — making monthly contribution to the Shuman Fund as well as naming the fund as a beneficiary in their will.
"<abbr="Massachusetts General Hospital">Mass General has an excellent reputation for ethically conducted research, for delivering quality patient care and a commitment to community service — all three were important in considering how to distribute our assets," says Mrs. Campbell about giving generously to an institution far from her North Carolina home.
The Campbells revised the fund's terms to include unrestricted support for clinical research projects at MGH, a change they felt was essential to driving <abbr="Massachusetts General Hospital">Mass General's cutting-edge work forward in the 21st century.
"As much as we can, we want to help bring innovative, safe and effective treatment options to patients suffering as our family members did," says Mrs. Campbell. "With the fund already at such an august institution, it was only logical to continue what my grandmother already started, here at <abbr="Massachusetts General Hospital">Mass General."