Even when there is more than two feet of snow on the ground, Howard Weinstein, MD, is thinking about the next Boston Marathon. As chief of pediatric hematology-oncology for MassGeneral Hospital for Children (MGHfC) and captain of the kids' cancer marathon team, he understands the urgency of marathon funds for children who suffer from cancer.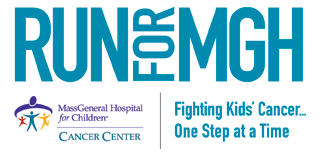 "We wish that the phrase, 'kids with cancer,' did not exist," Dr. Weinstein says. "I am so grateful for the support from our runners and donors who are dedicated to our team."
In the past year alone, Mass General saw a sharp decline in federal funding for ongoing cancer research projects. At the same time, medical care for children is chronically underfunded, and much of the work that the pediatric cancer team does every day is not reimbursed by insurers. Boston Marathon dollars fill in critical gaps and enable the clinic to offer integral services like child life, sibling groups and art and music therapy.
This April will mark Dr. Weinstein's 25th time running the Boston Marathon, which he completed for the first time in 1991. He finished his first-ever marathon the year before in New York, achieving a long-held goal. As a child, he suffered from asthma and couldn't run much more than a mile. When the asthma stopped, running was possible. "I was motivated to continue but I wanted to do more than run," he says. "I wanted to combine it with a fundraising effort."
Running for Pediatric Cancer
In 1996, when Mass General recruited Dr. Weinstein to lead the pediatric hematology-oncology program, he saw a great opportunity to build a marathon team to support all aspects of childhood cancer. He already had completed seven Boston races and was excited about building a new team.
At the time, it wasn't easy to start a new charity team. Thanks to John Hancock, Mass General was able to obtain charity bib numbers for 10 runners in the 1998 Boston Marathon. Even that first year, the patients served as inspiration for the runners. The night before the Boston Marathon, the team held its first pasta dinner for runners and patients at Il Bocconcino restaurant on Cambridge Street across from the hospital.
The first Boston Marathon team's success raising $45,000 generated enthusiasm and momentum. Mass General's partnership with John Hancock grew, and the team expanded to its current size of more than 100 members. In 2013, the pediatric cancer team reached a $10 million fundraising milestone. Their success paved the way for a second MGH team that supports emergency response and is led by David Brown, MD, chief of the MGH Department of Medicine.
The MGH Team is also fortunate to have 20 runners participating in the Miles for Mass General Program for the 2015 Boston Marathon. These individuals are running to support Cystic Fibrosis, Pediatric Palliative Care, the Lurie Center and MIND Huntington's Disease Research.
A Family Affair
Mile 20, the epicenter of the Mass General cheering section, is serendipitously located near Dr. Weinstein's home. Since 1998, Ann Hochberg, Dr. Weinstein's wife, has opened their home to Mass General's marathon fans. In the early years, the gathering of patients, family members and neighborhood friends was small and intimate. These days, several hundred Mass General spectators make it to Mile 20.
About 12 years ago, Howard and Ann's twin son and daughter, Aaron and Becca, started a refreshment stand at Mile 20 of the Boston Marathon. Depending on the weather, they sold coffee and hot cocoa or lemonade and shaved ice – a best seller when the day was brutally hot. Through the years, the stand has raised more than $20,000.  Now college students, the twins have passed the stand to the children of Annah Abrams, MD, an MGHfC child psychiatrist.
"The marathon gives Howard and our family a way to focus on something positive," Ms. Hochberg says. "It brings people together in a way that's emotionally satisfying. Opening up my home is an easy thing for me to do and I'm very, very glad to do it." As for Dr. Weinstein, the hugs and high-fives he gets at Mile 20 rejuvenate him to make it up Heartbreak Hill to the finish line.
Inspired by Patients
In 2013, more than half of the team's runners were unable to finish because of the bombing. Among them were several former patients who ran with Dr. Weinstein. "The police stopped us with about a mile to go," he says.  "That was incredibly difficult for them. The good news is that they joined the team the following year and were able to realize their dream of crossing the finish line."
Many runners participate in the Patient-Partner Program, a special opportunity to be paired with a pediatric patient. "Thanks to Dr. Abrams and Heather Peach [child life specialist] for their efforts in creating and leading this unique program," Dr. Weinstein says. This year, Dr. Weinstein will run for Annie Flaherty, an adorable 5 year old who was diagnosed with an aggressive cancer (neuroblastoma) this past year. "She has responded beautifully to therapy including a stem cell transplant, and she never fails to sparkle and make us laugh," he comments. "I'm in awe of her courage and energy. I'm not able to train as much as I should, but thinking about Annie will motivate me to finish."
The Boston Marathon's Impact
A mural of the marathon covers a hallway at the MGHfC pediatric cancer clinic.  It is meant to provide inspiration and hope. "The marathon is now a presence all year round, more than the race itself," Dr. Weinstein says.  "Its impact is also continuous as the largest single fundraiser. None of this would happen without donors."
In addition to serving as captain, Dr. Weinstein has raised $1.2 million for the clinic over the years. Boston Marathon funds support child life specialists who help families manage the stress that illness and hospitalization can bring. Activities like music and art therapy distract and entertain patients and siblings. And with severe cuts in federal grants, the funds help advance research to develop innovative treatments.
At 68, Dr. Weinstein's pace may have slowed a bit, but his passion for the marathon team continues to grow.  "The 25th is not my last," he says. "I'll run as long as I'm physically able or until we cure all children of cancer."  In the past 20 years, the cure rate has increased from about 60 percent to 85 percent. With new therapies, Dr. Weinstein is optimistic that the rate will get a lot closer to 100 percent in the coming decade.
Please make a gift in honor of Dr. Weinstein and to support the pediatric cancer clinic.