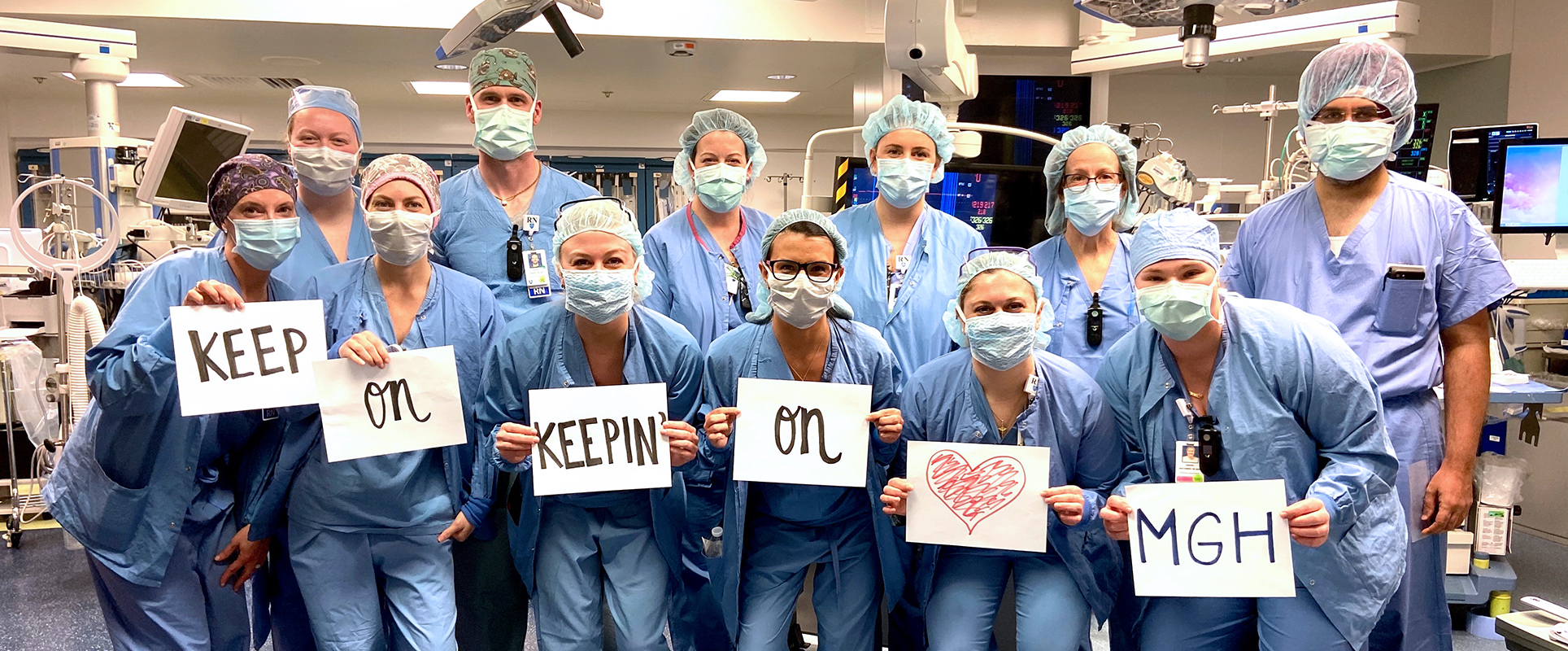 Thank you for being part of our Mass General team
Your donations have made a tremendous impact on Mass General's most precious asset – our 27,000 employees. Ever since the COVID-19 crisis began, your generosity has helped to provide essential resources and critical relief for those keeping our communities safe.
While much of the world was asked to stay at home to halt the spread of disease, our dedicated teams showed up at the hospital every day and night, committed to doing what they do best — caring for the patients who need their expertise, skill and compassion. Staff across the hospital took on new roles, pitching in to help meet the needs of the moment, whatever or wherever they were.
Over the past several months, your contributions have provided thousands of meals, childcare support and transportation subsidies for our team so they could focus on the needs of patients in our care.
Reducing Employees' Financial Burdens
Your gifts provided direct financial relief to hardworking employees suffering from economic strains brought on by the pandemic. Thanks to your support, we provided grants of up to $1,000 that employees did not need to pay back. To date, more than 3,600 Mass General employees have received funds to use wherever they need them most. Because of you, even in the face of family job losses, medical bills or funeral expenses, our employees not only had the extra resources they needed to support their families, they also had greater peace of mind.
As the daily challenges of caring for COVID-19 patients have taken their toll, your philanthropy has helped employees cope with high levels of stress, trauma or grief through numerous no-cost mental health resources, including individual sessions, support groups, and a host of apps and wellness services.
Fear of putting family members at risk led many employees to take unprecedented measures to distance themselves. With your help, Mass General provided more than 4,000 hotel stays for caregivers who needed a safe and convenient alternative to traveling home after their shifts.
Your contributions supported essential employees across the hospital, including:
Nurses, emergency workers, physicians and other frontline staff who delivered constant, compassionate care for patients and families
Carpenters and environmental service teams who converted facilities in record time to meet the surge of COVID-19 patients
Nutrition, security and cleaning crews who ensured that everyone at the hospital was protected and nourished
Chaplains, social workers, psychiatrists and psychologists who tended to spiritual and mental health needs during the most difficult moments
Community health workers and clinicians who helped and protected vulnerable neighbors
And many more who continue to work tirelessly to combat COVID-19.
Thank you for your gifts; for your messages of hope and support; and for standing by our side throughout this crisis. Together, we will emerge from this pandemic stronger, more resilient and more united.