Mass General Saves Patient with "Incurable" Tumor
Seven years ago, Stephen Baseman visited his family doctor for his annual physical. He had a slight pain in his side, which he thought was a pulled muscle. In fact, he had an exceptionally rare, life-threatening tumor caused by a very unusual condition. Massachusetts General Hospital saved Stephen's life in 2006 and continues to treat him today.
"I went to that annual physical in 2006, never expecting anything serious," recalls Stephen. After running tests, his doctor found a massive tumor, measuring 5½ inches, growing on his liver. What's worse, the tumor was preventing his liver from functioning normally. Without proper liver function, Stephen would die.
"Other doctors turned me away, so this operation was my chance. I wanted it."
Going Home and Fearing the Worst
Doctors at Stephen's local hospital in Sarasota, Fla., told him his tumor was inoperable and his condition was "incurable." They said there was nothing they could do to save him. Devastated, Stephen and his wife, Barbara, went home and feared for the worst.
But Stephen didn't give up. He called his family physician again to get a recommendation for another hospital. Fortunately, his doctor knew a surgeon at Mass General. He told Stephen that his tumor might be operable, but removing it would require a complex surgery performed by a highly skilled surgeon. He recommended Mass General's David Berger, MD, a renowned surgical specialist. Stephen and Barbara flew to Boston the very next day.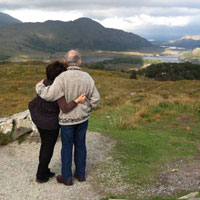 "Stephen's tumor was wrapped around the veins and arteries of his liver, causing liver failure," Dr. Berger says. "He was dying."
"Dr. Berger told me it was a dangerous operation, but that he thought it could be successful," says Stephen. "He explained the possibility that he wouldn't be able to remove the whole tumor. There was also a possibility that I could die on the operating table. But I knew I would certainly die without the surgery. Other doctors turned me away, so this operation was my chance. I wanted it."
The Nine Longest Days
Dr. Berger gathered a team to prepare for the surgery. "Those were the nine longest days of our lives," Barbara says. To Stephen and Barbara's relief, the procedure was successful. Dr. Berger removed the entire tumor as well as one-third of Stephen's liver. Stephen had 50 stitches, and it took him two months to recover. The tumor was a sarcoma, a rare type of cancerous tumor that almost never grows on the liver. "I would be surprised if Mass General ever sees a tumor like this, of this size, again," says Dr. Berger.
"I was terrified that we wouldn't make it to 45 years," says Barbara. "But we just celebrated 52 years. We are stronger than ever."
The Basemans' relief was short-lived, unfortunately. One year later, a similar tumor appeared. Remarkably, it was immune to chemotherapy, radiation, proton beam therapy, and medication. The condition Stephen has is rare, and there is only one option to treat it. "We have no cure. But what we can do is remove the tumors when they show up," explains Dr. Berger. "I've never seen a condition like this before." Since 2006, Stephen has had seven surgeries to remove sarcomas in different locations, all within his abdomen.
"So far, we have been successful with our treatment," says Dr. Berger. "Stephen is doing remarkably well, all things considered."
Stephen knows he could not have made it this far without Barbara's unconditional love and support. His first appointment with Dr. Berger was just days before the couple's 45th wedding anniversary. "I was terrified that we wouldn't make it to 45 years," says Barbara. "But we just celebrated 52 years. We are stronger than ever."
A Patient Dedicated to Giving Back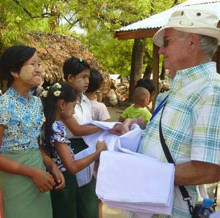 Today, Stephen and Barbara live life as normally as possible and enjoy spending time with their three children and five grandchildren. Between medical appointments, they travel the world for his business, which provides clothing to people in developing countries. Stephen is dedicated to giving back to his local community. He helped install boxes so residents can donate used clothing. Stephen and Barbara's generosity doesn't stop there – they have been proud supporters of the MGH Fund since 2007. "I believe in giving back," says Stephen.
Although Stephen's condition is exceptionally unusual, his situation is not. Many of us go to the doctor like Stephen did, feeling that something is wrong – but unsure what it might be. Fortunately, Dr. Berger figured out a solution to Stephen's complex medical condition. "Dr. Berger was willing to take a chance on me," says Stephen. "And I am forever grateful for that. I am positive that I wouldn't be here right now if not for him."
The MGH Fund proudly supports the Department of Surgery and the Mass General Hospital Cancer Center. Your generosity allows our hospital to support excellent surgeons like Dr. Berger who not only provide compassionate care, but who find solutions to complex medical problems like Stephen's. Make a gift to the MGH Fund today.